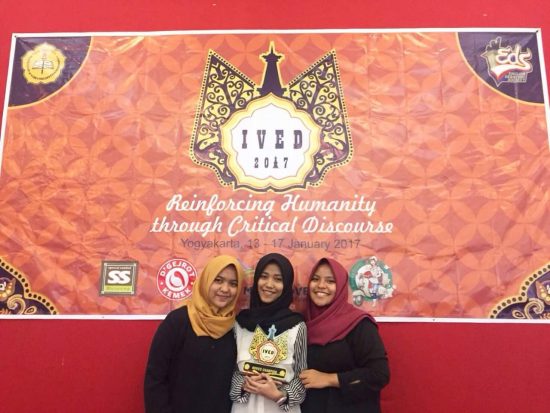 The team of Hasanuddin English Debate Society (HEDS) won the first prize of Novice Category in the Indonesian Varsity English Debate (IVED) 2017, national debate competition at Sanatha Dharma University, 13-17 January.
This competition was followed by 46 teams from various universities in Indonesia. Some of them are University of Indonesia, Gadjah Mada University, Pelita Harapan University, Bina Nusantara University, Technocrat College, and Bandung Institute of Technology.
Khairulbariyah who is a student of Communication Science Department, FISIP, is one of Hasanuddin English Debate Society team. She said that UNHAS sent two teams in this competition. The first team consisted of Alifah Ummu Zakiyah from the Management Department of FE and Nabila Arfin from the Doctoral Science Department of FK. The second team consists of Nurul Titania (HI), Firmansyah Walenna (FE), and Surya Alif (FT). Sadly, only the first team who made it to the final round. While the other UNHAS team was forced to stop their steps in the semi-finals against the first UNHAS team.
Khairulbariyah said in the competition they must go through a series of tight selection. She and the team had to go through six pre-elimination, quarter-final, semi-final, and final, until in the final round they win over the debating team from Padjadjaran University and got the title.
"In the competition we competed with various themes such as law, economics, social, religion, international relations, and contemporary issues," She explained.
The achievements achieved by the Hasanuddin English Debate Society team in this competition was a pride for them. Because this is the first time UNHAS can reach the Champion tittle after previously lost in the final round against the debate team from ITB.
Our dream achieved, she said, the success cannot be separated from intensive trainings and hard efforts in the last 2 months. Almost every day during December 2016, they practiced English debates with fellow HEDS members and alumni.
"We practice arguing with various motions and sharing information on current issues. Almost every night we stay together to get more time to practice "said Khairulbariyah.
Andriano Panca Sumule, one of the HEDS trainers said that the selected teams representing HEDS in the IVED are teams that are gained from rigorous selection to all members. They are selected through a round of debate and one interview session.
"From 2 stages of this selection selected 6 people with the highest score to represent HEDS in IVED," he explained.
Andri said proudly, teams submitted in the IVED can perform optimally and finally win the title in the competition. He also hopes that the future English HEDS debate teams can continue to carve out achievements in various national and international championships.