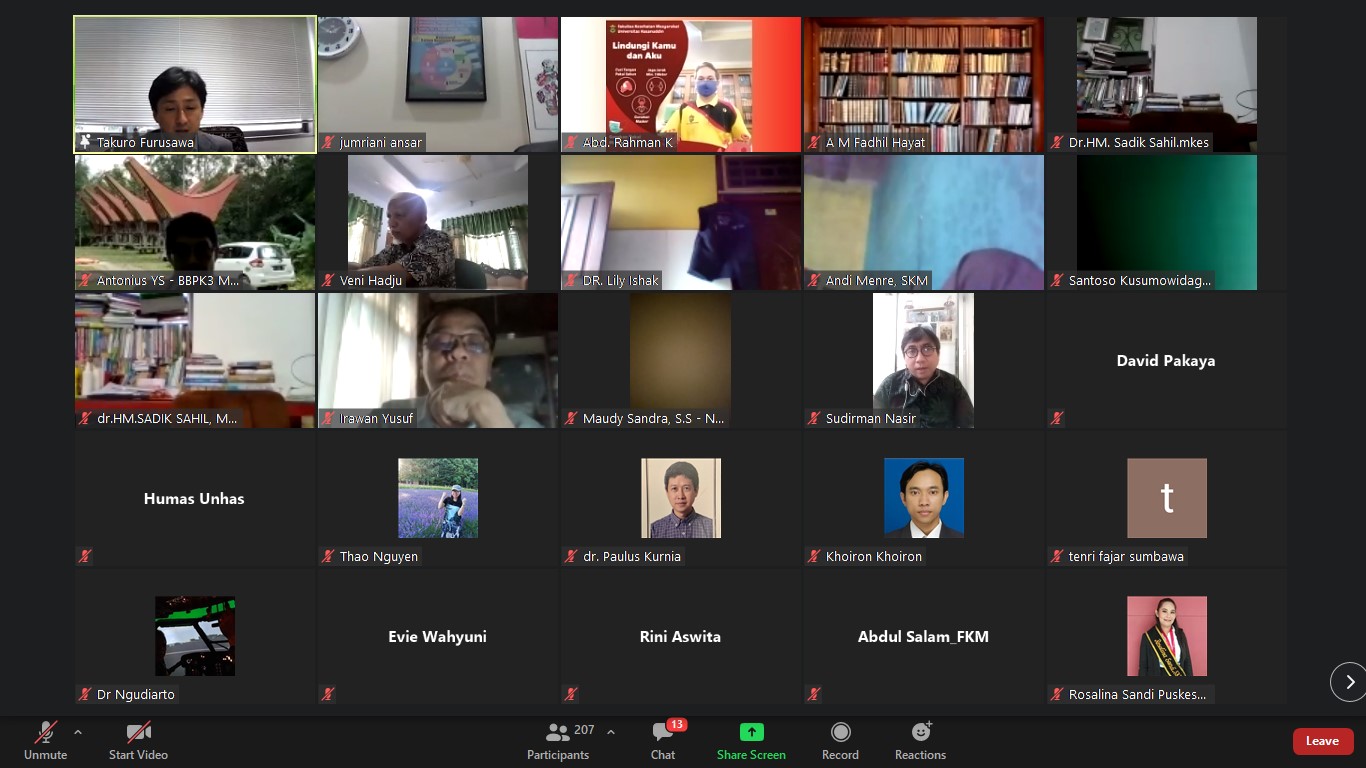 Universitas Hasanuddin in collaboration with The Australia-Indonesia Center (AIC) established an international webinar with the theme "Covid-19: Lesson Learned from Australia and Japan". The activity that is part of the 64th Anniversary of Unhas started at 13.00 Wita virtually through the zoom meeting application and live streaming on the Faculty of Public Health of Unhas youtube channel on Thursday (16/09).
Prof. Anu Rammohan (University Western Australia), Prof. Takuro Furusawa (Kyoto University, Japan) and Sudirman Nasir, Ph.D., (Universitas Hasanuddin, Indonesia) were invited as main speakers.
The first topic was delivered by Prof. Anu Rammohan (AIC Senior and Dean of the Faculty of Arts, Business, Law and Education, Western University, Australia) who explained about "Australia's Covid-19 Experience".
"The Covid-19 is a big shock for the global community and affects many aspects of life, not only health. However, the global economy had become an influential sector. A number of facilities have been closed, such as the tourism, arts and entertainment sectors, and air travel. Therefore, this also has an impact on the economic sector." explained Prof. Rammohan.
On the same occasion, Prof. Takuro Furusawa (Kyoto University, Japan) as the second spaker presented a topic on "Science, Policy, and Society of Japan Under the Covid-19 Pandemic". Prof. Furusawa outlined the Japanese government's policy to deal with the Covid-19 problem.
"There are many things that the Japanese government has done. For example, appealing citizens to stay at home, ordering companies to allow employee work from home, closing restaurants, and only allowing delivery food services. This, of course, aims to reduce direct interaction, so that we hope transmission can be prevented," explained Prof. Furusawa.
The last presentation was delivered by Sudirman Nasir, Ph.D with a topic regarding the handling of Covid-19 in Indonesia.
The International Webinar on the mitigation of Covid-19 was closed by the Vice-rector for Research, Innovation and Partnership, Prof. dr. Nasrum Massi, Ph.D. In his remarks, he appreciated this interesting activity because it involved three countries to discuss the Covid-19 mitigation. Thus, the webinar provides information and descriptions related to the efforts of each country to overcome the pandemic problem.
Furthermore, Prof. Nasrum also provided a brief overview of the Indonesian government's policies in handling the Covid-19 case such as the application of social distancing, health protocols by diligently washing hands and always wearing masks.
"We hope that this collaboration will not be the last. Unhas, Japan, and Australia can enhance joint collaboration to discuss the handling of Covid-19 or other issues which are expected to produce scientific articles," explained Prof. Nasrum.
The activity which was guided by Joko Hendarto (Lecturer at the Faculty of Medicine, Universitas Hasanuddin) as the moderator was attended by approximately 250 participants and went smoothly until the end of the event at 16.00 WITA. (* / Mir)
Editor: Ishaq Rahman, AMIPR
Head of sub-directorate of Public Relation and Information
Directorate of Communication Hasanuddin University
Translator: Kumara Tungga Dewa and Karmila Mokoginta