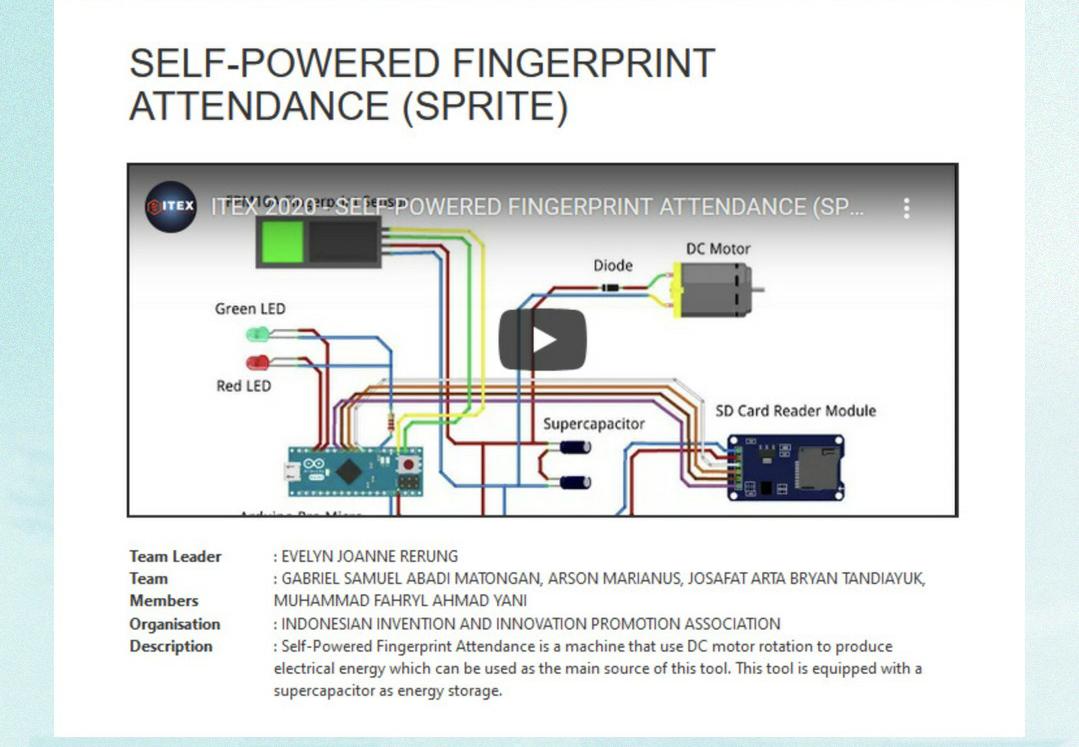 A Team from the Department of Industrial Engineering of UniversitasHasanuddin won a silver medal (bronze medal) at the 2020 International Invention, Innovation & Technology Exhibition (ITEX).
ITEX is an international level technological innovation and discovery exhibition held in Malaysia on November 20-21. This year, due to the Covid-19 pandemic situation, the competition was held virtually.
In an interview on Sunday (29/11), Evelyn Joanne Rerung as the team leader explained that ITEX is one of the media to get broader knowledge, and it is useful to introduce innovative work at the international level.
In addition, Evelyn also said that the main objective was to contribute to bringing the good name of Unhas and Indonesia to the international stage.
"We were preparing the decision making, preparation for technology research, and other things. For me personally, the challenge of being a team leader is how to learn to communicate and make decisions well," Evelyn explained.
At the ITEX 2020 event, Evelyn and her team introduced their innovation called Self-Powered Fingerprint Attendance (SPRITE). This innovation arises from the observations that have been made on the current attendance fingerprint.
Fingerprint attendance still uses energy sources from electricity so that it cannot operate when the power goes out, or from batteries which can produce battery waste. Besides that, the large size is also an obstacle.
For that reason, SPRITE is here as an innovation for a fingerprint attendance machine by utilizing Self-Powered Dynamic System technology. Therefore, this tool is able to convert excess kinetic energy into energy used to power the system itself. SPRITE is able to operate without the need for an external electricity supply.
"We designed this tool in such a way to make it convenient to be used, and it is portable. This tool works when the thumb is placed on the Fingerprint Sensor and the other four fingers press the lever which will rotate the gearbox. The energy from the fist is converted to rotational kinetic energy and will rotate the DC generator for use to generate electrical energy. We also equip this tool with a GUI system as a medium to improve users' experience," continued Evelyn.
The existence of SPRITE is expected to be a new generation of fingerprint attendance machines and in the future, it can be used commercially as attendance machines for companies, campuses, and other agencies that need it.
At the end of the interview, Evelyn advised all students or other colleagues to keep enthusiastic and continue working and maximizing the spirit of youth for positive things to build themselves and the environment around them.
Team Leader: Evelyn Joanne Rerung
Members:
1. Gabriel Samuel
2. Arson Marianus
3. Muhammad Fahryl
4. JosafatArta Bryan.
Editor: Ishaq Rahman, AMIPR
Head of sub-directorate of Public Relation and Information
Directorate of Communication Hasanuddin University
Translator: Kumara Tungga Dewa and Karmila Mokoginta