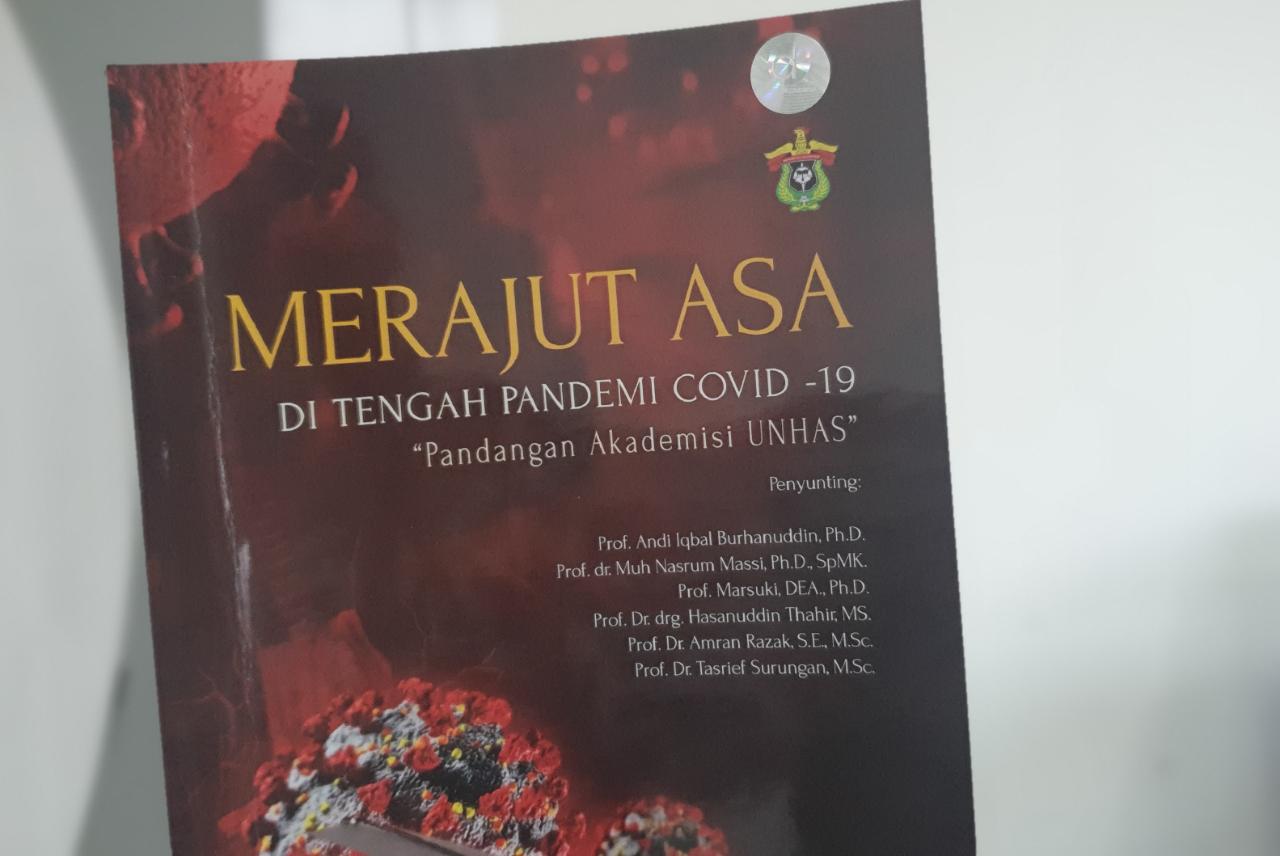 The academics community of Universitas Hasanuddin (Unhas) published a book entitled "Merajut Asa di Tengah Pandemi Covid-19: Pandangan Akademisi Unhas". The book contains various multidisciplinary notes related to reflections, ideas, and actions to overcome the pandemic that struck since March 2020.
This book "Merajut Asa di Tengah Pandemi Covid-19" contains writings from 49 academics from various disciplines. It reviews the Covid-19 pandemic phenomenon from various perspectives such as medical, public health, pharmaceutical, food security, engineering, legal, social, economic and cultural.
The editors of this book are six professors of Unhas, Prof. Andi Iqbal Burhanuddin, Ph.D, Prof. dr. Muh Nasrum Massi, Ph.D., Sp.MK, Prof. Marsuki, DEA, Ph.D, Prof. Dr. drg. Hasanuddin Thahir, MS., Prof. Dr. Amran Razak, SE., M.Sc, and Prof. Dr. Tasrief Surungan, M.Sc.
In his introduction, the Rector of Unhas, Prof. Dr. Dwia Aries Tina Pulubuhu, MA., said that Unhas is committed to expanding the scope and benefits of its presence through the transformation of actions for the nation and society.
"We are moving from the idea of 'benefiting the community' towards a broader direction, which is 'contributing to humanity'. Today we still face a number of humanitarian problems, where the campus must play an active role and be part of the solution," said Prof. Dwia.
The process of preparing this book itself took place in a relatively short time. The collection of writings and content took place at the beginning of May 2020, in which in a short time as many as 49 writings could be collected. Next, the editing team did the editing, pre-printing, and printing process.
Prof. dr. Veny Hadju, M.Sc, Ph.D as one of the contributors wrote an article entitled "Fasting, Immunity, and Prevention Covid-19". This article seems to be inspired by the coming of Ramadan in 1441 Hijriah, when the Covid-19 pandemic was in a serious situation.
Prof. Veny in her writing stated "Research in the United States shows that fasting for 30 days makes all body cells new. This research also shows that there is an increase in body immunity to 10 times. This is very different from the allegations that fasting will reduce immunity,".
Several other writings in this book also describe an interesting perspective. For example, in the food security approach, contributors see how the use of geospatial technology for handling the Covid-19 pandemic (Prof. Dr. Ir. Sumbangan Baja, M.Phil), the relationship between Covid-19 and the livestock world (Prof. Sri Rachma AB, M.Sc., Ph.D), aquaculture (Prof. Dr. Ir. Yushinta Fujaya, M.Sc), seafood (Dr. Ir. Abd. Rasyid Jalil, M.Sc), fisheries (Prof. Dr. Ir. Sudirman, MPi), food crisis (Prof. Dr. Ir. Dorothea Agne Rampisela, M.Sc), and fisheries resilience (Dr. rer. Nat. Muhammad Lukman, ST, M.MarSc).
This 243-page book is also proof that working from home during the pandemic can be productive as well. For lecturers and researchers, writing and researching cannot be separated in their daily activities.
"This is a special achievement for Unhas that always takes care of writing traditions that benefit the wider community," said the Rector of Unhas, Prof. Dr. Dwia Aries Tina Pulubuhu, MA at the end of her introduction. (* / Ir)
Editor: Ishaq Rahman, AMIPR
Head of sub-directorate of Public Relation and Information
Directorate of Communication Hasanuddin University
Translator: Kumara Tungga Dewa and Karmila Mokoginta