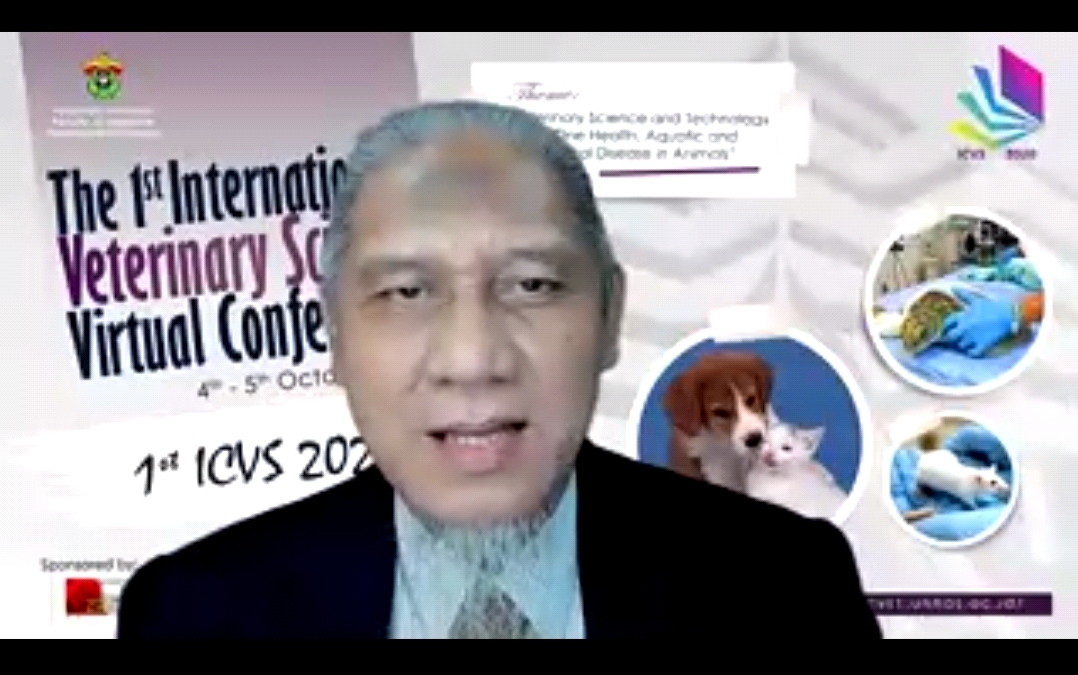 Universitas Hasanuddin (Unhas), through the Department of Veterinary Science, Faculty of Medicine (Fakultas Kedokteran/FK), held the first international conference entitled "The 1st International Veterinary Science Virtual Conference". The conference's theme was "Veterinary Science and Technology for One Health, Aquatic and Tropical Disease in Animals."
The activity started at 09.00 WITA, virtually through the zoom meeting application, Sunday (04/10).
There were some experts invited to be speakers, Prof. Srihadi Agungpriyono, DVM., Ph.D. (Faculty of Veterinary Medicine, Bandung Institute of Technology), Prof. Deni Noviana, DVM., Ph.D., DAiCVIM., (Faculty of Veterinary Medicine, Bandung Institute of Technology), Yasmina Arditi Paramastri DVM., M.Sc., ACLAM (National University of Singapore), Prof. Dr. Ir. Hilal Anshari, M.Si., (Faculty of Fisheries and Marine Sciences Unhas), Dr. Dorothy McKeegan (Glasgow University, UK) and Prof. Osamu Kawamura, Ph.D., (Kagawa University, Japan).
Starting the activity, the head of the committee, Dwi Kesuma Sari, DVM., Ph.D., APVet., explained that this first conference received 98 papers on various topics in veterinary medicine, such as animal anatomy, physiology, pathology, animal disease, and veterinary public health. These papers would go through a review process and be published in Scopus indexed journals and proceedings.
On the same occasion, the Vice-Dean for Research of FK Unhas, Dr. dr. Rina Masadah, Sp.PA., M.Phil., representing the leaders of the faculty, expressed her gratitude for the willingness of the speakers to share information and knowledge.
The Vice-Rector for Academic Affairs of Unhas, Prof. Dr. Ir. Muh. Restu, MP., officially opened the activity. In his remarks, he expressed his appreciation and support for the conference. He hoped that this conference would become a means of information for strengthening networks and collaboration among the universities involved.
"This conference is, of course, essential to enrich insight and knowledge around the topic of discussion and is supported by speakers who are competent in their respective fields. I believe this activity will generate ideas and thoughts that can be used as reference material for related disciplines," explained Prof. Restu.
After the official opening, the activity was continued by listening to explanations from the speakers.
Prof. Srihadi Agungpriyono, DVM., Ph.D., (Faculty of Veterinary Medicine, Institute Teknologi Bandung), as one of the speakers, delivered a topic related to "Development of Soft Skills Curriculum in the Indonesia Veterinary Education." In general, his explanation includes learning methods as well as the essential competence of a veterinarian.
According to the schedule of activities, this conference will last until Monday (05/10). For the first day, apart from Prof. Srihadi, three other speakers delivered the topics, namely Prof. Deni Noviana, DVM., Ph.D., DAiCVIM., Yasmina Arditi Paramastri DVM., M.Sc., ACLAM., And Dr. Dorothy McKeegan. It is scheduled to last until 16.00 WITA. (* / Mir)
Editor: Ishaq Rahman, AMIPR
Head of sub-directorate of Public Relation and Information
Directorate of Communication Hasanuddin University
Translator: Kumara Tungga Dewa and Karmila Mokoginta