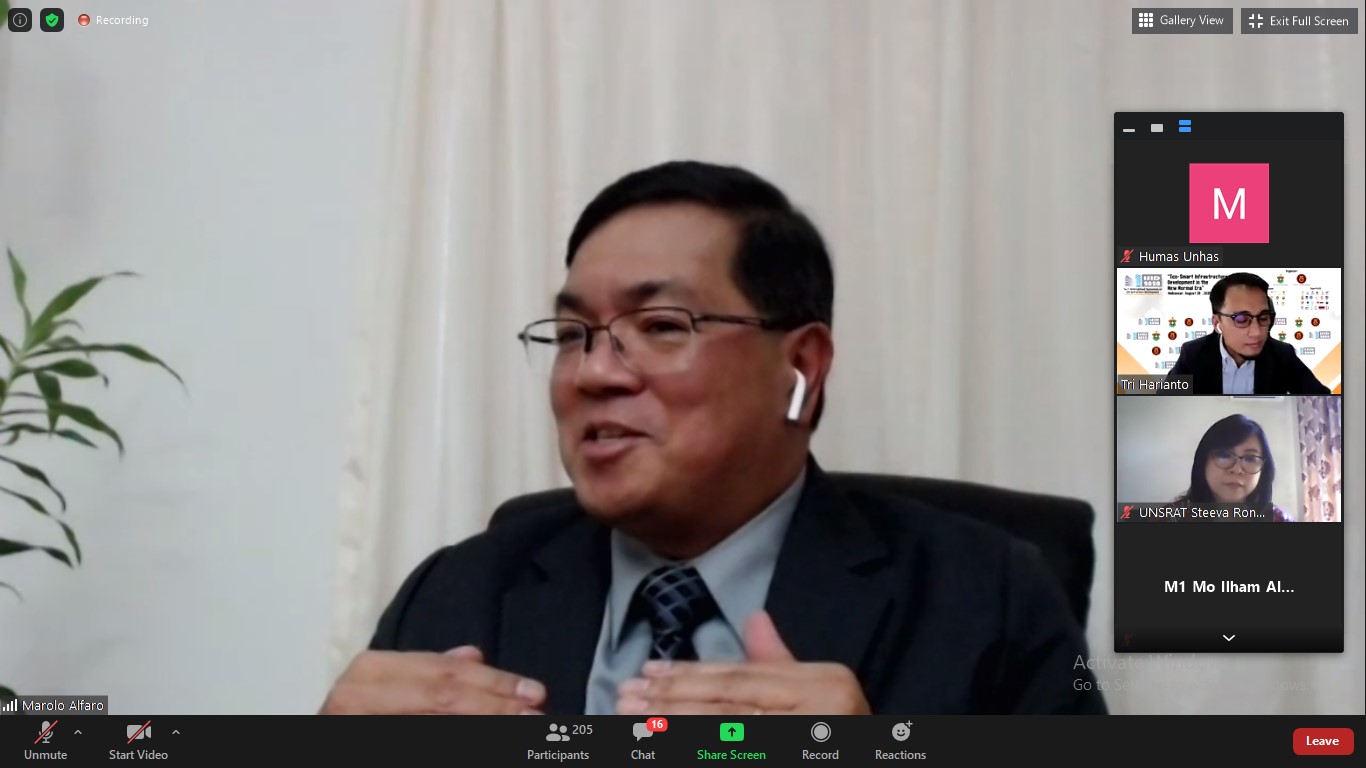 Universitas Hasanuddin (Unhas) through the Civil Engineering Department of the Faculty of Engineering in collaboration with Universitas Teknologi Malaysia (UTM) held an international conference entitled The 5th International Symposium on Infrastructure Development. This conference took the theme of "Eco-Smart Infrastructure Development in The New Normal Era".
This conference started at 09.00 Wita virtually through the zoom meeting application, Friday (28/08).
The Mayor of Makassar City, Prof. Dr. Rudy Djamaluddin, S.T., M.Eng., and other six invited speakers from several countries, such as Prof. Dr. Marolo C. Alfaro, Ph.D., P. Eng (University of Manitoba, Canada) and Prof. Dr. Hidenori Hamada (Kyushu University, Japan) attended the Symposium as the keynote speakers.
The activity started with a speech from the Dean of the Faculty of Engineering Unhas, Prof. Dr. Ir. A. Muhammad Arsyad Thaha, M.T. He explained that even though Unhas has to deal with the Covid-19 pandemic, knowledge development continues to be carried out by folowing the Covid-19 health protocol.
This activity is one of the Engineering Faculty efforts to increase research collaboration and partnership with various partners in order to support the achievements of the internationalization of Unhas.
"The Covid-19 pandemic has not dampened the enthusiasm to carry out various activities that support academic quality improvement. The activities continue to be conducted, but the implementation of health protocols is always prioritized. This will become a forum for scientific development, case studies, and other related fields of science," explained Prof. Arsyad.
The activity was officially opened by the Rector of Unhas, Prof. Dr. Dwia Aries Tina Pulubuhu, MA. She expressed her high appreciation to the committee for holding an international conference for the Faculty of Engineering and a very strategic and relevant discussion theme in the 4.0 era and the new era after the Covid-19 pandemic.
"The application of eco smart has a major contribution in the development of community infrastructure. During the pandemic, people are at home and depend on applications. This kind of behavior certainly has an impact on many aspects of life. We hope this activity can provide the concept of infrastructure development in the new normal era." explained Prof. Dwia.
The activity was proceeded to the presentation from the Mayor of Makassar represented by the Head of the Regional Research and Development Agency (Badan Penelitian dan Pengambangan Daerah/Balitbangda) of Makassar, related to "Makassar City Infrastructure Development in the Era of the Industrial Revolution 4.0".
In the presentation, he explained several strategic steps taken by the government, for example in terms of development diversification and collaboration strategies carried out by the government and industry through the development of Public-Private Partnership (PPP).
The PPP concept is developed and used for infrastructure development with the aim of helping the economic welfare improvement of the community.
After discussing the topics from the keynote speaker, the activity moved to the next presentation from the other resource persons.
The activity which was attended by approximately 300 participants went smoothly until the end of the event at 12.00 WITA. (* / Mir)
Editor: Ishaq Rahman, AMIPR
Head of sub-directorate of Public Relation and Information
Directorate of Communication Hasanuddin University
Translator: Kumara Tungga Dewa and Karmila Mokoginta