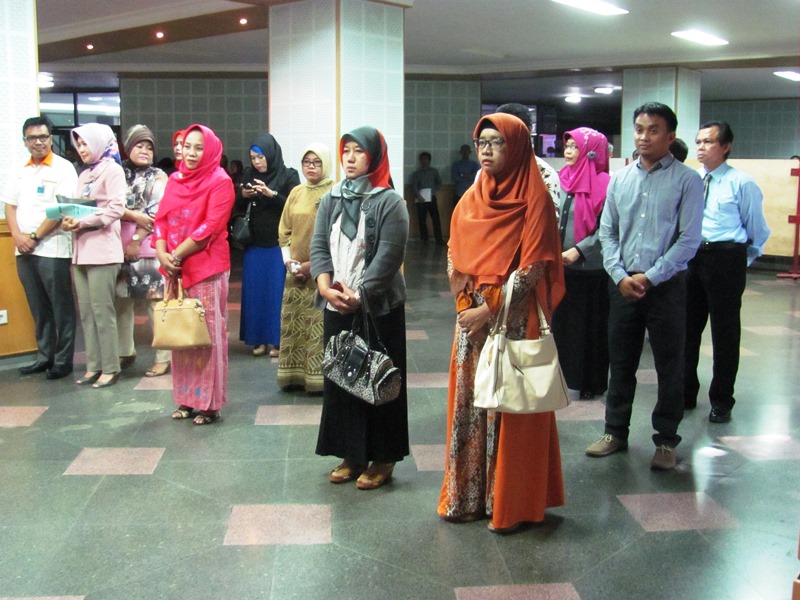 Unhas graduates that have just completed their Doctoral Degrees both in Indonesia and overseas, which were accepted back by Unhas Rector, Wednesday (1/6/2016). (Photo:mda)
Educators (tendik) of Universitas Hasanuddin in the future will not only have the opportunity of continuing their studies inside the state but also overseas. This year marks the first phase of Unhas sending two of its educators to Japan.
"Once they have returned, they will be hoped to manage the Unhas business units in face of the embraced Autonomous Status (PTN BH). For those interested, please do register. We will have preparations in two months to come, and we conduct TOEFL tests in December," stated Unhas Rector Dwia Aries Tina Pulubuhu, while inducting a number of functionary officials of Unhas, Wednesday (1/6/2016).
He hoped that the educators of Unhas can take the right examples of those including M. Uzeir Marikar (former Head Bureau of Finance Unhas) and Drs. J.G. Nelwa as the former Head of the Academic Bureau (both during the leadership period of the late Prof. Dr. A. Amiruddin, former Unhas Rector), the late Drs. Abdul Muis Hamid (former Head Bureau of General Administration, during the leadership of previous Rectors: Prof. Dr. Basri Hasanuddin, M.A. and Prof. Dr. Ir. Radi A. Gany), as well as the former Head of Academic Bureau, Dra. Ratna Ardjo (period of former Unhas Rector Prof. Dr. dr. Idrus A. Paturusi).
"We need to be comprised of figures encompassing similar integrities and capacities," stated Dwia during the Induction event, also attended by the University Secretary Nasaruddin Salam, Vice-rectors, Deans, Director of the Graduate School Unhas, and some other functionary officials.