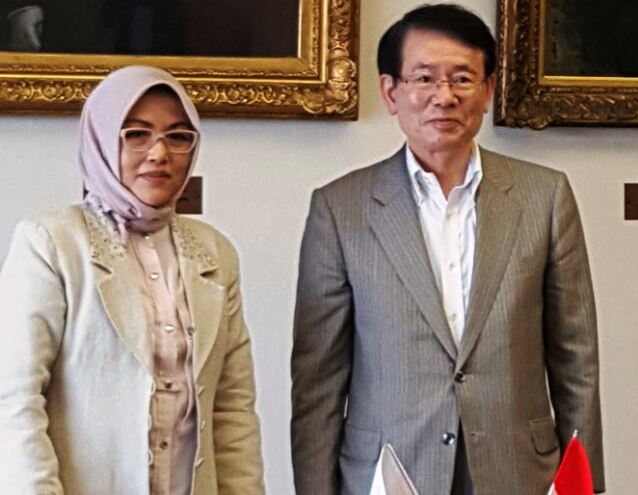 Unhas Rector, Prof. Dwia Aries Tina Pulubuhu and President of Kyushu University, Prof. Chiharu Kubo.
Universitas Hasanuddin Rector, Prof. Dr. Dwia Aries Tina Pulubuhu, MA, visited Kyushu University, Japan. During the meeting with the President of Kyushu University, Prof. Dr. Chiharu Kubo, taking place Tuesday, 12 July 2016, several potential partnerships were discussed, matters of collaborations between the two institutions.
Kyushu University consists of a hospital that is approximately 100 years old, which encompasses 1.400 patient beds for its services. The hospital focuses on the field of cancer treatment, with specialists and experts in the field well-known both in Japan and Internationally. Such a potential is hoped by Unhas, to collaborate in the particular areas, as Unhas also comprise of a hospital that focuses on the aim of being the center of cancer treatment in Indonesia (cancer center).
During the visit, Unhas Rector echoed of the commitment to increase the cooperation in the medical field, or known as a form of University to University partnership. Faculty of Medicine Unhas will become the leading faculty in the partnership. For Kyushu University, their Faculty of Medicine will also be at the forefront of the partnership.