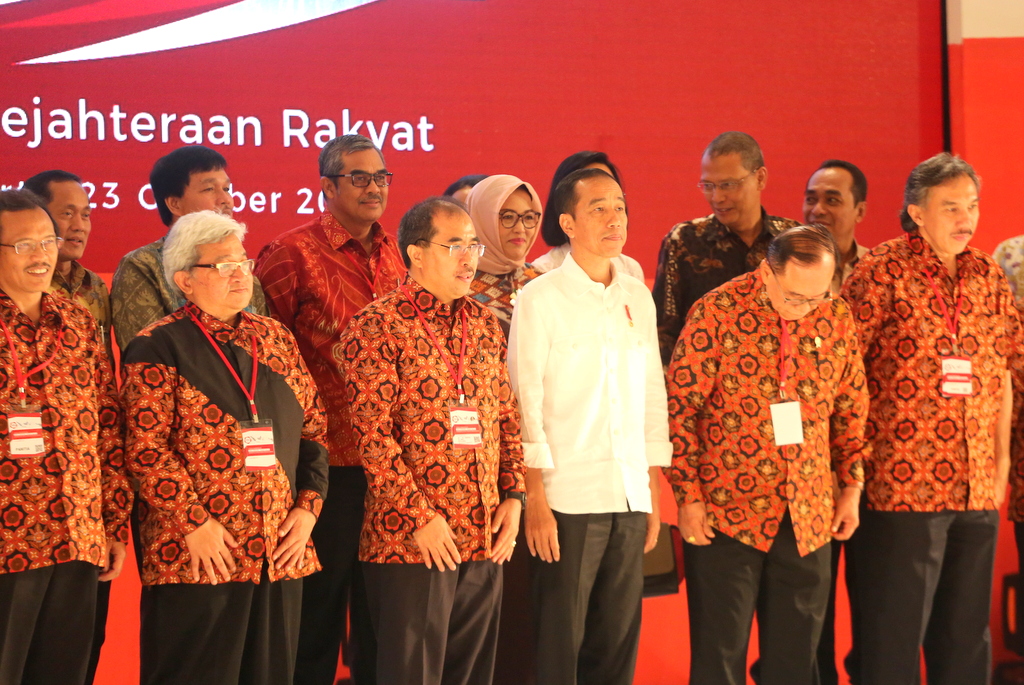 President Joko Widodo with National Dialogue Specialisation Field Heads and Dialogue Host University Rector.
In order to collect public input concerning development policies of President Joko Widodo and Vice President Jusuf Kalla governance in its 4th-year term, Presidential Advisory Assembly made a motion to conduct National Dialogue 2017. The dialogue event topics are classified into fields as follows:
Field 1. National Resilience, Politics, Law and Security Maintenance
Field 2. Preserving Unity and Strengthening Republic of Indonesia
Field 3. Arranging Economy, Industry, and Trade
Field 4. Accelerating Infrastructure Development and Connectivity
Field 5. Achieving Food Sovereignty and Maintaining Food Resilience
Field 6. Arranging Mining and National Energy Resilience
Field 7. Maritime-based Focus and Maritime Resource Maintenance
Field 8. Arranging Environment, Forestry, and Land Preservation
Field 9. Social Health and Prosperity
Field 10. Human Resource Development, Renewability and Vocational Education
Field 11. Building Tourism, Cultural and Creative Industry-Oriented Villages
Field 12. Cyber Resilience: Protecting Data Maintenance and National Information Dissemination
On 7 October 2017, Hasanuddin University was entrusted to host National Dialogue Field 1 (National Resilience, Politics, Law and Security Maintenance). Various inputs from many interest groups were absorbed and discussed, and then became eight main recommendations. The contributions will be formulated into more inputs for Jokowi-JK governance for the remaining two years.
For that reason, Central-level National Dialogue 2017 will take place today, on Monday (23 October) at Jakarta International Expo (JIEXPO), Kemayoran, Central Jakarta. The event will start at 08.30 local times and will begin with discussions on recommendations from many fields that have been made from regional dialogues since September to October.
President Joko Widodo and several Working Ministry Cabinet members will attend the National Dialogue 2017 Finale. The event was planned to start at 19.00 local time. Amongst many agendas within the event, there will be the transfer of National Dialogue Resultant Recommendation from all fields, and Directions from President of the Republic of Indonesia.
Unhas Rector, Prof. Dr. Dwia Aries Tina Pulubuhu, MA is one of the visitors with a special invitation to attend the National Dialogue 2017.(*)