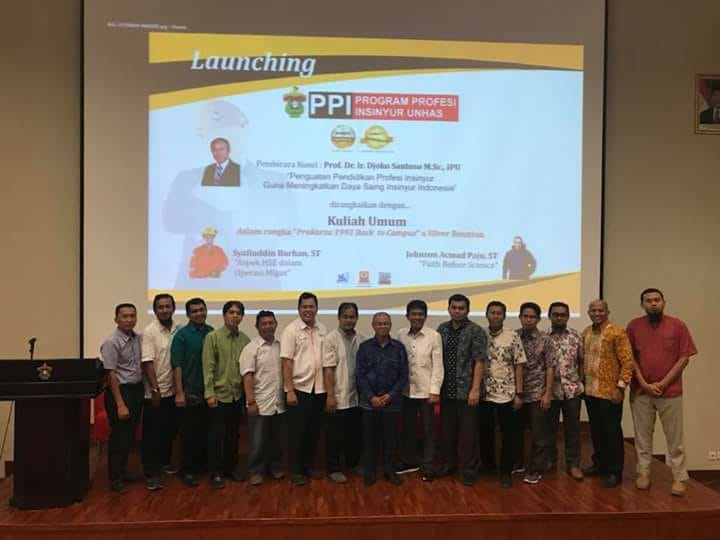 Professional Engineering Program (known as Program Profesi Insinyur or PPI) recorded as the only program outside Java island in its kind that accredited by National Accreditation Board of Higher Education (BAN-PT). After obtaining the minimum accreditation in April 2018, PPI Unhas open registration for previous recognition learning (known as Rekognisi Pembelajaran Lampau or RPL).
Ministerial decree number 26 the year 2016 states that RPL is the recognition of Learning Outcomes (capaian pembelajaran) obtained by a person from formal or informal education, and/or work experience into formal education. By adopting this system, someone with previous formal education as well professional experience in particular skill can be recognized as an achievement to equalize it with certain qualifications.
With this RPL system, someone who has an education or expertise in the field of the technical profession can be certified as a professional engineer. In accordance with the mandate of Law No. 11 of 2014, any person who practices engineering must have a Certificate of Engineering issued by a university.
Registration of RPL participants at PPI Unhas has received 94 participants who passed initial verification in early July 2018. Now, all participants are doing the registration process and will start filling the online porto-folio in August 2018.
Chairman of PPI Unhas Study Program, Dr. Eng. Ilham Bakri, ST., M.Sc, IPM., explained that out of 94 RPL participants, 49 of them were from the internal lecturer of Engineering Faculty of Unhas, while 45 others came from industry sector such as PT. Vale, PT. Insurin, Energy Equity Sengkang, PT. Malea Energy, and several other companies.
"There are also some Civil Servant Apparatuses as well as from areas in South Sulawesi and from North Kalimantan Province. We also have some participants from other universities including Kopertis Region IX, Muhammadiyah University in Parepare, Polytechnic ATI Makassar, and Sam Ratulangi University in Manado," said Ilham Bakri who obtained his doctorate from a Japan university.
During August, participants will fill out the online portfolio (e-Portfolio) through ppi.unhas.ac.id. This e-Portfolio is the first online engineering portfolio assessment system in Indonesia built by PPI Unhas Study Program and Directorate of Technology and Information of Unhas.
"With this e-Portfolio, RPL activities in UNHAS are fully implemented online so that participants can access the program from anywhere, without having to come to Hasanuddin University," said Ilham who also the lecturer of Industrial Engineering Department of UNHAS.
Ilham added, if the whole process went well, RPL participants of the first batch will be graduated in September 2018 to obtain a certificate and the title of engineer (Insinyur) officially. "Participants do not have to doubt the qualifications of this system, because we are the only ones outside Java which already achieve minimum accreditation from BAN-PT," explained Ilham. (Ishaq Rahman, Unhas Public Relations)