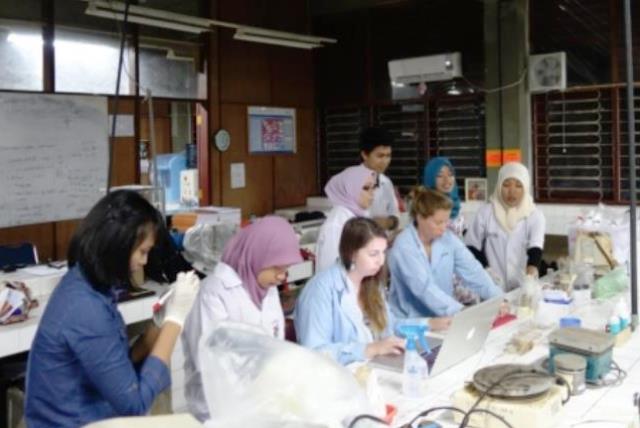 International research partnership conducted in the Universitas Hasanuddin faculties (doc. Humas)
International Publication, one of the most vital indicators to the performance of higher education institution, sharply rose last year in Unhas. Out of the one thousand targeted Scopus-indexed International publications for 2016, it is recorded that Unhas scholars were able to complete 1.041 International publications. "The international publications that we targeted is a thousand, but by the end of 2016, the figures show that we have attained 1.041 international publications that are of Scopus-indexed. Therefore, we have exceeded our target," stated the Unhas Rector Prof. Dr. Dwia Aries Tina Pulubuhu, MA, during her remarks for the Graduation Ceremony of Graduate Programs Unhas (22/12).
According to Dwia once asked for confirmation, the one thousand Scopus-indexed international publication targets at first was thought to be of too high of a standard, considering the figures in previous years are approximately hundreds of publications. "But in reality, we are able to achieve that target. Of course with hard work and resilience of Unhas," explained Dwia.
The data acquired by the Publication Management Centre (PMC) Unhas indicates that the Scopus-indexed international publications have sharply rose this year, in comparison to previous years. Scopus-indexed international publications in 2012 only accumulated to 380, 419 in 2013, 426 in 2014, and rose significantly in 2015 becoming 743, and 1.041 by the end of this year.
The success according to Dwia cannot be separated with the performances of lecturers and researchers of Unhas, including the contributions of the Unhas Graduate students that have publicized the results of their research in International journals. Besides that, efforts taken at the beginning of the year include the allocation of the BLU budget that accumulated to 10 billion rupiahs, taken from the operational budget of Unhas. "The budget acted as a grant given to researchers proven to have publicized their work in the international scale, or able to produce real products," elaborated the Unhas Rector.
The achievement of Unhas positioned the University being in the fourth rank in the category of research, in the overall Indonesian national scale. Institutions above Unhas include Institut Teknologi Bandung (ITB), Universitas Indonesia (UI), and Universitas Gajah Mada (UGM).