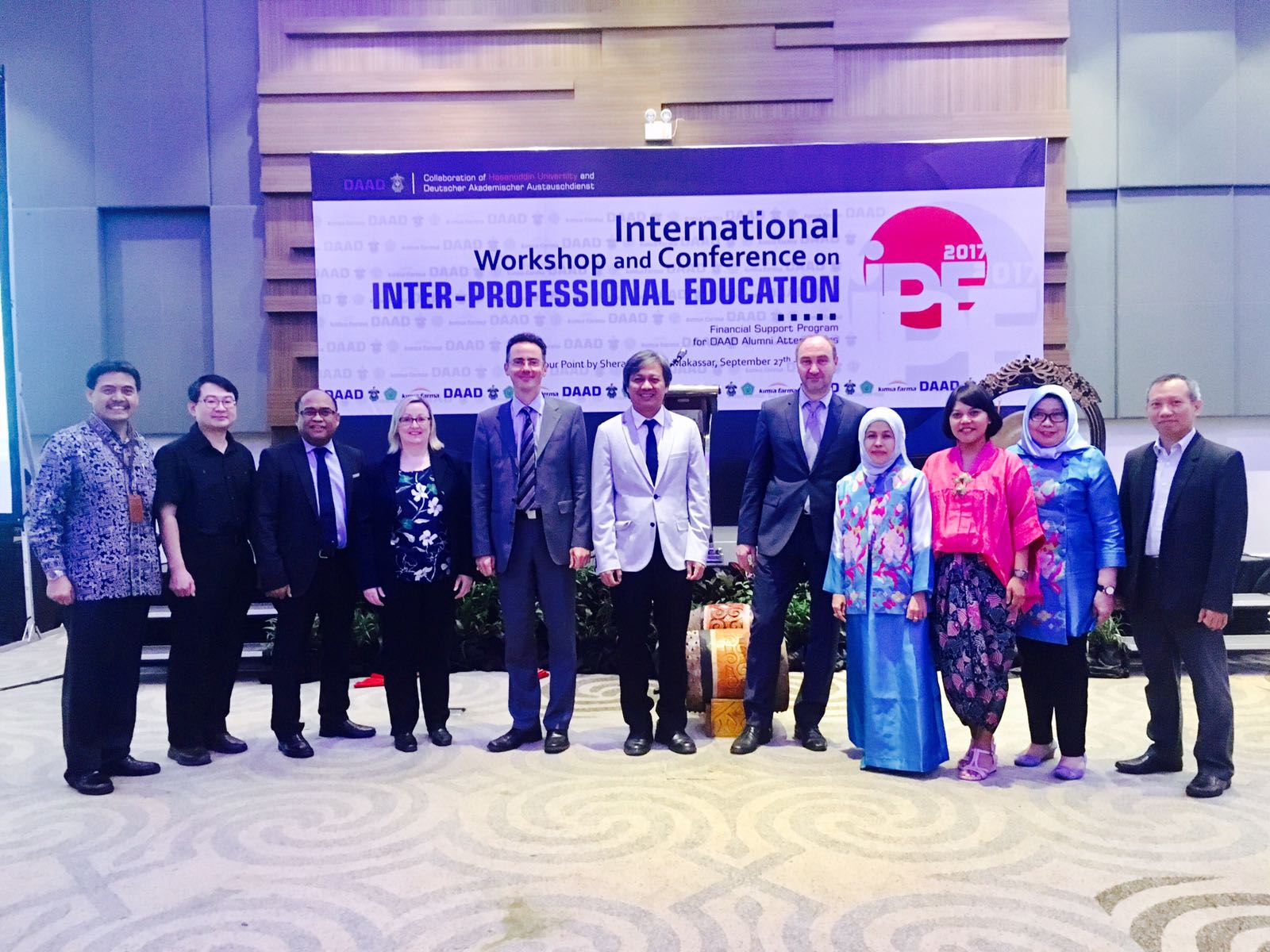 Director of International Partnership, Dr. Iqbal Djawad with the facilitators after the opening ceremony
Universitas Hasanuddin and DAAD German Academic Exchange Service conducted an event entitled: "International Workshop and Conference on Inter-Professional Education (IPE)." The event that was conducted on 27-29 September 2017 in Four Points Hotel, Jl. Landak Baru Makassar was aimed to establish understanding on the inter-professional education and design educational curriculum based on that concept. Such would include curriculum planning, teaching strategies, and evaluations. Besides that, the event is also hoped to build International collaborations in the fields of health, research, implementation, and policies.
The event that was held attracted participants from DAAD programs, health practitioners, researchers, academics from universities, policymakers in the health sector, students, as well as community organization representatives in the field of health services and health observers.
The workshop and conference consisted of 12 facilitators, namely:
1.
Prof. Dr. Intan Achmad (Directorate-general for Learning and Students, Ministry of Research, Technology, and Higher Education), represented by Aprilia Ekawati
2.
Prof. Dr. Burkhard Kleuser (Postdam University, Germany)
3.
Pharmacist Dr. Helmut Schlager (Geschaefstfuehrer des Wissenschaftilchen Insituts fuer Prevention im Gesundgeitswesen, Muenchen Deutschland)
4.
Dr. Daryono Hadi Tjahjono (Head of Indonesian Pharmacy Higher Education Association)
5.
Lisa Mckenna PhD., MEdSt., GDLFH, GDHealthAd&IS BEdSt,RN,RM,FACN (School of Nursing and Midwifery), Faculty of Medicine, Nursing and Health Sciences at Monash University).
6.
Dr.rer.nat Abe Susanto, MSi. (Coordinator of Bureau of Planning and Foreign Cooperation Scholarship)
7.
Myo Nyein Aung, MBBS, M.Sc., Ph.D. (Chulalongkorn University Thailand)
8.
Dr. Prof. Dr. Hirotaka Onishi (The University of Tokyo, Bunkyo-Ku Japan)
9.
Prof. Dong-Seok Kim, Ph.D. (Chung-Ang University, South Korea)
10.
Dr. Irwin Aras, M.Epid.M.Med.Ed. (Hasanuddin University)
11.
Rr. Titi Savitri Prihatiningsih, MPH, MMed.Ed, Ph.D. (Head of SEARAME and PPAIDIPROKESI)
12.
Dr. Ir. Andi Niartiningsih, MP. (Coordinator Kopertis IX Sulawesi)
In his opening remarks, Director of International Partnership Universitas Hasanuddin, Dr. Iqbal Djawad, stated his appreciation to DAAD and IPE for the willingness in collaborating with Unhas for the event. "We are also grateful for the facilitators that originate from Australia, Japan, Malaysia, Thailand, and other states, providing their time to make the long journey to be present at this event," stated Dr. Djawad.
The speakers hoped that they were able to provide thoughts and knowledge, skills, as well as inspirations to the participants in regards to collaboration enhancements in the long term between the stakeholders present in the event.
Besides the workshop, the event also presented a number of papers in the conference, which are research outcomes found by the respective speakers. The papers presented will be published in reputable journals including HAYATI Journal of Bioscience (Scopus indexed), Indonesian Journal of Clinical Pharmacy (national accredited), and Jurnal Medika Nusantara.