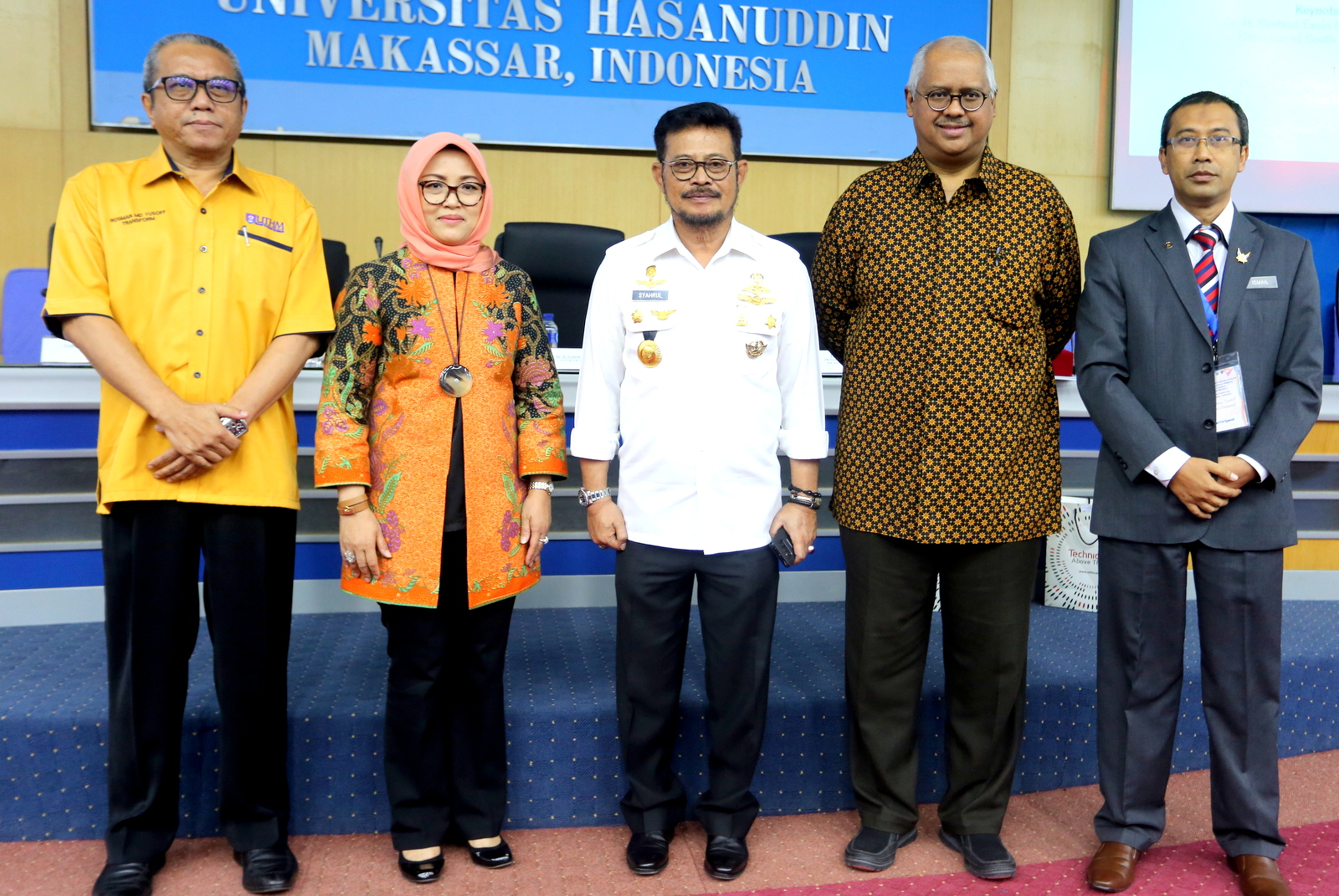 Unhas Rector and Governor of South Sulawesi with the President and CEO of Integrity Malaysia and the Representative of Kingdom of State Johor after the opening of the 1st International Conference on Social Transformation and Regional Development
Hasanuddin University and South Sulawesi Provincial Government, with the cooperation of the Institute for Social Transformation and Regional Development (TRANSFORM) and Tun Hussein Onn Malaysia University (UTHM), have conducted an International Conference entitled the 1st International Conference on Social Transformation and Regional Development (ICoSTRD) 2017.
This scientific event on social transformation and development lasted for two days, from Wednesday to Thursday, 18-19th in Rektorat Unhas Building, at Ruang Senat on 2nd Floor, Meeting Room on the 4th floor, and Rektorat Unhas 6th floor.
The opening ceremony and Keynote Speaker presentation were held at Ruang Senat, while the proceeding scientific presentations took place at Ruang Diskusi on the 4th floor and Rektorat UNHAS 6th floor. This conference was attended by academics from several universities in South Sulawesi and Malaysia.
The keynote speaker of this international conference was Datuk Dr. Anis Yusal Yusoff, the President and Executive Head of Malaysia Institute of Integrity (INTEGRITY), whose speech was themed "Transforming Social and Regional Development."
In his speech, Anis emphasized the importance of academic activities or researchers in social change, where social transformation can only begin from academic analysis, policy formulation and advocating transformation. According to Anis, social change needs to be based on research. "The best research is research that could be translated in real life and used as a policy formula within the society," Anis expressed.
Rector of Unhas, Prof. Dr. Dwia Aries Tina Pulubuhu, MA, highly welcomed this international conference. In her welcoming speech, Dwia remarked: "I believe this scientific meeting is overwhelmingly beneficial to discuss and share knowledge and experiences."
This conference was opened officially by Governor of South Sulawesi, Dr. H. Syahrul Yasin Limpo, S.H, M.H. According to Syahrul, this conference is highly strategic to be held by Unhas, Indonesia, and Malaysia to seek new formulas in society. "In a fast and accelerative development situation, the government and society should not be anxious. We need to collaborate. The government, higher education, and social institutions need to collaborate to face current world instrumental changes," the South Sulawesi Governor stated, whose office term will end in the next five months.
The opening ceremony of this conference ended with souvenir exchanges between representatives of Unhas, UTHM, and TRANSFORM a Malaysian think tank institution. (*)