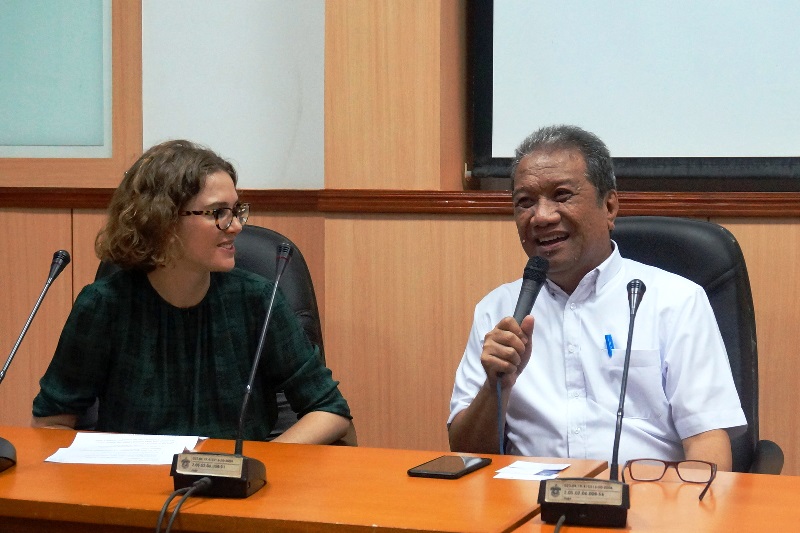 Vice Consul of Australia in Makassar, Ms. Violet Rish, and Vice Rector for Academic Affairs Unhas, Prof. Dr. Ir. Junaedi Muhidong, MP, during the opening ceremony of the workshop
To enhance the international publications of academics and lecturers in Eastern Indonesia, Universitas Hasanuddin and Monash University conducted the "Unhas-Monash Publication Strengthening Workshop for Eastern Indonesia," that was conducted in the Meeting Room GB II, 2nd floor of the Unhas Graduate School, Tuesday, 12 September 2017.
The workshop consisted of 35 lecturers from Unhas and a number of universities in the Eastern part of Indonesia and was opened by the Vice Rector for Academic Affairs, Prof. Dr. Ir. Junaedi Muhidong, MP. Also present at the event was Ms. Violet Rush, Vice Consul of the Australian Consulate General in Makassar.
Three distinguished academics from Monash University were appointed as the facilitators in the workshop, namely: Dr. Max Richter, Dr. Richard Chauvel, and Dr. Matthew Piscioneri.
In his opening remarks, the Vice Rector for Academic Affairs Universitas Hasanuddin greeted positively the partnership established between Unhas and Monash University, as well as stated how he is thankful to all participants for being able to take active participation in this workshop. "The partnership between Unhas and Australia, specifically with Monash University, has been maintained for a long time now. We understand that the capacities that we have now will need to be collaborated with overseas institutions, as we cannot work alone. Therefore do not research, write, publicize, nor review your writings alone, we need to work hand in hand," stated Prof. Junaedi.
Meanwhile, the Vice Consul of the Australian Consulate General in Makassar, Ms. Violet Rush, stated how she is astonished seeing the enthusiasm of Australian researchers to Indonesia. "Our office in Makassar coordinates with 11 provinces in the Eastern Indonesia. I have been placed here for one year. During my early times, I was always surprised seeing so many Australian lecturers visiting the city for research purposes," stated Rish in her remarks.
Australian and Indonesia researchers, especially from Unhas, have undergone many collaborations in research. "There is research on alternative energy, history of the Goa in Leang-Leang, and many others," stated enthusiastically by Rish.
The workshop that is conducted for two days (until 13 September 2017) was attended by a number of universities and research institutes, including Universitas Cendrawasih, Papua, and from the Research and Development Institute of Makassar.