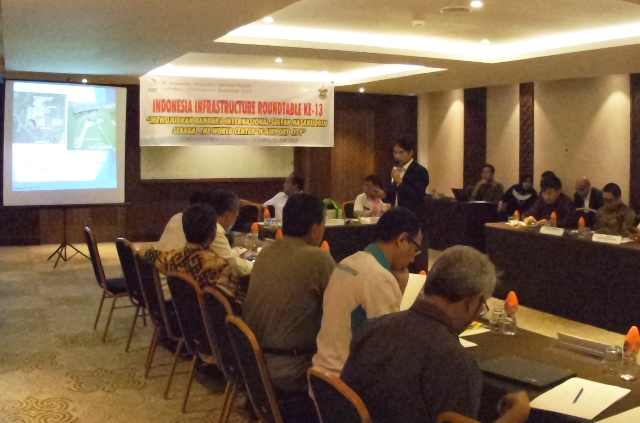 Prof. Ir. Sakti A. Adisasmita, M.Eng., Ph.D explaining the Sultan Hasanuddin Airport becoming an Airport City (Photo:amb)
The Sultan Hasanuddin International Airport Makassar now faces the condition of capacity, which is unable to balance the rise of passenger volumes annually, or in simple words, is in the crisis of overcapacity. "The airport was designed to serve 7,5 million passengers a year. As of now, it facilitates 9,3 million passengers, adding 88.553 airplanes in and out, as well as 68.828 tons of cargo," stated Prof. Sakti Adji Adisasmita, Ph.D during the 13th Indonesia Infrastructure Roundtable in Makassar, Thursday, (2/6).
According to the Civil Engineering lecturer Unhas, the rise in passenger volumes impacts significantly towards the increase of the airport revenues accumulating to 307.330.743 billion, in which the aero revenue is 203.222.940 billion (66%) and non-aero 104.107.803 billion (34%). "But ideally, the Sultan Hasanuddin Airport has intentions of being an airport city. Thus the non-aero revenues is supposed to be superior to the revenues of aero," stated Sakti.
To become an airport city, added Sakti, the vast areas required is 2.000 hectares minimum, and a developing budget of IDR 12 trillion, including funds for hotel constructions, exhibition conventions, shopping areas, theme park, finance area, and hospital, all comprehensively integrated. "Based on the area comprised, now is only 900 hectares, and the ones in the process is only 60 hectares. So we are far from obtaining that vision of becoming an airport city," stated the transportation expert of Unhas.
To construct an airport from an IDR 12 trillion budget, it, of course, cannot solely depend from the national and local budgets allocated. "We need to invite investors to participate," he added.
Meanwhile, the Kadin of South Sulawesi stated, that the development of Sultan Hasanuddin airport becoming an airport city is a necessity. "The only problem being, the main obstacles of land acquisitions," he stated.
Other speakers during the discussion include the Director of Airports Ministry of Transportation, President Director PR. Angkasa Pura I and Head of Planning and Local Development South Sulawesi. Discussions also included the Spatial and Building Department South Sulawesi, Transportation Department South Sulawesi, Kadin South Sulawesi, Planning and Local Development Makassar and Maros, Head of the Regional Office National Defense Body South Sulawesi, and the Head of the Transportation Community Indonesia. The Head of UNIID, Prof. Dr. Tech. Ir. Danang Parikesit, M.Sc, led the talk show.