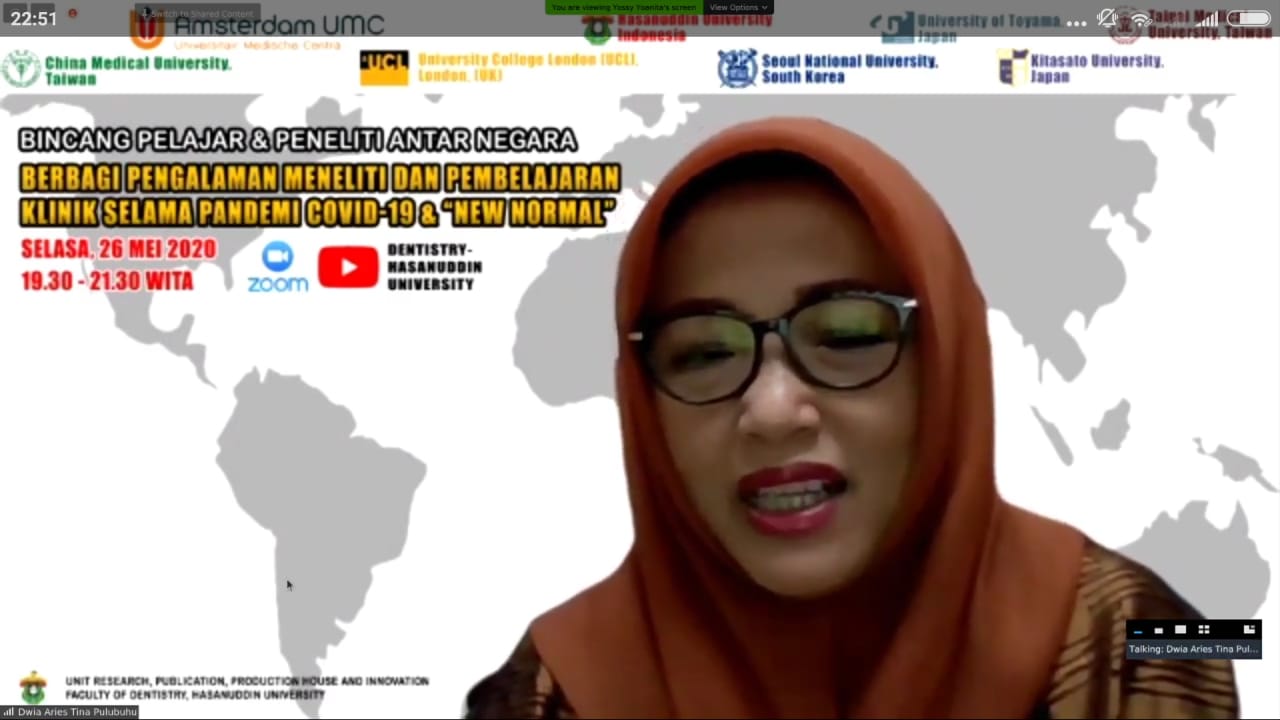 The Faculty of Dentistry (FKG) of Universitas Hasanuddin organizes International Student and Researcher Talks. The activity with the theme "Sharing Clinical Research and Learning Experiences During the Covid-19 and New Normal Pandemic" took place at 19.30 West Indonesia Time through the Zoom application, Tuesday (5/26).
Thera are 7 speakers:
1. drg. Muh. Irfan Rasul, Sp.BM(K). (Ph.D Candidate of Oral and Maxillofacial Department, University of Toyama, Japan).,
2. dr. Diandra Sabrina Natsir (Ph.D Candidate of Oral and Maxillofacial Departemen, Vrije University Medisch Centrum, Amsterdam, The Netherlands),
3. dr. Faqi Nurdiansyah Hendra (Ph.D. Candidate of Oral and Maxillofacial Department, Vrije University Medisch Centrum, Amsterdam, The Nerherlands).
4. drg. Syamsiah Syam, Sp.KG., (Ph.D Candidate of Graduate Institute of Dental Sciences, China Medical University, Taiwan).,
5. drg. A. St. Hajrah Yusuf (Magister Program at School of Dentistry, Collage of Oral Medicine, Taipei Medical University, Taiwan).,
6. drg. Dedy Ariwansa., (Visiting Researcher Program at Department of Medicine, Kitasato University, Sagamihara, Japan).,
7. drg. Kezia Rachellea Mustakim., (Magister Program at Department of Oral and Maxillofacial Surgery, School of Dentistry, Seoul National University, South Korea).
Unhas Rector, Prof. Dr. Dwia Aries Tina Pulubuhu, MA, expressed her appreciation for the webinar activities. In a crisis situation, the Unhas academic community, especially FKG, continues to carry out learning and research activities even in the Covid-19 pandemic situation and preparation for a new normal period.
Furthermore, Prof. Dwia said that the activity was very useful especially during the Covid-19 pandemic. The community is faced with situations that require rapid response in all sectors of life including learning and research.
"This meeting is also very useful for researchers and prospective researchers because we will hear a lot of direct experience about how research and clinical learning in the pandemic and new normal times from various reputable campuses in the world," explained Prof. Dwia.
Through this activity, Prof. Dwia hopes that the researchers will first produce their findings related to the handling of the Covid-19 or produce other innovations especially in the current pandemic crisis.
"Hopefully the ideas and insight from this meeting will be accumulated into books or clinical research and learning models based on experiences from various countries in new normal situations," continued Prof. Dwia.
Dean of FKG Unhas, drg. Muhammad Ruslin, M. Kes., Ph.D., Sp.BM (K) said that the Covid-19 pandemic results different impacts to many countries so that the treatment and handling are different including the educational activities.
During the Covid-19 pandemic, FKG Unhas issued responsive policies in anticipation of the Covid-19. Some of these include Dissemination and workshop using the online learning system (SIKOLA application), online learning system processes at all levels and degree, and online learning system workshops.
"All activities in FKG Unhas during the pandemic is carried out online. Currently FKG Unhas is preparing to enter the New Normal period by waiting for policies and regulations from the government which then will be applied in the Unhas environment," explained drg. Ruslin.
The talks were guided by two moderators:
1. drg. Erni Marlina, Sp.PM., (Ph.D Candidate of Clinical Experience Programme, Microbial Disease Department, University College London, London, UK)
2. drg. Rifaat Nurrahma, Sp.Pros (Ph.D Candidate of Oral and Maxillofacial Department, Vrije University Medisch Centrum, Amsterdam the Nerherlands)
More than 300 online participants via the zoom and FKG Unhas youtube channel attended the talks. The Dean of FKG Trisakti University (Prof. Dr. drg. Tri Erri Astuti M. Kes.,) Syiah Kuala University (Prof. Dr. drg. Zaki Mubarak, MS) and several deans from universities outside Unhas also participated on this online discussion. (* / mir)
Editor :IshaqRahman, AMIPR
Head of sub-directorate of Public Relation and Information
Directorate of Communication Hasanuddin University
Translator: Kumara Tungga Dewa and Karmila Mokoginta