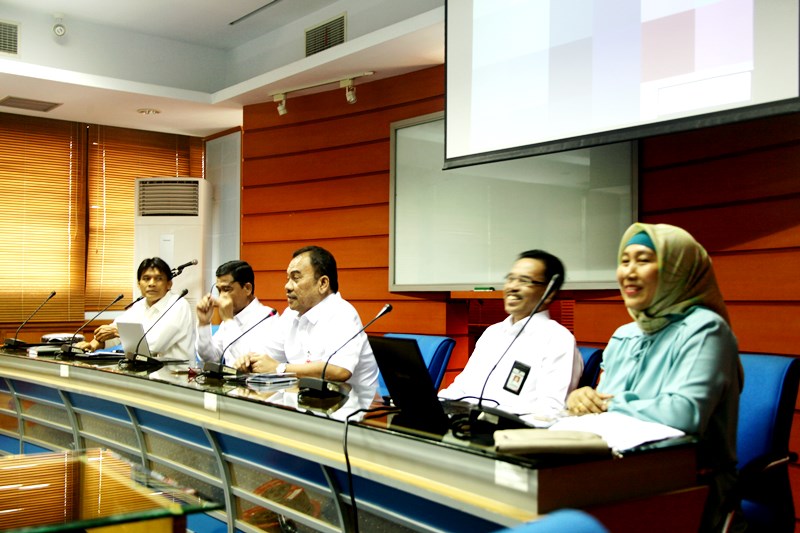 University Secretary Leading the Coordination Meeting along with the Heads of Bureaus. (Photo:mda)
Head of the Student and Alumni Bureau Suprihadi, S.E., M.M. reported, that the launch of the Newly Enrolled Student Admittance (PMB) conducted at the Open Meeting of Academic Senate Unhas in Baruga Andi Pangerang Petta Rani, 15 August 2016, contains specific events that comprises of:
15 August: University level inauguration, besides the remarks from the Unhas Rector, remarks will also be brought by the Head of the Provincial Police (Kapolda) on the matter of the role of students in establishing a secure Makassar, followed by remarks from the Healthcare and Social Security Agency (BPJS).
16 August: Faculty level
17 August: Commemoration of the Republic of Indonesian Independence
18 August: Department Programs
19 August: Student Executive Body (BEM)
20 August: Unhas Day filled with UKM stands, BEM
Meanwhile the Basic Character Study Skill (BSCC) will be held on the dates:
3, 10, 17, 24 September: University Level
1, 8, and 15 October: Faculty Level
The National Students Scientific Week (Pimnas) will be conducted in IPB from the 8th until 11th August 2016. Unhas will present two creations, which are the Pegasus from Engineering Faculty, a machine capable of creating a salted egg within 8 hours, efficient compared to the normal times that would consume ten days. Second creation is one by the Faculty of Pharmacy and Medicine that created an anti-hypertension medicine from prawn skin.
Suprihadi further explains that we are currently in the phase of selecting the 30 registered individuals to attend the Nusantara Expedition that will take place in August until October in the neighboring islands.
The amount of achievements that we have achieved is one to be proud of. International level: six first winners, three second winners, and two third winners. National level: fifteen first winners, seven second winners, and fourteen third winners. Meanwhile, at the local level, we have obtained seven second winners, and seven third winners
Unhas also attended the National University Debating Championship between 1-3 August 2016 in Jakarta, attended by two participants.