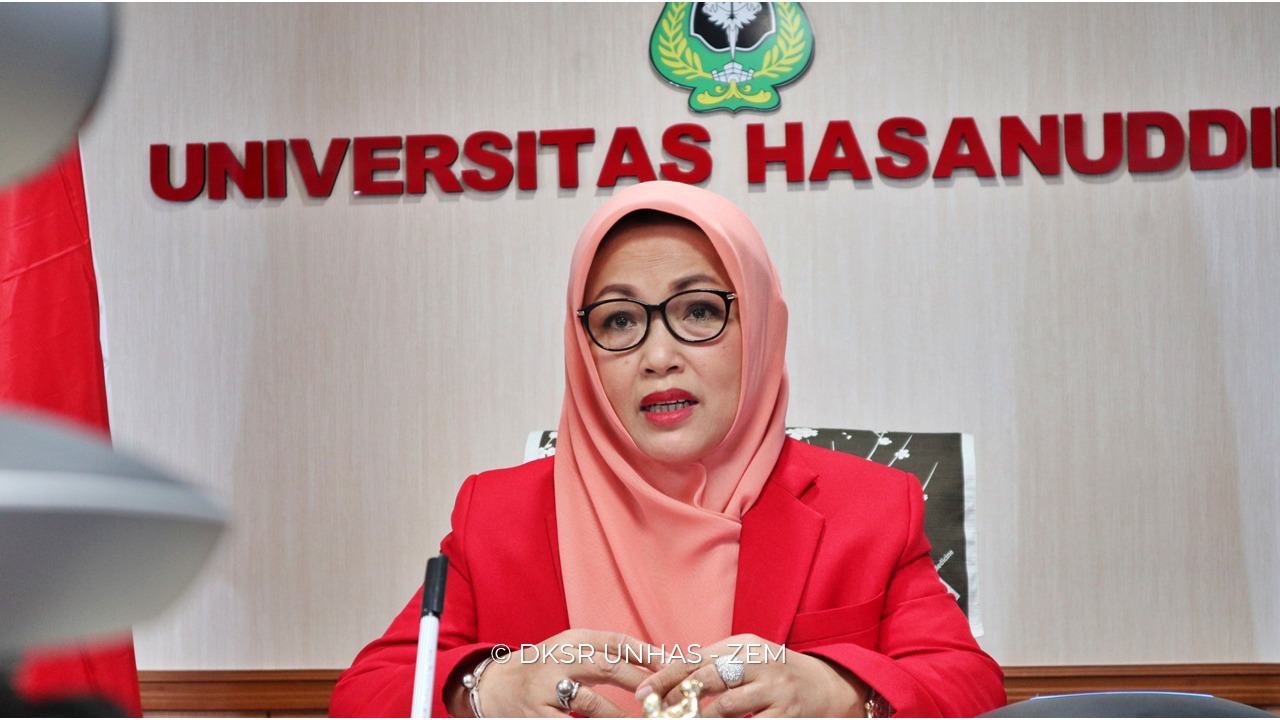 As a series of the 2020 Sustainable Development Goals (SDGs) Annual Conference, Universitas Hasanuddin through the SDGs Center and Graduate Schools held a Two-Day Webinar Series, with the theme "Challenges and Opportunities for Achieving the 2024 Stunting Target of National Medium Term Development Plan (Rencana Pembangunan Jangka Menengah Nasional or RPJMN) in the Covid-19 Pandemic Era". The activity was carried out at 09.00 Wita virtually through the zoom meeting application and live streaming on the Unhas SDGs Center Youtube channel on Saturday (07/11).
Rector of Unhas, Prof. Dr. Dwia Aries Tina Pulubuhu, MA. officially opened the activity. In her remarks, she expressed her appreciation to the main organizers of the activity, National Development Planning Agency (Bappenas), as a special partner, who had entrusted Unhas to organize this activity.
The theme of this webinar reflects Unhas' motivation in social issues as part of the spirit of humaniversity. This activity is expected to be a contribution effort of Unhas to achieve stunting reduction which currently becomes a national issue.
"We have reported a long time before the SDGs Center Unhas was formed that we have contributed to reduce stunting with various concrete actions, such as a program in Banggai District and partnering with international companies to provide vitamins, as well as several studies on the first 1000 days of life," explained Prof. Dwia.
Prof. Dwia hopes that this activity will generate critical thoughts and new ideas for reducing stunting during the pandemic, which of course has more complex challenges.
On the same occasion, the Minister of National Development Planning (Perencanaan Pembangunan Nasional or PPN) / Head of Bappenas RI represented by the Deputy for Human Resources, Dr.Ir. Subandi, M.Sc., expressed his appreciation to the Unhas SDGs Center for presenting a forum for discussion as concrete evidence and commitment for reducing stunting rates. This is important for realizing superior and competitive human resources in the future.
Stunting prevention strategies have shown a decrease in stunting from 37.2% in 2013 to 30.8% (Basic Health Research /Riskesdas version) and 27.67% in 2019 (Study of Indonesia's Nutritional Status/SSGI version). This downward trend will be accelerated to 14% in the 2020-2024 RPJMN through the National Strategy for the Acceleration of Stunting Reduction. However, these efforts face serious challenges during the COVID-19 pandemic.
"The multidimensional stunting problem requires cross-sectoral efforts by involving various stakeholders with an integrated coordination and consolidation of programs and activities from the central, regional, to village levels. This must also be supported by a budget based on targeted interventions," explained Subandi.
During the pandemic, efforts to reduce stunting were delayed, such as monitoring the growth and development of toddlers, implementing Integrated Service Post (Posyandu), monitoring the nutritional adequacy of pregnant women and toddlers and several other activities. However, to face these challenges, a series of innovations were presented through the digitalization process and sharpening the focus of activities.
"We have prepared several integrated strategies to accelerate stunting reduction in order to reach the target of 14% by 2024," said Subandi.
After the official opening, the activity was then continued with a discussion session with two sub-themes, which are "Analyzing trends and impacts on health and nutrition, especially wasting and stunting in the COVID-19 pandemic era" and "Analyzing the mitigation response to action services to accelerate stunting reduction in the COVID-19 pandemic era. 19 ".
This activity was scheduled to last until Sunday (08/11) with different sub-themes and speakers. (* / Mir)
Editor: Ishaq Rahman, AMIPR
Head of sub-directorate of Public Relation and Information
Directorate of Communication Hasanuddin University
Translator: Kumara Tungga Dewa and Karmila Mokoginta