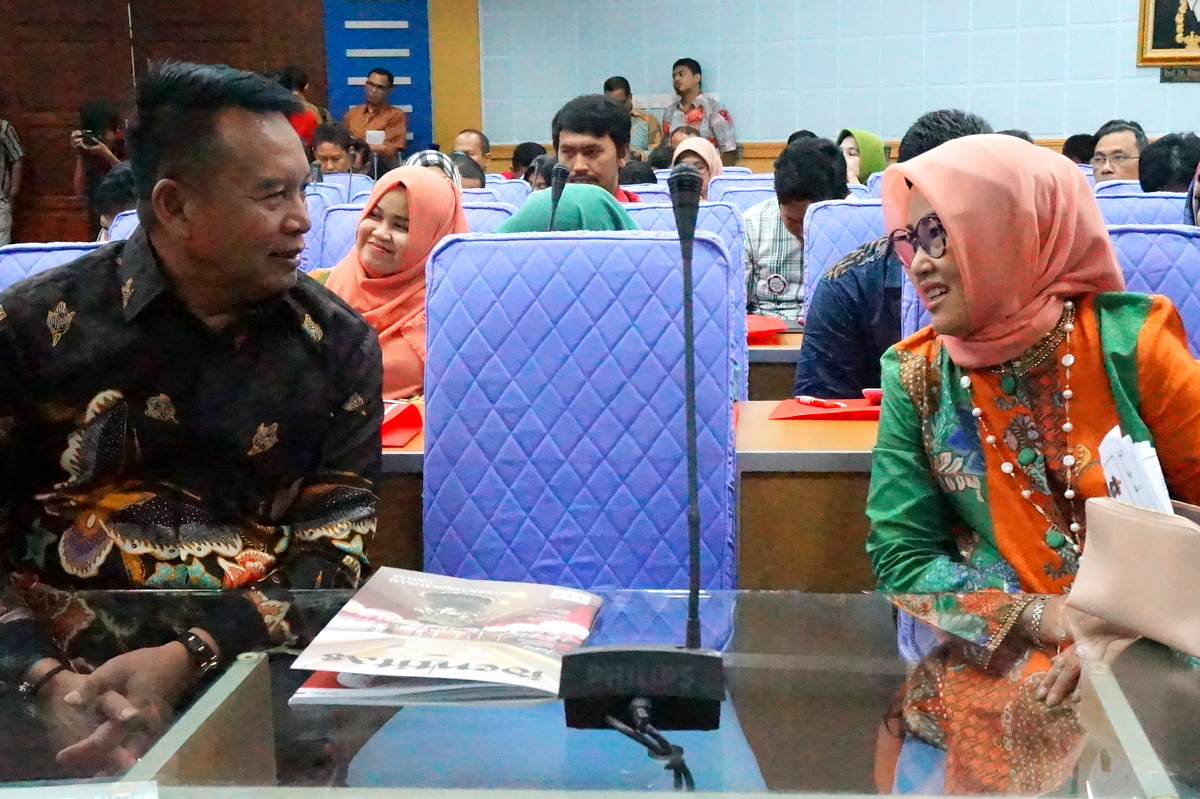 Unhas Rector, Prof. Dr. Dwia Aries Tina Pulubuhu, MA, having a conversation with Mayjen TNI (Purn) T.B. Hasanuddin, DPR RI Commision I Member, while on break in National Dialogue on Politics, Law, and Security at Hasanuddin University.
National Dialogue on Politics, Law, and Security in Hasanuddin University was held on Saturday, October 7th ended at 16.30 WITA. On this event, the attendees were split up into two groups in Focus Group Discussion format and closed with a plenary session under the guidance of Unhas Head of Public Relations Unit and Protocols, Ishaq Rahman.
There were 25 recorded inputs taken from the Internal Politics and Law/Human Rights group, whose discussion had taken place in tRuanghe Senate Room, on Rektorat Unhas 2nd floor. Meanwhile, there were 15 inputs taken from Foreign Politics and Security (TNI/Polri) group, whose discussion had taken place in Ruang Rapat A, on Rektorat Unhas 4th floor. Both groups were composed of tens of people; some of them were academics, practitioners, students, and observers.
"In this National Dialogue on Politics, Law, and Security at Hasanuddin University, we have gathered 40 public inputs, which are being compiled as we speak. The result will be a set of recommendations of Makassar for the preparations on Central-level National Dialogue, which will take place in Jakarta on October 25th, 2017", Ishaq stated.
National Dialogue on Politics, Law, and Security "Pokja" Head of 2017, Dr. Riant Nugroho said that there are four issues in each group that Pokja team highlighted, which totals to 8 issues for all groups. "We do not mean that other issues were unimportant. We perceive all input to be important. However, the eight highlighted issues are in line with our observation findings", Riant expressed.
The first issue is connected to Security-Defense Law socialization. Although the law has been in effect since 2002, dialogue members emphasized the finding that the law has not been socialized widely. "I have only come to realize this recently. While we thought that this law had been socialized widely, in reality, it is not so. The cause of this phenomena is probably people's perception of the issue; that they see it be reserved for exclusives and elites." said Riant.
The second issue is related to Papua. There had been a consensus in National Dialogue Forum at Makassar that there are many things Jokowi and Jusuf Kalla government should do concerning Papua, in either policymaking or implementation. "We do not want Papua to secede. Our commitment is to ensure that Papua's inclusion into NKRI to be non-negotiable. However, spouting mere slogans is not enough. There are real actions that we need to take. Inputs from this forum will be in our care", Riant explained.
The third issue is related to international diplomacy. In previous governance term, the spirit of "thousand friends, zero enemies" has been consistently put into motion. For this term, the current government should make use of established foreign relations for diplomacies that benefit Indonesia. Border conflicts are one of many issues that were put under the spotlight.
The fourth issue is concerned with ideas of world maritime axis. It seems that this state has yet to create any visionary roadmaps for this approach, in contrast to other states that already have significant maritime visions. For example, China has translated its maritime vision as One Belt, One Road, and that is being synergized with all China's foreign policies.
All four issues above were discussed by Foreign Politics and Defense-Security group. Riant then proceeded to elaborate remaining four issues, which were the bulk of discussion within Internal Politics and Law/Human Rights group.
The first issue is about strengthening Nawa Cita and more importantly its socialization in Politics and Human Rights. Nawa Cita is targeted not just to be lip service material to gain sympathy from the people, but also to be actualized consistently in development policies, from central to regional levels.
The second issue is pertaining law and Human Rights enforcement. Law and Human Rights activists evaluated that the government still need to undertake many actions to ensure law and Human Rights enforcement within Nawa Cita framework can truly take effect in society.
The third issue is about separation of political rumors with recruitment processes in public institutions. Bureaucratic work system should be working independently, without concern on political pressure, so that state agents can focus on national interest, not merely on interests of smaller political cliques.
The last issue is concerned with government's vision unity to all government work units which need to be translated in synergy. This is to ensure that public officials and state institutions do not need to bicker in public face. "Our wishes about this issue is already in line with President Jokowi's wishes, which he has addressed on various occasions, that he is against officials debating development policies in front of the public," Riant explained.
All those eight issues explained by Dr. Riant Nugroho were elaborated from 40 inputs compiled from all groups. All these matters were agreed upon by National Dialogue on Politics, Law and Human Right forum in Makassar. One of the attendees, Pahir Halim, agreed with all the issues. "But I think we need to connect those issues with governance economy politics since now there are symptoms of the disparity between income and wealth distribution taking place," said Pahir Salim, an LSM activist and Commissioner of South Sulawesi Public Information Commission.
In his closing speech, Prof. Dr. Sangkala who represented Hasanuddin University expressed his gratitude and commitment to escort the result of this Makassar National Dialogue to Central-level National Dialogue forum in Jakarta, on October 25th.