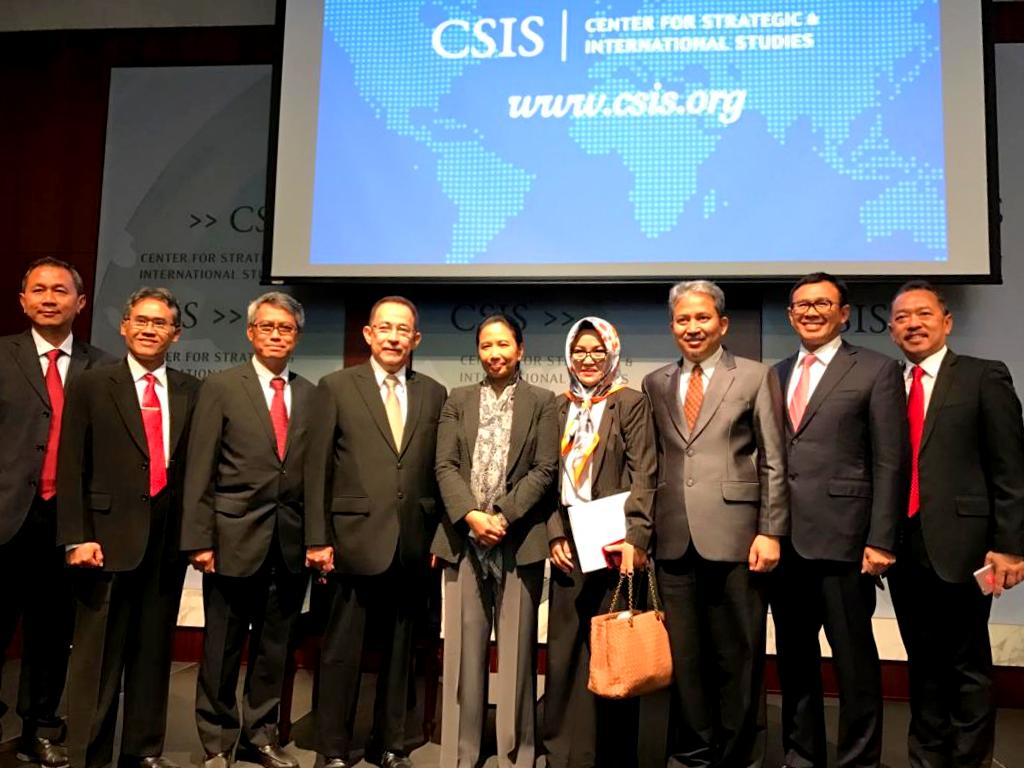 Ministry of State Owned Enterprises of Republic of Indonesia, H.E. Mrs. Rini Sumarsono, was accompanied by Indonesian Rectors from reputable universities and Bank BNI Commissioners attended the CSIS Global Leaders Forum.
Rector of Hasanuddin University, Prof. Dr. Dwia Aries Tina Pulubuhu, MA, was invited to attend the Center for Strategic and International Studies (CSIS) Global Leader Forum in Washington DC, United States, July 23-26 2018. Dwia was honored with four other rectors (UI, UNPAD, ITS, and UGM) accompanied Minister of State Owned Enterprises Rini Sumarno and Commissioner of Bank BNI.
CSIS, a Washington based influential think tanks, was founded 1962 in Washington DC. The center is known as an institution that plays a significant role in the strategic policies of the United States' domestic and foreign politics, particularly for the security, regional studies and transnational challenges ranging from global development, energy and economic integration issues. In the "Go To Think Tank Index" released by the University of Pennsylvania, CSIS was named the top think tank for the International Security Review.
The Global Leaders Forum itself is a special forum held regularly by CSIS to provide opportunities for policy makers from around the world to share ideas and views on public policy issues. On a regular basis, American government executives, legislative officials, foreign diplomats, experts, as well as community and media leaders are the core participants of the forum.
Together with the Rector of Hasanuddin University, four rectors were also invited, namely: Prof. Dr. Ir. Muhammad Anis, M.Met (Rector of UI, Jakarta), Prof. Ir. Panut Mulyono, M.Eng., D.Eng (Rector of UGM, Yogyakarta), Prof. Ir. Joni Hermana, M.Sc.ES., Ph.D (Rector of ITS Surabaya), and Prof. Dr. med. Tri Hanggono Achmad (Rector of UNPAD, Bandung).
During their visit in the United States, all delegates will attend several series of activities carried out by CSIS. In addition to the Global Leaders Forum, the Indonesian delegation will also participate in the Roundtable on Southeast Asian Economic and Trade, the High Level Discussion Forum, the US-Indonesia Strategic Forum, as well as the High Level Conference. (Ishaq Rahman, Unhas Public Relations)