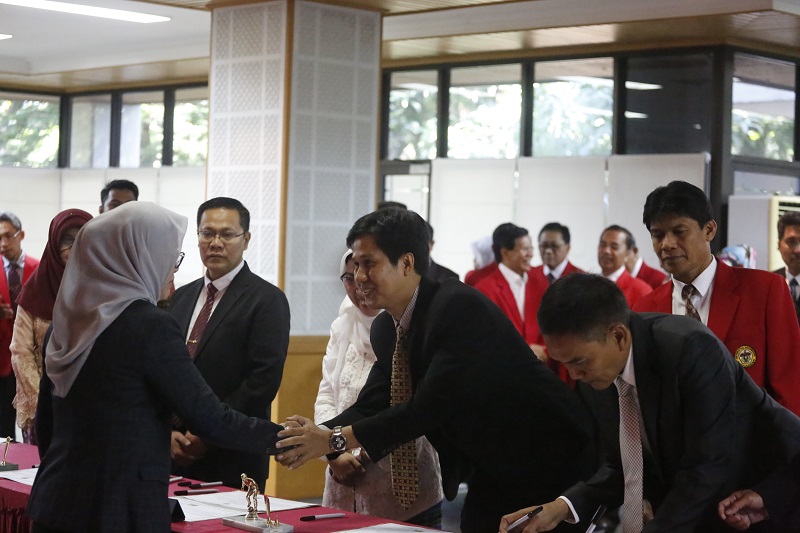 Rector of Hasanuddin University Prof. Dr. Dwia Aries Tina Pulubuhu MA., appointed and inaugurated a number of structural officials, both to replace previous officials, and also to fill new positions following the adoption of the new Unhas Organizational Structure and Governance (Indonesian: Organisasi dan Tata Kelola, OTK). The inauguration ceremony took place on the ground floor of the Unhas Rectorate building on Thursday (07/19/2107) at 09.00 AM.
The ceremony was attended by the Chairman of the Board of Trustees and members, Chairman of the Board of Professors and members, Chairman of the Senate and members, faculty and institute officials, and dozens of invited guests.
The 79 appointed officials consisted of Vice Rectors, Deans, Vice Deans, Heads of Institutions, several Directors, Faculty Quality Assurance Unit, and several structural positions at the Faculty level.
In her address, Unhas Rector Prof Dwia Aries Tina Pulubuhu said the change of structural officials is part of modern organizational management as a strategy to respon the internal and external dynamic of the organization. This refreshment process was done in order to adjust the change of higher education circumstance in Indonesia, where the education sector is experiencing various disruptions due to the phenomenon of globalization and industrial revolution 4.0.
Substitution and revocation of positions for lecturers on campus, said Dwia, is not a downgrading for the person who are being replaced. The position in university structure is only an additional task. "The main task of lecturers is teaching, researching, and doing community service. While the structural position is an additional task. So we should not recognize the term upgrading or downgrading positions for lecturers who were given additional duties," said Prof. Dwia.
In placing someone in teamwork positions, many considerations were involved, such as individual capacity, organizational needs, record of accomplishment and teamwork ability. "Therefore, when emphasizing the structure, I eliminate all elements of personal binding, friendship, similarity in religion, faculty and others," said Prof. Dwia.
Prof. Dwia also hopes that, despite of this replacement process, the friendship and cooperation between campus academic personnel will be maintained, so that her staffs can work and jointly build Unhas to be better and better quality in the future.
"Therefore, I would like to thank all the previous officials who were replaced. Hopefully, everyone will remain a part of teamwork at Hasanuddin University," said Dwia in her short speech. (Ishaq Rahman, Unhas Public Relations)