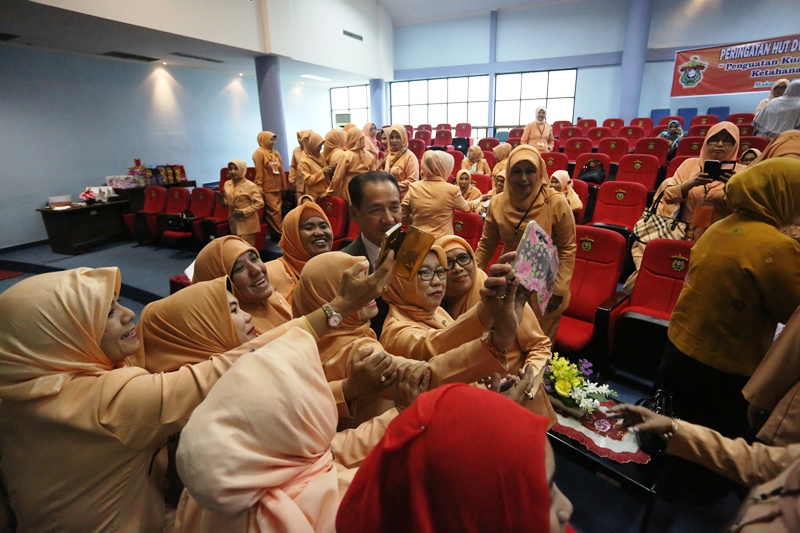 There was a unique occurrence during the commemoration of Mother's Day and Dharma Woman Association in Unhas, Thursday (22/12). After attending the Graduate Program Graduation Ceremony in Baruga Andi Pangerang Petta Rani, Unhas Rector Prof. Dr. Dwia Aries Tina Pulubuhu, M.A. invited Prof. Dr. Basri Hasanuddin, M.A., former Unhas Rector, Minister of Economics and Poverty Eradication, and Indonesian Ambassador to Iran, which now holds the position as the Head of the Board of Trustees (MWA), attended the commemoration of Dharma Woman Association Unhas in the Ipteks Building Tamalanrea.
After standing in the Ipteks Building podium, the sound of the man born in Mandar in 1939 started to become hoarse.
"Among the women present here today, there are familiar faces that I cannot forget, and has been with my wife for a while," stated Basri that in 1997 ended his functionary status as the Unhas Rector for two periods.
This is the first time that Basri Hasanuddin in the middle the women present, after wife, Hj. Rasdiana Basri passed away. His late wife is a figure that has always appreciated gatherings with those women. During the times in which Prof. Basri served as the Unhas Rector, they followed along Prof. Basri to observe the Community Service Program in West Sulawesi. They have always been present in cordial meets with the Regional Government, location of the KKN Unhas.
Prof. Basri hoped that they are able to support the establishment of a friendly situation in their respective households so their husbands are able to work well in Unhas.
"Many husbands face issues, as they are released from the control of their wives," stated the father of three children.
Unhas Rector Prof. Dr. Dwia Aries Tina Pulubuhu, M.A. fully agrees with the theme adopted for the Dharma Woman Commemoration Association in Unhas that coincided with Mother's Day 2016, which is "Strengthening the Quality of Civil Servant Wives To a Solidification of Family."
"The commemoration of mothers day should not take place once a year, but must take place every day. Wives everyday, starting from sunrise, have been occupied with preparing the needs of the family," stated Dwia Aries Tina Pulubuh, while quoting the hadits of Prophet Muhammas SAW, which stated to respect mothers (3 times) when asked by his best friends on the question of who should be respected first.
During the commemoration event in UNHAS, the event was filled with materials that were brought by the members of the Dharma Woman Association.