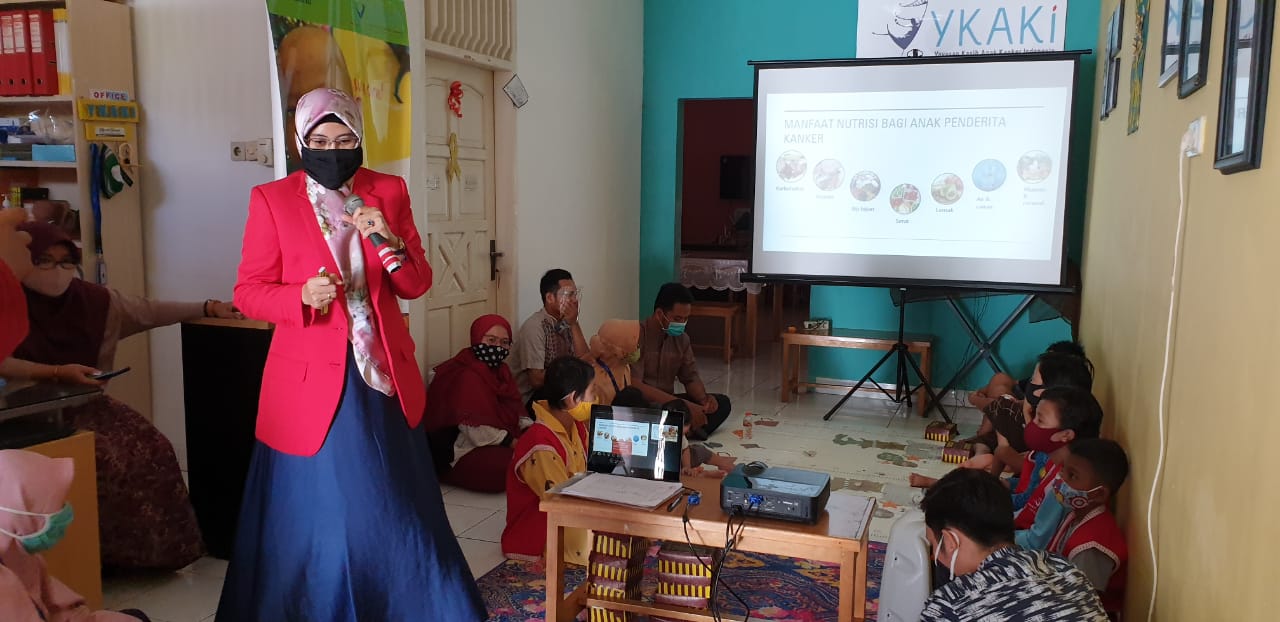 The Department of Pediatric Nursing, Faculty of Nursing, Universitas Hasanuddin held education for children with cancer, with the theme "Healthy Lifestyle in Children with Cancer During the Pandemic Period". The activity, which is part of the 3rd Anniversary of the Faculty of Nursing Unhas, took place at the Makassar branch of the Kasih Anak Kanker Indonesia Foundation (Yayasan Kasih Anak Kander Indonesia/YKAKI), on Thursday (1/10).

YKAKI is a social institution that specializes in children with cancer and poor families in Indonesia. YKAKI facilitates with the concept of "Holistic Complete" for the realization of the healing of children with cancer. One of the implementations of Holistic Complete is the RUMAH KITA program, which is a house with a healthy and beautiful environment.

The activity carried out by the Department of Pediatric Nursing, Faculty of Nursing of Universitas Hasanuddin is part of community service.

The Pediatric Nursing team involved in this service consists of Dr. Kadek Ayu Erika, S.Kep., Ns., M.Kes as Head of the Department, Tuti Seniwati, S.Kep., Ns., M.Kes and Suni Hariati, S.Kep., Ns., M.Kep. This activity was also attended by the Chairperson of YKAKI, Nurul Hijeriyati, S.Pd and several teachers.

The community service team provides health education to 20 children with cancer who are currently undergoing chemotherapy in the hospital and are also accompanied by their parents. The educational media used were leaflets and power point slides.

Dr. Kadek explained that nutrition is needed by children with cancer for the recovery process after chemotherapy treatment. Nutrition is also necessary to boost a child's immune system. Dr. Kadek recommended to processing food well before consumption.

"Good food processing includes washing fruits and vegetables in running water, boiling, steaming and sauteing foods, and avoiding foods that contain high sugar, foods that are given preservatives, and high salt levels. Processed fast meat also needs to be avoided because these foods can trigger the growth of cancer cells," said Dr. Kadek.

Another member of the community service team, Nurse Tuti Seniwati, also explained that children need to pay attention to the health protocols during the pandemic. The steps that need to be used are washing your hands for 20 seconds, using soap or hand sanitizer, wearing a mask, and keeping a minimum distance of 1 meter.

"Also what you need to get used to is covering your mouth when coughing and sneezing using your upper arm or using a tissue. Children must also have adequate rest and consume balanced nutrition," said Ners Tuti.

The community service team also distributed masks, hand sanitizers, milk, fruit packages, coloring books, and crayons. After the distribution of these packages, Nurse Suni presented with a 7-step hand washing demonstration followed by children with cancer. The activity got even more rousing when the children was listening to fairy tales and coloring book.

The Chairperson of YKAKI welcomed the activities by the Pediatric Nursing Department, Faculty of Nursing of Universitas Hasanuddin.
"This activity is very beneficial for children with cancer and hopes it will continue," said Nurul.
This activity was ended by giving plaque and photo group session.(*/ir/kdk)


Editor: Ishaq Rahman, AMIPR
Head of sub-directorate of Public Relation and Information
Directorate of Communication Hasanuddin University
Translator: Kumara Tungga Dewa and Karmila Mokoginta