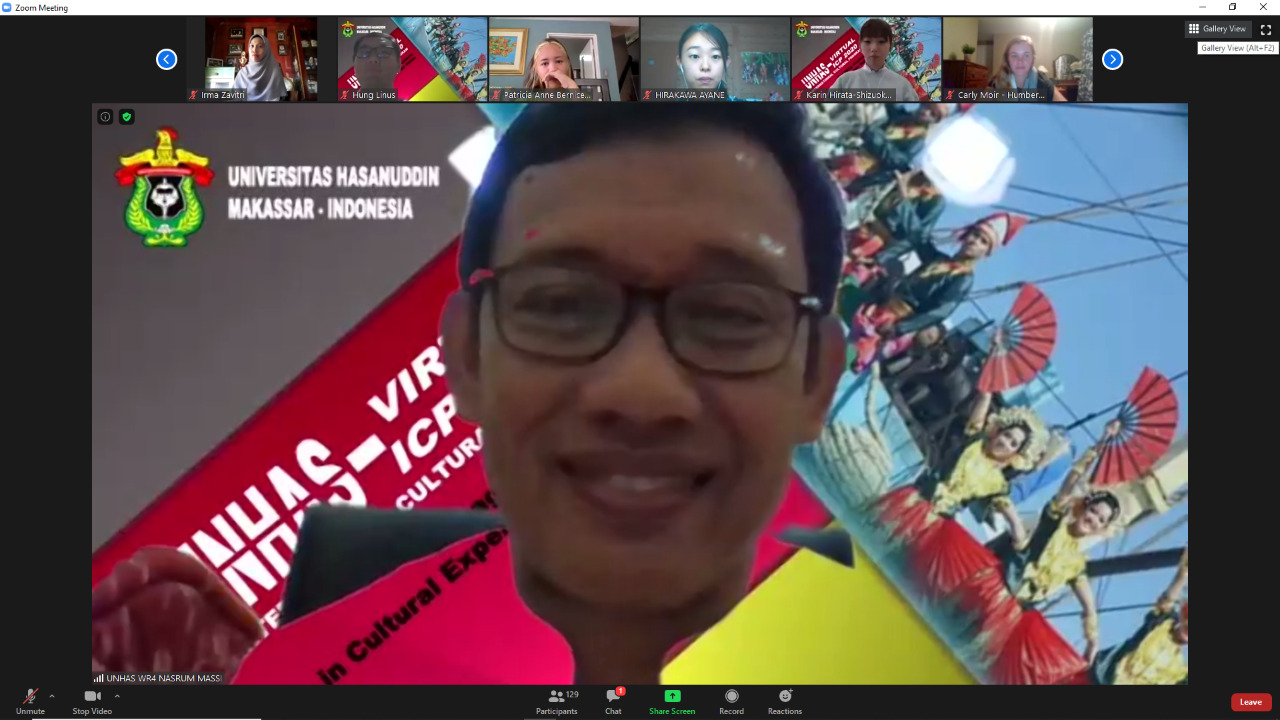 International Office of Universitas Hasanuddin (Unhas) conducted the annual agenda, International Culture Program (ICP) in 2020. The theme of the activity is "Maritime Culture in Indonesia: Marine Resilience and Historical Perspective."
The opening of the activity started at 09.00 Wita virtually through the Zoom Meeting application on Monday (05/10).
The Vice-Rector for Research and Innovation, Prof. dr. Muh. Nasrum Massi, Sp.MK, Ph.D., officially opened the activity. On this occasion, he welcomed all participants in the ICP program even though it was carried out virtually.
"Last year, the ICP program participants were invited to see and study the culture of the Kajang tribe in Bulukumba Regency. This year the participants will see the beauty of Bira Beach and Unhas virtually. Hopefully, they will continue to enjoy the culture in South Sulawesi," explained Prof. Nasrum.
Furthermore, Prof. Nasrum also conveyed that the ICP program aims to facilitate students, especially international students who are interested in learning Indonesian culture, especially the culture of South Sulawesi.
This year, the number of participants involved is 219 people from 22 countries, including Bangladesh, Somalia, Cambodia, Canada, China, Colombia, Japan, Hong Kong, Kenya, Kuwait, Lebanon, Madagascar, Malaysia, Morocco, Nepal, Nigeria, Philippines, Scotland, Thailand, Netherlands, United Kingdom, and the United States.
According to the implementation schedule, ICP activities will be conducted until Monday (12/10), with several activities that have been prepared. (*/Mir)
Editor: Ishaq Rahman, AMIPR
Head of sub-directorate of Public Relation and Information
Directorate of Communication Hasanuddin University
Translator: Kumara Tungga Dewa and Karmila Mokoginta