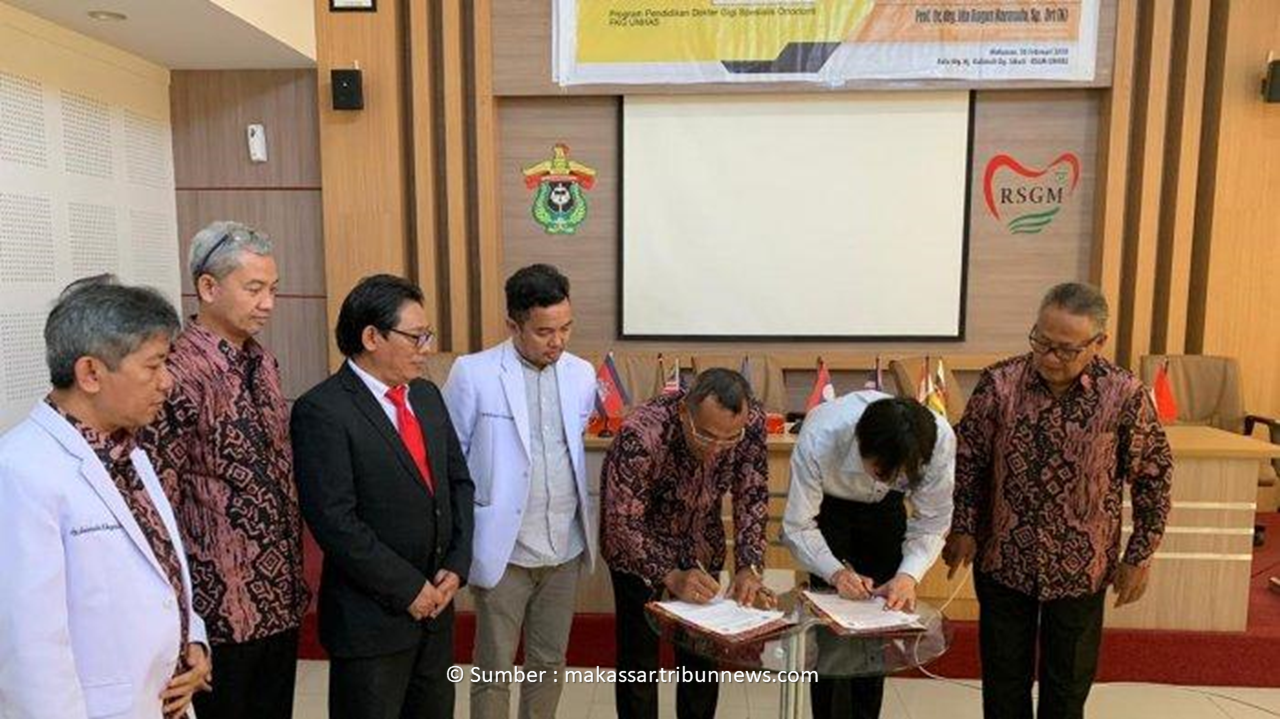 Shortly after it was officially launched as one of the centers of the Orthodontic Specialist Dentistry Education Program (PPDGS) in Indonesia, the Orthodontics Department, Faculty of Dentistry of Unhas signed a collaboration agreement with the Orthodontic Department of the Hiroshima University of Japan on Thursday (20/02).
The collaboration was signed by the Chairperson of the Orthodontics Department of Unhas Dr. drg. Eka Erwansyah, M. Kes., Sp.Ort (K) together with the Chairperson of the Orthodontic Department of Hiroshima University FKG, Prof. Kotaro Tanimoto, DDS., Ph.D.,
Unhas and Hiroshima University agreed to establish cooperation to improve the quality of education and research in the Department of Orthodontics at both Universities.
The signing of this Memorandum of Understanding was witnessed by the Chairperson of the Indonesian Orthodontics College, Prof. Dr. drg. Ida Bagus Narmada, Sp.Ort (K), Professor of Orthodontics Unhas Prof. drg. Mansjur Nasir, Ph.D., along with the lecturers of the Orthodontics Department.
The collaboration includes research collaboration, academic information exchange, and student exchange.
With this collaboration, it means that lecturers and students of PPDGS Unhas Orthodontics have the opportunity to study, improve specialist skills, and conduct research at Hiroshima University.
Orally, Prof. Kotaro has agreed that the Unhas Orthodontic (PPGGS students) can study for two weeks at Hiroshima University.
Before the signing of the collaboration, a specialist lecture was held, which was delivered by Prof. Kotaro Tanimoto, DDS ,. PhD.,
The lecture began with an introduction to Hiroshima (the city of origin of the college where he works), some unique places, and campus facilities that support research in the field of orthodontics.
Furthermore, Prof. Kotaro provides a lot of scientific information and specialist instructions about orthodontic treatment models for patients with malocclusion who need high technical skills. (*)
Soruce: makassar.tribunnews.com
Translator: Kumara Tungga Dewa
Translation Editor: Karmila Mokoginta