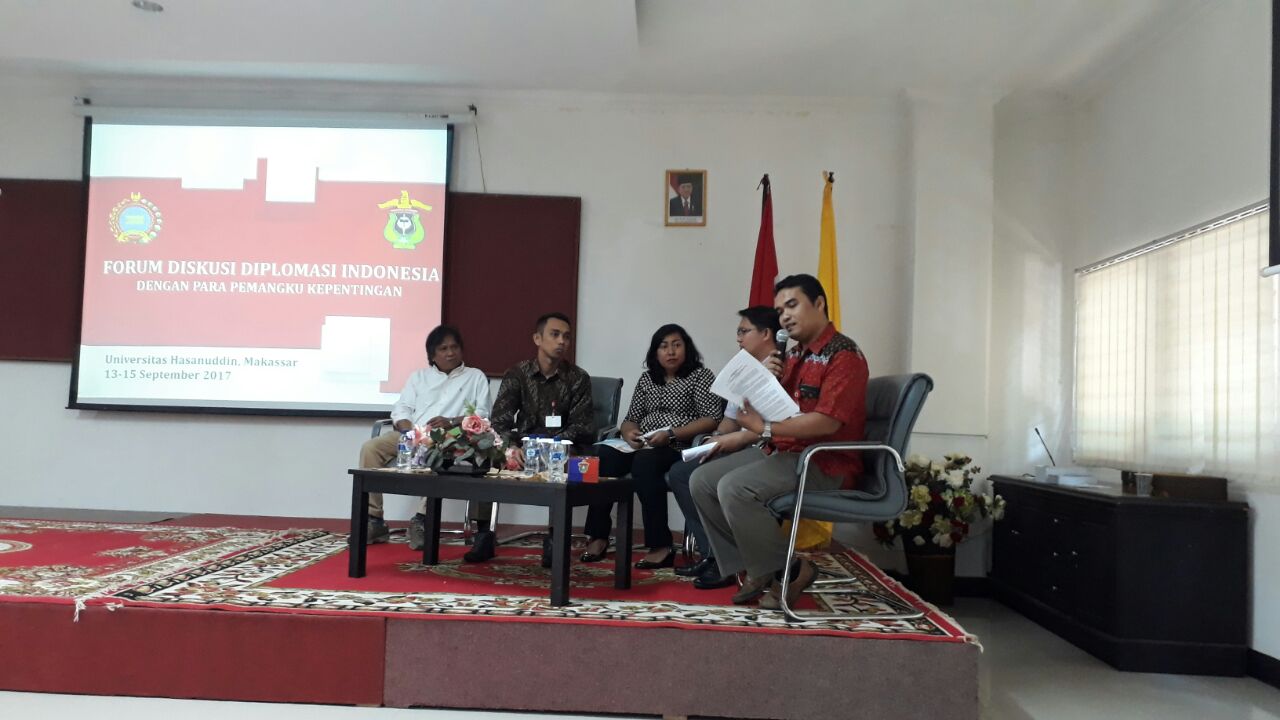 Speakers in the open discussion on Indonesian Political and Economic Foreign Policy in the Faculty of Economics and Business Unhas
Ministry of Foreign Affairs in cooperation with the Faculty of Economics and Business Universitas Hasanuddin conducted an open discussion in the second-floor hall of the faculty, Thursday, 14 September 2017, 10.00 WITA.
The event entitled "Discussion Forum on Indonesian Diplomacy with Stakeholders" invited speakers from the Foreign Affairs Ministry including Busron Sodikin (Head of the Cross Institution and Ministry Programs Sub-Division), Marlisa Wahyuningsih Soepeno (Head of the President and Heads Monitoring Sub-Division).
Those present in the open discussion include students of the Faculty of Economics and Faculty of Social and Political Sciences, with discussions focusing on the Indonesian economic diplomacy programs run under the Foreign Affairs Ministry.
According to one of the speakers, Marlissa Wahyuningsih, the Indonesian foreign policy aim is to solidify the sovereignty of the Republic of Indonesia, protect Indonesian nationals in foreign states, advance economic diplomacy and increase the role of Indonesia in international forums.
"The foreign policy pillar of Indonesia consists of four points, namely Indonesian Sovereignty, protection of Indonesian nationals, economic diplomacy, and international roles," stated Marlisa that is also an alumnus of the Faculty of Economics.
Besides speakers form the Ministry, other stakeholders include Tamsil Tahir as a community representative (journalist in Tribun Timur), and Muhammad Ashry Sallatu representing academics, a lecturer in the International Relations Department Unhas.
In the discussion, Ashry Sallaty stated that the Ministry of Foreign Affairs needs to establish an assessment tool that can be utilized to evaluate the potential of each state in the engagement of future partnerships. Therefore, Indonesian diplomats overseas can maintain and establish explicit partnerships for the Indonesian national interest. "Assessment tools need to be created by the Ministry," he stated.
The discussion closed with the handover of token of appreciation between the Ministry of Foreign Affairs and the Faculty of Economics and Business.