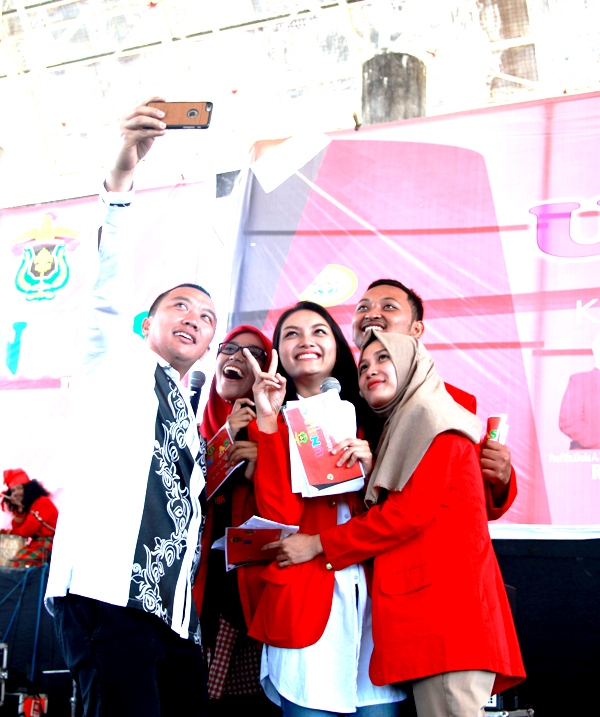 Minister of Youth and Sports taking a selfie with the student hosts of the "Unhas Day" event. (Photo:mda)
Minister of Youth and Sports (MENPORA), Imam Nachrowi, arrived at the Tamalanrea Campus of Unhas at approximately 11.00 WITA, after attending an event taking place at the State University of Makassar (UNM). Before entering the venue, the Minister was greeted by the Vice Rector III of Unhas, Dr. Ir. Abd. Rasyid., M.S. After his entrance, Menpora was greeted enthusiastically through a welcoming dance performed by the Dance Student Activity Unit of Unhas.
Escorted by the Vice Rector III of Unhas, Imam Nachwori that was accompanied by Prof. Dr. Faisal Abdullah, S.H., M.H., took the time to look around and visit some student activity unit stands. After several pictures taken, Imam Nachrowi prepared to deliver his speech. Proceeding was a few kind words delivered by the Masters of Ceremony, and a selfie initiated by the Minister himself.
During his speech, he strengthened an important discourse to the Unhas students, that Indonesia is blessed with strong demographic features, as most of its population are in the range of 16-30 years old, a figure not owned by many other states.
"But we are faced with an indispensable obstacle, that is narcotics, having the potential to cut our golden era and the superb generation of Indonesia," stated by Imam Nachrowi that admitted of Unhas's status of the best Higher Education Institution in Eastern Indonesia, and one of the best in Indonesia, in the early minutes of his remarks.
He hoped that the students of Unhas will be able to carve national and International achievements, as what Tantowi and Liliana Nasir (Owi and Butet) was able to achieve, that was a gold model that coincided with the 71st Commemoration of the Republic of Indonesia.
"If only Owi and Butet transited to Makassar, I would have brought them to Unhas. Unfortunately, they will be landing at Soekarno-Hatta airport after a 32-hour flight from Brazil," joked Imam Nachrowi.
Before leaving GOR Unhas, Rijal, from the Unhas Poem Community that happens also to receive the MENPORA scholarship, replied several of the Minister's poems during the end of his remarks. The Poems that were enthusiastically brought embraced the whole crowd and replied with festivity, including by the Minister himself.
"Make many poems," a message Imam Nachrowi stated to Rijal when they greeted one another when Rijal directly approached the Minister after delivering his charming poems