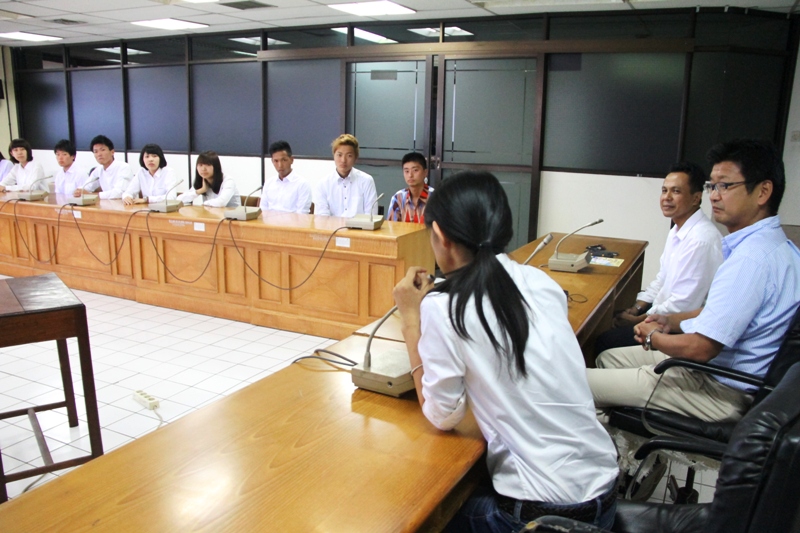 Students of Kobe University arrived in Unhas under the Global Challenge Program for a week in South Sulawesi. They were welcomed in the Rectorate Building Unhas, Thursday (1/9) (Photo:mda)
Nine students of Universitas Kobe, Japan, would engage on a Home Stay program for several days in the village of Tongketongke, District of Sinjai. Their program focuses on the research area of mangroves, and to feel the atmosphere of living with locals, until their departure back to Japan on 7 September 2016.
The students led by Dr. Tashifumi Minamoto from the Graduate School of Human Development and Environment Kobe University Japan during their early arrival, visited the Island of Kodingarengkeke, in order to socialize and witness the local lives directly in the island. The program is known as the Global Challenge Program.
Head of the Unhas International Office, Dr. Andi Amri that welcomed them to the Unhas Rectorate Building on Thursday (1/9), hoped the delegation would enjoy their six-day visit in South Sulawesi.
"They will soon make their way to Tongketongke and feel the atmosphere of living with the locals there for several days, " stated Andi Amri.
Dr. Fumiko Furukawa from Kobe University that is fluent in Indonesian language is currently undergoing a research in the village of Tongketongke Sinjai, specifically on the Mangrove ecosystem of the village.
One of the Kobe University students stated how he is amazed of Indonesia that is filled with the beauty of natural resources that are of high superiority in comparison to Japan.
"This is my first time in Indonesia, and I feel happy to be here" he enthusiastically stated while introducing himself in English.
The students will be accompanied by nine Unhas students, among them are students from the Japanese, Cultural Studies, Fisheries, and Agricultural study programs.