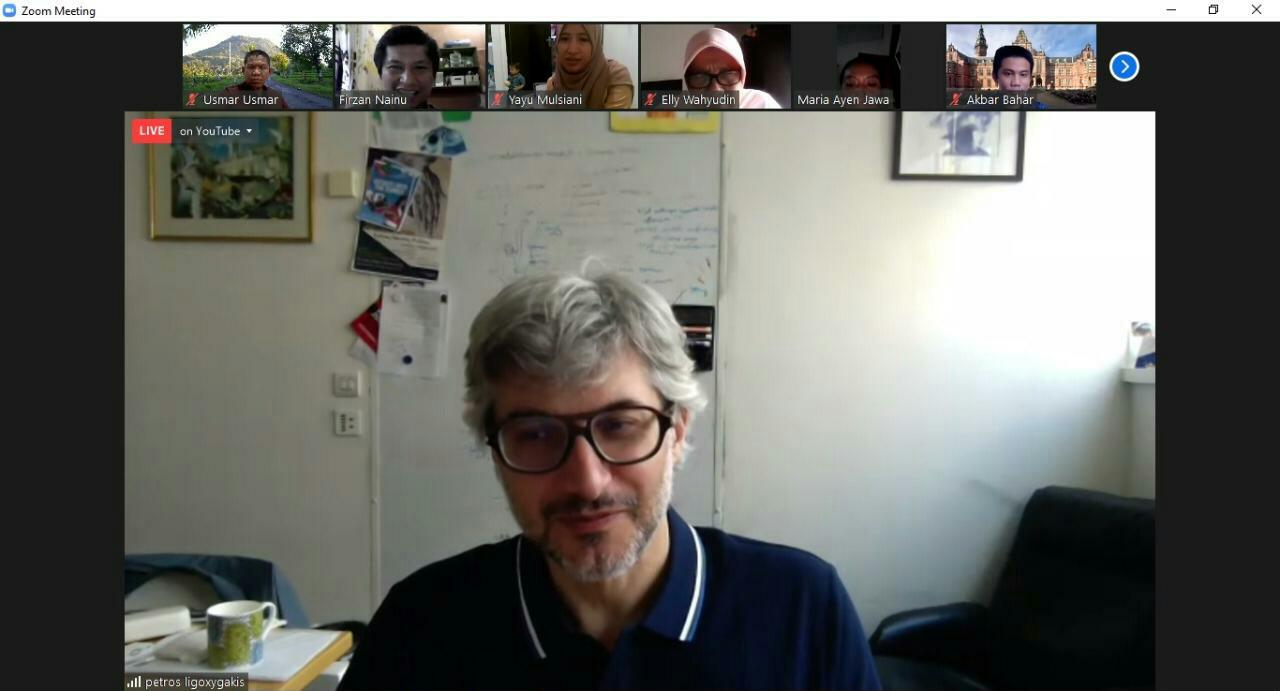 Faculty of Pharmacy held the third webinar series with the theme "Trypanosomatid Parasites and Insect Immunity". This activity invited an expert from England, Prof. Petros Ligoxygakis (Department of Biochemistry, The University of Oxford).
The webinar broadcasted at 16.00 Wita through zoom meeting application and live-streaming on the Faculty of Pharmacy YouTube channel on Tuesday (23/06).
The webinar was officially opened by the Vice Dean for Student Affairs and Alumni of Faculty of Pharmacy, Yulia Yusrini Djabir, Ph.D., Apt. In her remarks, Yulia said that the Faculty of Pharmacy organized a learning space for students in the development of science.
"This is the third series of our international webinar. In the future we hope that there will be collaborative research or joint international conference events. We hope that the webinar will become a media of information and a source of reference for research ideas," explained Yulia.
After giving a speech, the activity proceeded to presentation by Prof. Petros Ligoxygakis related to research conducted using fruit flies (Drosophila melanogaster) in studying the interaction of parasites and hosts.
In his research, Prof. Petros used the model organism drosophila melanogaster to study the trypanosomatid parasite that can infect its host and to examine what happens to the host when an infection occurs..
"By studying this in the insect model of the fruit fly (Drosophila melanogaster), we can find out information about insects called sand fly (Phlebotomus papatasi) that interact with Leishmania major, a species of parasites that can cause Leishmaniasis to humans," said Prof. . Petros.
On another occasion, the Chairperson of the Committee, Firzan Nainu, Ph.D., Apt. added that the international webinar was a form of Faculty of Pharmacy support for Unhas to reach the World Class University tittle.
"We want to make activities like this as a means of developing scientific insights as well as introducing world researchers and their research to the Faculty of Pharmacy academic community and other institutions," said Firzan.
Approximately 200 participants joined the webinar through the zoom meeting application. (* / Mir)
Editor: Ishaq Rahman, AMIPR
Head of sub-directorate of Public Relation and Information
Directorate of Communication Hasanuddin University
Translator: Kumara Tungga Dewa and Karmila Mokoginta