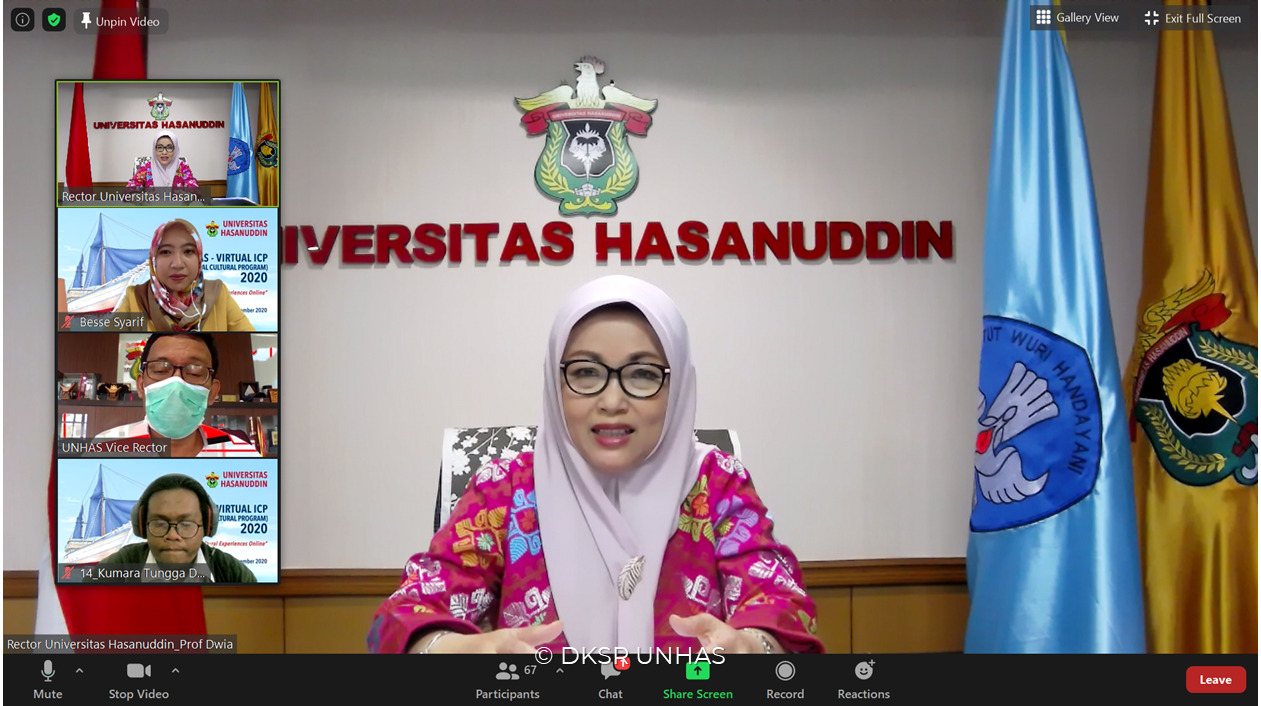 International Office of Universitas Hasanuddin (Kantor Urusan Internasional or KUI) once again held the International Cultural Program (ICP) Batch II with the theme "Maritime Culture in Indonesia: Marine Resilience & Historical Perspective." The opening ceremony started at 16.00 WITA virtually through the zoom meeting application on Monday (09/11).
Rector of Unhas, Prof. Dr. Dwia Aries Tina Pulubuhu, MA., officially opened the activity. In her remarks, she welcomed the participants and hoped that this activity could become a forum for learning culture and various other things to know about Indonesia, especially Sulawesi Island.
Even though the activities take place virtually, it is hoped that the meaning and objectives of the activities can still be achieved. One of these goals is to broaden the insight and knowledge of the participants from several countries.
"You can introduce this program to your friends so that more people will join. Unhas will be happy if the ICP participants one day continue their study at Unhas," explained Prof. Dwia.
Prof. Dwia also briefly introduced Makassar's unique culture with various local products and tourist destinations.
After the official speech, there was an introduction of the Unhas by Dr. Mahatma, S.T., M.Sc., the Director of Unhas Partnership. In his presentation, Mahatma explained various achievements, infrastructure, and academic development at Unhas.
"Unhas is the largest higher education institution in Eastern Indonesia. Unhas is at the seventh rank in national level and the 401st position in Asia level with 1,685 teachers consisting of 700 lecturers with master degrees, 904 doctors, and 271 professors with a total of 32 thousand students," explained Mahatma.
After explaining about Unhas, the activity continued with a discussion and question and answer session. The participants asked the facilitators about Unhas.
In November, the ICP Batch II was attended by 105 participants from 18 countries: Australia, Bangladesh, China, Gambia, India, Japan, Jordan, Madagascar, Malaysia, Mali, Nepal, Nigeria, Pakistan, Philippines, Somalia, Suriname, Thailand, and Timor.
The ICP Batch II for the first day was closed with a video showing the introduction of Makassar and Unhas. The activity ran smoothly until 17.30 WITA. (* / Mir)
Editor: Ishaq Rahman, AMIPR
Head of sub-directorate of Public Relation and Information
Directorate of Communication Hasanuddin University
Translator: Kumara Tungga Dewa and Karmila Mokoginta