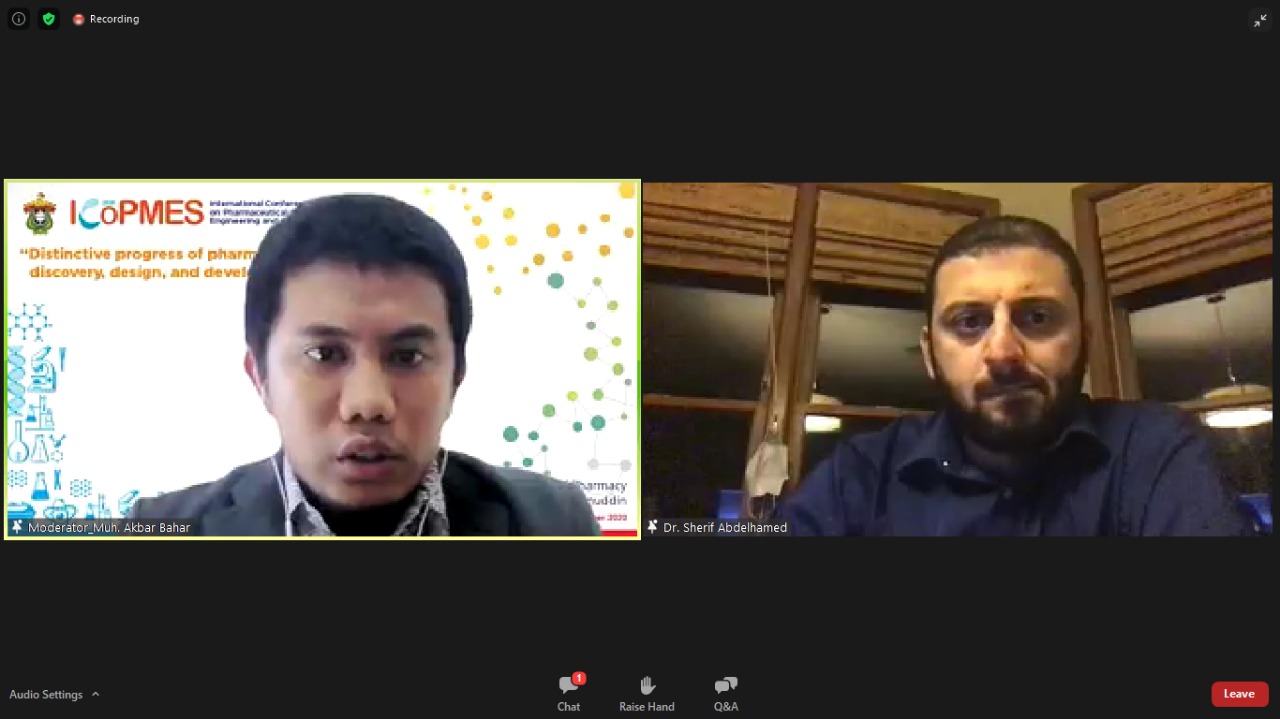 The Faculty of Pharmacy of Universitas Hasanuddin (Unhas) held an International Conference on Pharmaceutical Materials, Engineering and Applied Science (ICOPMES) on Wednesday (18/11). The conference with the theme "Distinctive Progress of Pharmaceutical Discovery, Design, and Development" was conducted virtually through the zoom meeting application.

Several experts attended the conference; including Prof. Ryan F. Donnelly (Queen's University Belfast, UK), Prof. Bruno Sarmento (University of Porto, Portugal), Dr. Sherif Abdelhamed (St. Jude Children's Research Hospital, USA), Prof. Walied Al-Arif (King Abdulaziz University, Saudi Arabia), Abdul Rahim, Ph.D (Universitas Hasanuddin, Indonesia) and Ahmad Rusdan Handoyo Utomo, PhD (Independent consultant of Molecular Genetics) were present as resource persons.

After the official opening, the conference proceeded to the presentation from the speakers. Dr. Sherif Abdelhamed (St. Jude Children's Research Hospital, USA) explained about the "Role of miR-1246 in AML Biology".

Acute Myeloid Leukemia (AML) is a type of blood and bone marrow cancer with excessive amounts of immature white blood cells. AML rapidly occurs and myeloid cells interfere with the production of normal white blood cells, red blood cells, and platelets, which generally occurs in adults and children, arising from mutations in normal HSPC. This is often associated with cytopenia which affects chemotherapy doses of AML patients..

Abdul Rahim, Ph.D (Universitas Hasanuddin, Indonesia) also delivered another presentation related to "Phytochemical Study of Indonesian Medicinal Plants Collected from South Sulawesi".
In his topic, Abdul Rahim said that Indonesia is a country in which various plant species grow, so that people tend to use it as traditional medicine known as Jamu (herb)

"Sulawesi Island itself is included in the Wallacea zone where the growth of various types of plants exist. This leads us to take it as the background for our research, "said Abdul Rahim.
Phytochemistry is an initial analysis method for examining the content of chemical compounds contained in plants. These results are expected to provide information about the chemical compounds contained in plants.

Overall, the fields of science presented at this seminar include Pharmaceutical Materials, Physical Pharmacy, Drug delivery and formulation, Drug release and kinetic, Pharmaceutical Engineering, Biomedical Engineering, Pharmaceutical Chemistry, Phytochemistry, Drug Synthesis and Production, Pharmacology, and Clinical Sciences and Vaccine discovery.
ICOPMES is scheduled to last until Thursday (19/11). For the first day, the activity will end at 16.00 Wita and will be continued with a parallel agenda. (* / Mir)


Editor: Ishaq Rahman, AMIPR
Head of sub-directorate of Public Relation and Information
Directorate of Communication Hasanuddin University
Translator: Kumara Tungga Dewa and Karmila Mokoginta