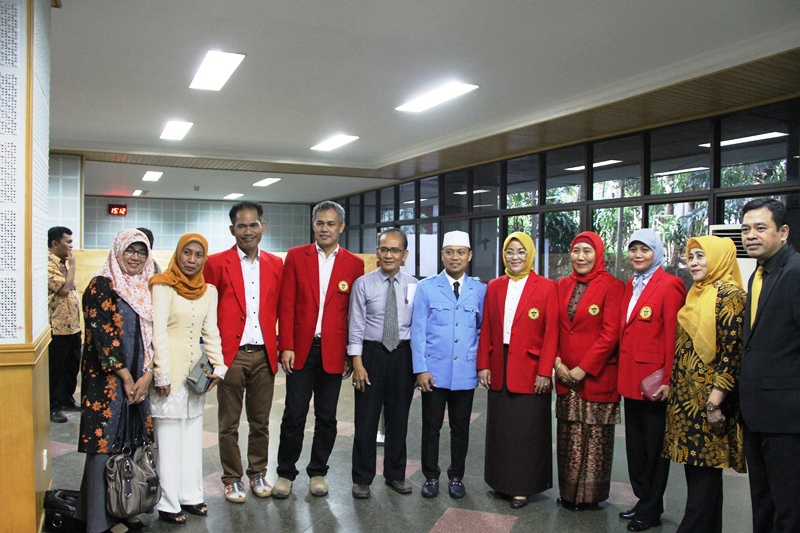 Universitas Hasanuddin now comprise of six newly appointed professors and 35 lecturers with Doctoral qualifications. The Professors received their letter of decree during the official's appointment ceremony, Thursday (22/12), coincided with the acceptance of 35 lecturers that have concluded their previous studies in and outside of Indonesia.
One of the individuals that attained the Professorial status is Prof. Dr. Judhariksawan, S.H., M.H. that happens to also be the former Head of the Indonesian Broadcasting Commission (KPI). Judhariksawan, son of the late Prof. Dr. Amir Syariefuddin, S.H., spent his time in Jakarta since 2010 as a member, and Head of the KPI.
Besides, Judhariksawan, former Vice Rector II Unhas, Dr. dr. Andi Wardihan Sinrang, M.S., also attained his Professorial status in the field of function, Faculty of Medicine. Other Professors include Prof. Dr. Ir. Nur Amin, Dipl.lng.Agru (Field of Pest and Plant Diseases, Faculty of Agriculture). Prof. Dr. Abdul Rakhman, MBA (Management, Faculty of Economics and Business), happened to have already conducted his scientific oration for his Professorial status before receiving the letter of decree. Other newly appointed Professors include Prof. Dr. Ir. Ade Rosmana (Pathogen Norne Soil, Faculty of Agriculture), Prof. Dr. Mediaty, S.E., M.Si.Ak (Management Accounting).
Unhas further received 35 new lecturers of those that have completed their doctoral studies. Those among them originated from Japan (7), Australia (3), Norwegia, Netherlands, UNM, ITS, Universitas Udayana, Universitas Brawijaya (UB), IPB, Universitas Airlangga (Unair), UNJ, UPI, and Universitas Negeri Surabaya (Unesa). Others completed their studies from Unhas (10) and Universitas Indonesia (3).
Among those that have completed their Doctoral studies is Dr. Drs. Dasaad Latief, M.Si, Faculty of Social and Political Sciences lecturer that is well-known for as a dai kondang in Sulawesi Selatan.
Several of the officials appointed include, Dr. Risfah Yulianty, S.Si, M.Si.Ap., as the Vice Dean on Planning, Finance, and Human Resources, Faculty of Pharmacy. Prof. Dr. Andi Iqbal ST, M.Fish., Sc. As the Secretary of Internal Quality Assurance Faculty of Marine Sciences and Fisheries, and Dr. dr. Jumraini, S.S.ked.m Sp.S. as the Secretary of the Internal Quality Assurance, Faculty of Medicine.
Unhas Rector Prof. Dr. Dwia Aries Tina Pulubuhu, MA stated, those that have been appointed as functionary officials have gone through rigorous selections based on their recorded tracks of work.
"Please do construct harmonization with other officials in your placed position. Let there be no complaints on disintegrations among the officials," stated Dwia.
Specifically for the Professors, Dwia hoped that they can orate their scientific findings soon. Unhas is the second most productive university when it comes to Professorial appointment.