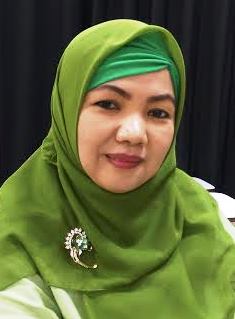 Dr. Munirah Hasyim, S.S., M.Hum
Faculty of Literature (FIB), 11-12 November 2016 conducted a National Seminar of Language Month and Nationality Dialogue in the Banua Hotel, Makassar.
Head of the National Seminar, Dr. Munirah Hasyim, S.S., M.Hum. explained that the event contains the purpose of discussing concepts that is feasible to explore further, along with Indonesian language guidance as an identity, and the national integrity during the globalization era.
"It is also aimed to conclude concepts of thought to formulas that could be applied," stated Munirah Hasyim after the committee meeting in the Indonesian Language Department, Thursday (27/10/2016).
He stated that the national seminar plans in recommending the results of the seminar to stakeholders of interest, including the government, and Indonesian language observers for further actions.
Munirah Hasyim explained that a number of keynote speakers are planned to be present for the national seminar, though until this date, they have yet to confirm. Among them include the Vice President, Minister of Human Development and Culture Coordination, Head of the Development and Language Guidance Body, and the Minister of Agriculture. A speaker from UGM is also invited, which is Prof. Dr. I Dewa Putu WIjana, a language expert.
"The Governor of South Sulawesi and the Head of HMI period 2013-2015 are also planned to be present in the event, along with a number of artists and culturists." Those present during the meeting include Dr. H. AB Takko, M.Hum, Dr. Nurhayati, M.Hum, Dr. Indriati Lewa, M.Hum, and Dra. St Nursa'adah, M.Hum.