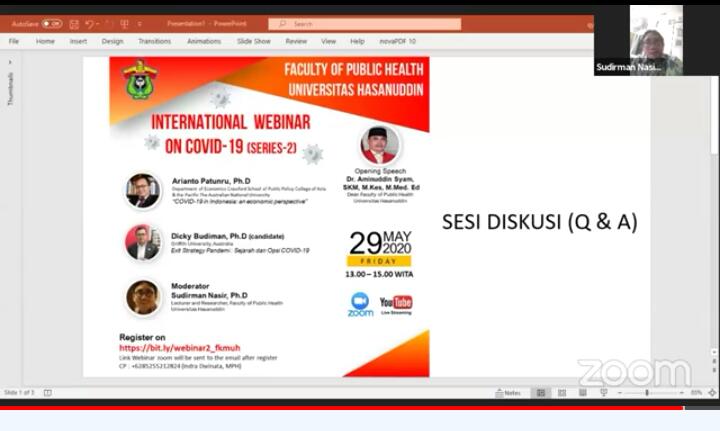 The Faculty of Public Health (FKM) of Universitas Hasanuddin conducted an International Webinar entitled "International Webinar on Covid-19 Series Two". The webinar was held on Friday (29/5) starting at 13.00 West Indonesia Time via Zoom meeting application and live streaming on FKM Universitas Hasanuddin Youtube channel.
Some speakers include Arianto Patunru, Ph.D. (Department of Economics, Crawford School of Public Policy, College of Asia and The Pacific, The Australian National University) and Dicky Budiman, Ph.D., (Griffith University, Australia) participated in this international webinar.
The activity was hosted by Sudirman Nasir, Ph.D (Lecturer and Researcher of the Faculty of Public Health, Universitas Hasanuddin) and was attended by more than 300 participants from all over Indonesia consisting of lecturers, students, governments, professional organizations, social organizations, and the general public.
In his opening remarks, Dean of FKM Unhas, Dr. Aminuddin Syam, SKM., M. Kes., M. Med., Ed., expressed his gratitude for the participation of speakers in webinar activities. According to him, this activity became a media of information for the public to find out the situation of the Covid-19 case from the perspective of public health science.
"This is another series of the previous webinar. Of course, we expect activities like this to be a forum for exchanging information according to their capabilities and the knowledge development so that we can respond to pandemic issues well," explained Aminuddin.
Dicky Budiman, Ph.D., as one of the speakers discussed a topic related to "Pandemic Exit Strategy: History and Covid-19 Options". In his presentation, he revealed that the pandemic is a friend of human life which basically has been around since the beginning of human life. Therefore, in order to ensure the incident, it needs to be done by conducting in-depth research. However, it has been recorded that since human civilization began, the pandemic is caused by bacteria.
"In the last 20 years, the world has increasingly experienced epidemics and pandemics. This means that there are certain factors that cause pandemics. So, the issue of this problem becomes important because it affects environmental change and human interconnection," explained Dicky.
The international webinar event lasted for approximately two hours. (* / Mir)
Editor: Ishaq Rahman, AMIPR
Head of sub-directorate of Public Relation and Information
Directorate of Communication Hasanuddin University
Translator: Kumara Tungga Dewa and Karmila Mokoginta