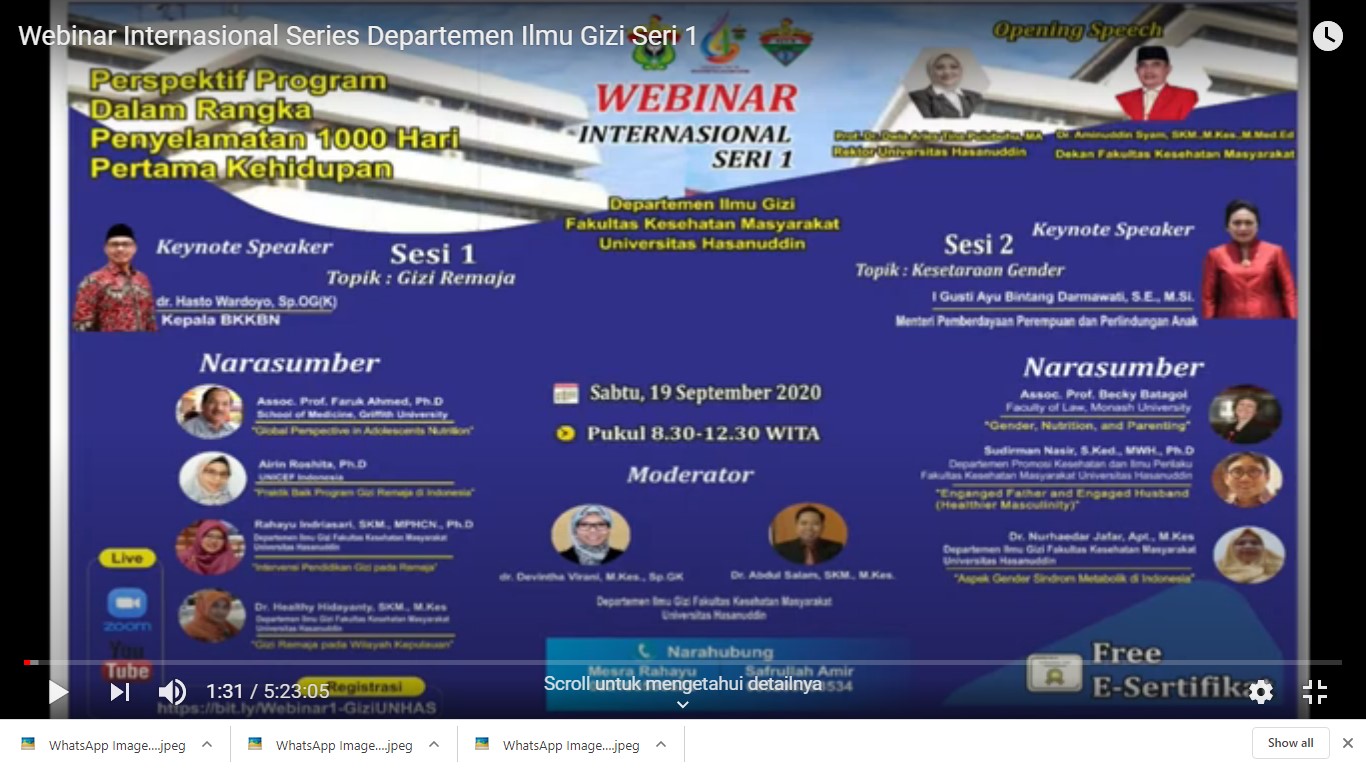 Department of Nutrition, Faculty of Public Health, Universitas Hasanuddin (Unhas) held the first series of international webinars with the theme "Program Perspectives in the Context of Saving the First 1000 Days of Life (HPK)".
The activity with two main topics of Youth Nutrition and Gender Equality took place virtually through the zoom meeting application and live streaming on the Department of Nutrition's YouTube channel at 08.30 Wita on Saturday (19/09).
The Head of the National Family Planning Coordination Agency (Badan Koordinasi Keluarga Berencana Nasional/BKKBN), dr. Hasto Wardoyo, Sp. OG (K), and the Ministry of Women's Empowerment and Child Protection in the Child Development Sector, Lenny N. Rosalin, SE., M.Sc, M.Fin, attended as the keynote speakers.
The other speakers, namely:
1. Assoc. Prof. Faruk Ahmad, Ph.D. (Griffith University)
2. Rahayu Indriasari, SKM., MPHCN., Ph.D. (Department of Nutrition, Unhas)
3. Dr. Healthy Hidayanty, SKM., M.Kes., (Department of Nutrition, Unhas)
4. Assoc. Prof Becky Batagol (Monash University)
5. Sudirman Nasir, S.Ked., MWH., Ph.D., (Department of Health Promotion and Behavioral Sciences, Unhas)
6. Dr. Nurhaedar Jafar, Apt., M.Kes., (Department of Nutrition, Unhas)
Starting the activity, Vice-dean for Academic and Infrastructure, Ansariadi SKM, M.Sc.PH. Ph.D. said that this activity was part of the celebration of the 38th Anniversary of the Faculty of Public Health and the 15th Anniversary of the Nutrition Study Program of Faculty of Public Health.
The Vice-Rector officially opened the activity for Research and Innovation of Unhas, Prof. dr. Muh. Nasrum Massi, Ph.D. In his opening remarks, he appreciated the activities held by the Department of Nutrition. According to him, the problem of nutrition in adolescents must be thoroughly examined, especially young girls, because it can contribute to the emergence of nutritional health problems in the future.
In the first session with the topic of Youth Nutrition, dr. Hasto Wardoyo, Sp.OG (K) said that to achieve superior Indonesian human resources, stunting must be overcome.
"Stunting is not a single problem, but there are still many nutritional problems behind it, one of which is a pregnancy that occurs at a young age," explained Hasto.
Furthermore, Hasto added that being pregnant at a young age causes bones to stop growing. Pregnancy at the age of 15 or 16 years causes calcium, which should have been used to increase bone length, to be transferred to the fetus so that the mother becomes short (stopping growth), and the child also becomes short.
"Therefore, the first 1000 days period is significant and a top priority, starting from 270 days of pregnancy to 730 days after birth," said Hasto.
Lenny N. Rosalin, SE, M.Sc., M.Fin Deputy for Child Development, Ministry of Women Empowerment and Child Protection as Keynote Speaker in the second session on the topic "Gender Equality" delivered material on "Child Protection through Fulfilling Children's Rights in the first 1000 days Towards Indonesia Layak Anak (Idola) 2030 ".
On this occasion, Lenny conveyed the issue that is generally circulating regarding children's health, which is failure conditions to develop.
He also said that breastfeeding is essential in children's growth and development because babies who are not given exclusive breastfeeding will have a risk of stunting by 4.8 times compared to babies who are given exclusive breastfeeding.
Furthermore, he also explained the golden period and the development of children in detail and divided them into 4 stages, namely preconception, fetus (in the womb), neonate, and baby.
"The role of the family must also be optimized as a pioneer in preventing stunting through proper feeding, breastfeeding + complementary foods, increasing immunity through good nutrition, and implementing a healthy lifestyle. If the child is sick, the family must immediately report to the health center," explained Lenny.
One of the foreign speakers, Assoc. Prof. Becky Batagol from Monash University discussed a single parent who is dominated by mothers/women.
According to the presentation, the gender imbalance that occurs will harm men and women in different ways. Men must learn to raise children and be directly involved in the process therein.
In essence, childcare is not solely a woman's task, but a man's duty. By learning how to raise good children, the father can build a good relationship with the child so that the child can grow and develop optimally.
After the presentation from all the speakers, the activity was continued with a question and answer session from the participants who took part in the activity. The activity went on smoothly until the end of the event at 12.30 WIT. (* / Mir)
Editor: Ishaq Rahman, AMIPR
Head of sub-directorate of Public Relation and Information
Directorate of Communication Hasanuddin University
Translator: Kumara Tungga Dewa and Karmila Mokoginta