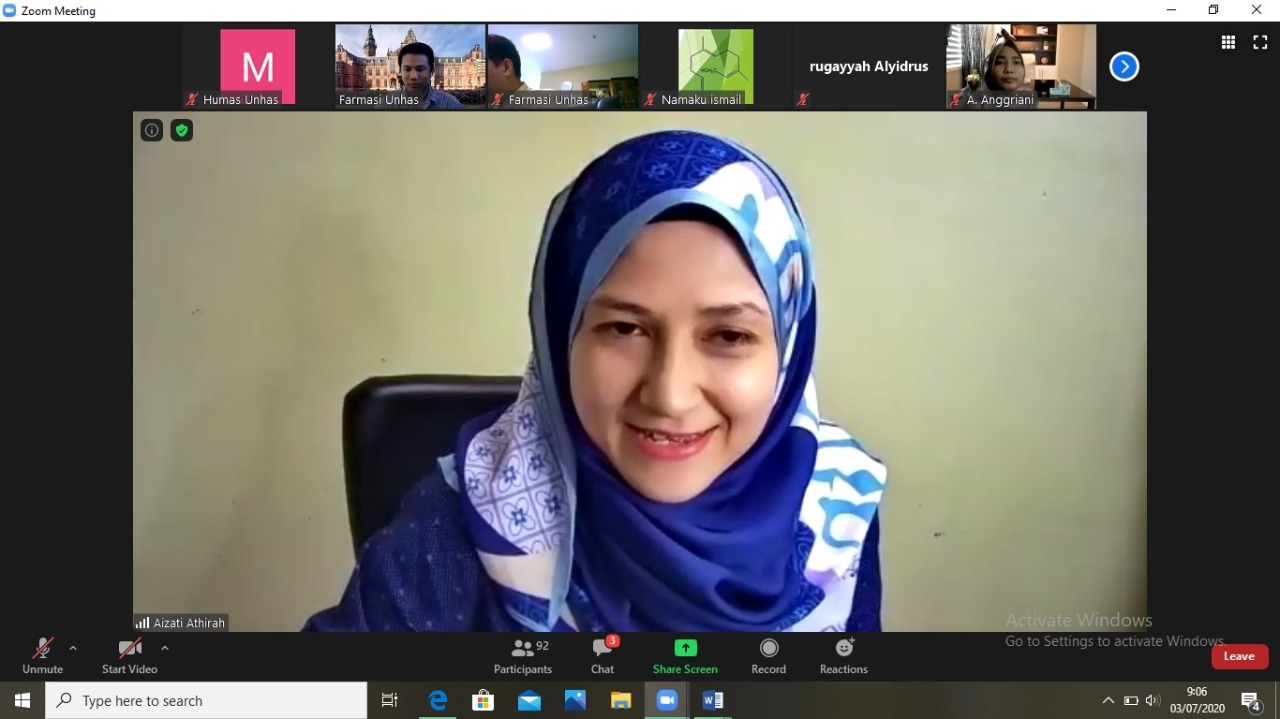 The Faculty of Pharmacy, Universitas Hasanuddin (UNHAS) held a webinar with the theme "Pharmacogenomics in Obstetrics Pharmacy: Challenges and Oppurtunities". The activity invited Nur Aizati Athira Daud, Ph.D. (Lecturer in Clinical Pharmacy, University of Science Malaysia) as a speaker.
The webinar started at 10:00 pm through zoom meeting application and live streaming on the Faculty of Pharmacy of UNHAS YouTube channel on Friday (07/07).
The activity was officially opened by the Dean of the Faculty of Pharmacy UNHAS, Subehan, S.Sc., M.Pharm.Sc., Ph.D., Apt. In his remarks, Subehan said that the activity was the fourth webinar conducted by Pharmacy Unhas. Therefore, Subehan gave a high appreciation to the speakers who shared research experience for Unhas.
"We hope this is not the last webinar for Mrs. Nur Aizati to be a guest speaker. In the future, online-based activities like this will be conducted more frequently, especially in the teaching and learning process of students in the midst of the pandemic. For that reason, I hope that she will be able to join us again to share knowledge with Pharmacy students specifically in future events," said Subehan.
After the opening speech, the activity continued with presentation from the speaker, Nur Aizati Athira Daud, Ph.D., who explained the opportunities and challenges for Pharmacogenomics. Starting her explanation, Nur explained that related to the differences between Pharmacogenomics and Pharmacogenetics which are often considered the same. Nur said that Pharmacogenetics is a study of variations in the characteristics of DNA and RNA associated with drug responses to users.
"Pharmacogenomics is a branch of science that deals with identifying the effects of individual genetic variations on the whole gene (genome) on the response of the drugs used," said Nur.
The development of Human Genome Project and genetic analysis technology to identify a gene that can cause a disease has made a new era of genetic science in the world of medicine.
Merging of genes and pharmacology creates new studies, namely Pharmacogenomics. This science aims to develop rational ways by optimizing the use of drugs that are adjusted to the patient's genotype. This is done to ensure efficiency and minimize the side effects of the drugs used.
As a new science, the use of Pharmacogenomics in medicine will facilitate the discovery and development of new drugs appropriately so that it will have an impact on reducing patient treatment costs. However, this needs to be tested and evaluated to determine its usefulness.
"The role of pharmacists is needed because in PGx research, especially in the field of midwifery, more challenges are faced, for example changes in maternal Pharmacogenetics during pregnancy to fetal genetic changes. In Malaysia itself, this research is carried out in collaboration with other universities," continued Nur.
The activity was attended by approximately 200 and ended at 11:40 pm (* / mir)
Editor: Ishaq Rahman, AMIPR
Head of sub-directorate of Public Relation and Information
Directorate of Communication Hasanuddin University
Translator: Kumara Tungga Dewa and Karmila Mokoginta