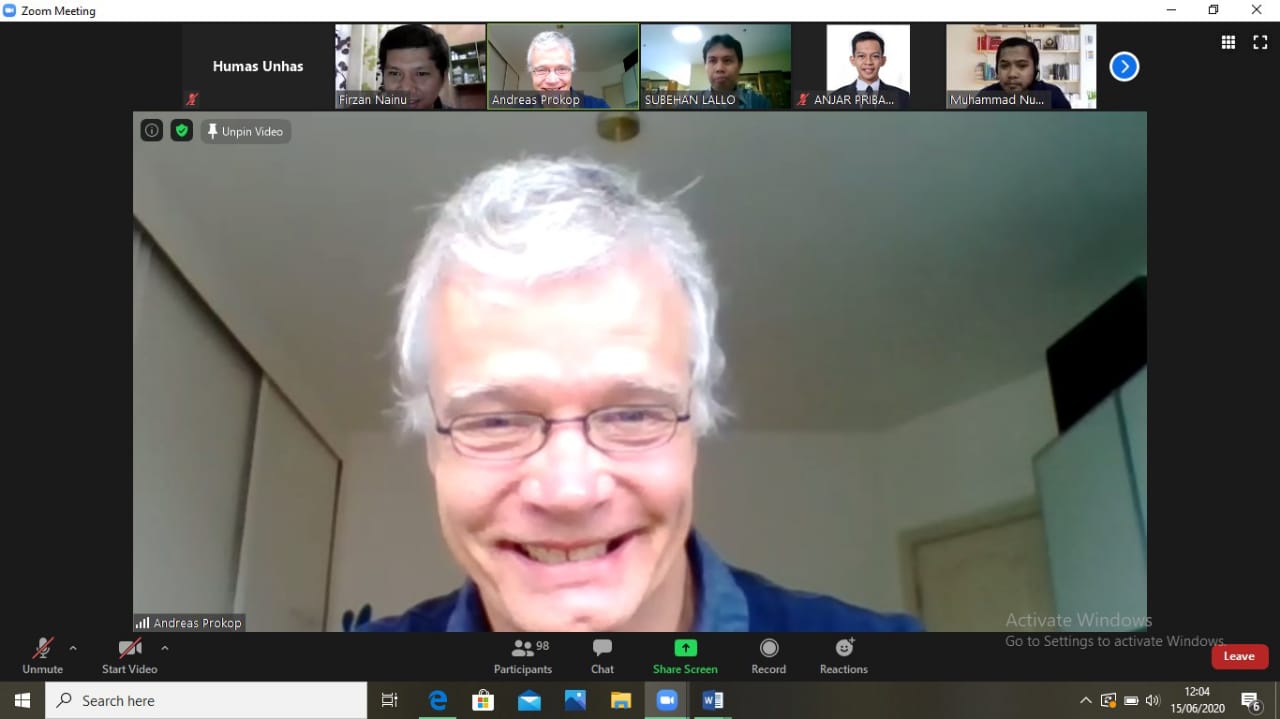 Faculty of Pharmacy of Universitas Hasanuddin conducted Second Series of Webinar under the theme of "How to Make or Break a Neuron: Microtubulus in Axon Growth and Degeneration". In this event, Prof. Andreas Prokop (Neuroscience expert from The University of Manchester, UK) was invited as a speaker. It started at 13.00 Wita via Zoom meeting application and live streaming on Youtube Channel of Faculty of Pharmacy, on Monday (15/06)
The event was officially opened by the Dean of Pharmacy Unhas, Subehan, S.Sc., M.Pharm.Sc., Ph.D., Apt. in his remarks, Subehan expressed his gratitude for the time and willingness of the speakers to share knowledge and research findings.
"We hope that there will be collaborative research that we can do. This webinar can be a media of information or a research idea reference that participants can do," explained Subehan.
Furthermore, Subehan said despite the current plague situation, the Faculty of Pharmacy continues to provide a learning space that can be used by students for the development of science amid the Covid-19 outbreak.
"We will maximize the existing media, so that the source of knowledge continuously run as it should," continued Subehan.
After giving his speech, the activity continued with listening to presentation by Prof. Andreas Prokop related the role of microtubules in the physiology of nerve cells, mainly axons. Microtubules themselves are parts (organelles) of cells, in the cytoplasm of eukaryotic cells, with a long cylindrical hollow appearance with an outer diameter of about 25 nm and an inner diameter of ± 12 nm and lengths varying from a few nano-meters to several micro-meters. Microtubules are one of the constituents of the cytoskeleton that determine the shape of cells. In his research, Prof. Andreas Prokop used the model of fruit fly organisms to try to explain the function of microtubules in the formation and degeneration of nerve cells
Prof. Andreas explained that drosophila has an important role in the development of genetics. This species is commonly known as a fruit fly that is more widely used in genetic research because of its small size, short life cycle, low cost, easy maintenance, and large amount of offspring production in which one generation can be bred every two weeks,.
Approximately 200 participants attended the online public lecturer via Zoom meeting application. The activity was guided by Firzan Nainu, Ph.D., Apt., event at 3:00 pm. (* / Mir)
Editor: Ishaq Rahman, AMIPR
Head of sub-directorate of Public Relation and Information
Directorate of Communication Hasanuddin University
Translator: Kumara Tungga Dewa and Karmila Mokoginta