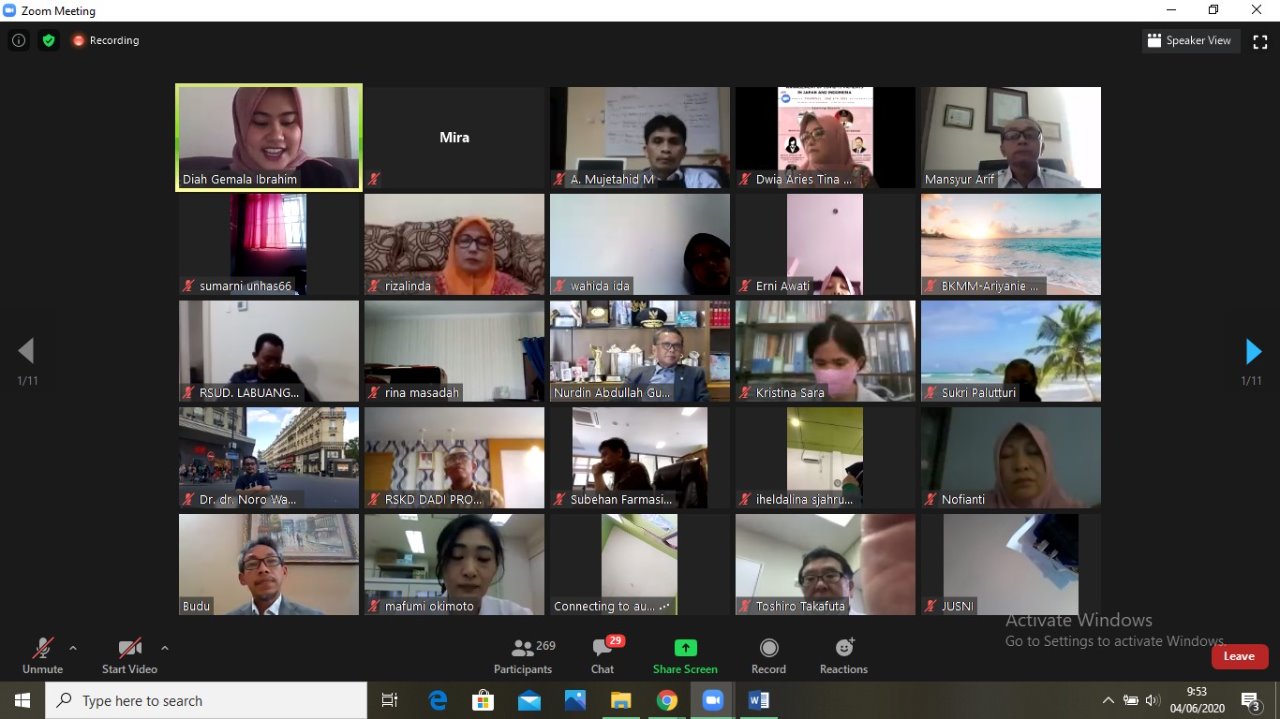 Faculty of Medicine of Universitas Hasanuddin organized an international webinar on "Management of Covid-19 Patients in Japan and Indonesia". The virtual discussion started at 10:00 WITA (Cental Indonesian Time) via the Zoom meeting application on Thursday (04/06).
There were 4 invited speakers in this webinar. They are Mafumi Okimoto MD., Prof. Dr. Budu, Ph.D., Sp. M (K)., M. Med.Ed., Prof. Ohge Hiroki, MD., Ph.D., Prof. dr. Mansyur Arief, Ph.D., Sp.PK (K)., Prof. Nobuaki Shime, MD., Ph.D., and Prof. Dr. dr. Syafri Kamsul Arief
Rector of Unhas, Prof. Dr. Dwia Aries Tina Pulubuhu, MA., expressed her gratitude for the willingness of the speakers to share their knowledge and insight in order to increase the understanding toward the Covid-19.
"The Covid-19 pandemic does not only affect the health sector, but also has an impact on all sectors of human life. For example, the global economy is significantly slowing down during this pandemic. We have to make various adjustments toward the current situation," explained Prof. Dwia.
The activity was officially opened by the Governor of South Sulawesi, H. M. Nurdin Abdullah. In his remarks, he explained how the knowledge and technology of Japanese health are needed by the Indonesian people today, especially in dealing with the Covid-19 pandemic.
"Cooperation between the Government of Japan and Indonesia, in this case South Sulawesi, has existed since I served as a Mayor of Bantaeng regency for 10 years. Then, the relationship continues until now as I am the Governor. For this reason, I hope that the collaborative relationship can be even closer, especially in increasing cooperation in the health sector," explained Nur Nurdin.
To maintain economic security, the government through the Social Safety Net has provided assistance to communities, such as laid-off workers, poor people, and people who cannot work because of pandemic and restrictions rules.
"The South Sulawesi Provincial Government has made an innovative policy in handling and preventing the spread of the pandemic. It is called 'Covid-19 tourism' which is a collaboration program with a number of hotels to implement self-isolation as a quarantine place for Person in Monitoring, Patient in Care, and Asymptomatic Person. This policy was taken to facilitate supervision and minimize the spread and keep the economic sector alive," added Prof. Nurdin.
After the opening, the event then moved to the next session which is the Presentation Session from all speakers.
Mafumi Okimoto MD delivered his topic related to "Successful Management of the Covid-19 Clusters In Hiroshima". Mafumi explained that the Japanese strategy for Covid-19 focused on cluster-based approaches and the characteristics were determined by the form of transmission.
The activity was attended by approximately 300 participants and went well until the end of the event. (*/mir)
Editor: Ishaq Rahman, AMIPR
Head of sub-directorate of Public Relation and Information
Directorate of Communication Hasanuddin University
Translator: Kumara Tungga Dewa and Karmila Mokoginta