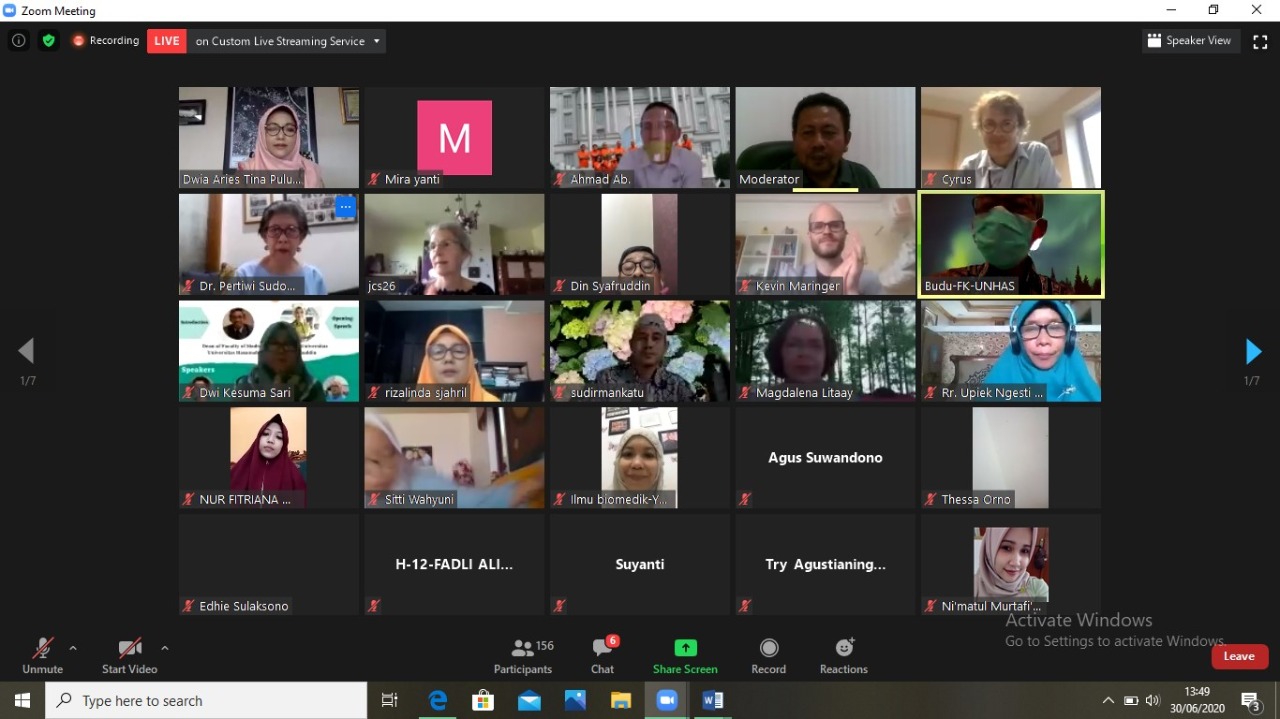 Faculty of Medicine, Universitas Hasanuddin (UNHAS) held an International webinar under the theme of "Nature, Pathomechanisme, Clinical Aspects and Bioinformatic of Zoonotic Emerging Disease". The event started at 13.30 Wita through Zoom meeting application on Tuesday (30/06)
Janet Cox Singh (St Andrew's University, UK), Cyrus Daneshvar (Plymouth University Hospital, England), Kevin Maringer (University of Surrey, England) and Dr. Dwi Kesuma Sari (Hasanuddin University) was invited as a guest speaker.
Starting the activity, the Dean of Faculty of Madicine, Prof. dr. Budu, Ph. D., SpM (K)., M. MedEd., explained that this activity was part of a research collaboration between the FK and three universities (St. Andrew University, Surrey University, and Plymouth University Hospital).
"This is the sixth webinar we have done. We hope this webinar will provide new insights about zoonotic pathogens related to the Covid-19 problem," said Prof. Budu.
The activity was officially opened by the Rector of Unhas, Prof. Dr. Dwia Aries Tina Pulubuhu, MA. In her remarks, she appreciated the webinar activity which provided a strategic topic related to the development of Covid-19. The sixth webinar by focusing on several important issues in the world of health is needed as a source of information.
"This webinar will provide a comprehensive description regarding the Covid-19 pandemic that we know together has a big impact on all aspects of human life," said Prof. Dwia.
Prof. Dwia said that the role of all elements of society is needed in this current situation of pandemic especially academics and researchers who are trying to produce research innovations from these studies for the Covid-19 problem.
Janet Cox Singh (St Andrew's University, UK) as one of the speakers delivered the material of "Mechanism of Pathogens Jumping from Wildlife to Humans in emerging diseases, with a focus on SARS-CoV-2".
Zoonotic is the transmission of pathogens from vertebrate animals to humans that have an impact on public health. This displacement occurs due to several determinants such as ecological and epidemiological factors.
"Pathogens from these animals carry dangerous germs, such as bacteria, fungi, parasites, and viruses. If transmission occurs in humans, it will cause mild to severe illness," explained Janet.
Contagious diseases from animals are common, there are many types of diseases transmitted from animal to human. For example, filoviruses that cause ebola, coronaviruses, henipavirus, and several other viruses.
All RNA virus diseases are related to tissue pathology damage and human immunity and some of these viruses come from bats.
"This pathogen is transmitted in several ways, for example by making direct contact and indirect contact through vectors or host carriers," continued Janet.
The activities guided by Dr. Isra Wahid, Ph.D., was attended approximately 250 participants and ended at 17.00 Wita. (* / Mir)
Editor: Ishaq Rahman, AMIPR
Head of sub-directorate of Public Relation and Information
Directorate of Communication Hasanuddin University
Translator: Kumara Tungga Dewa and Karmila Mokoginta