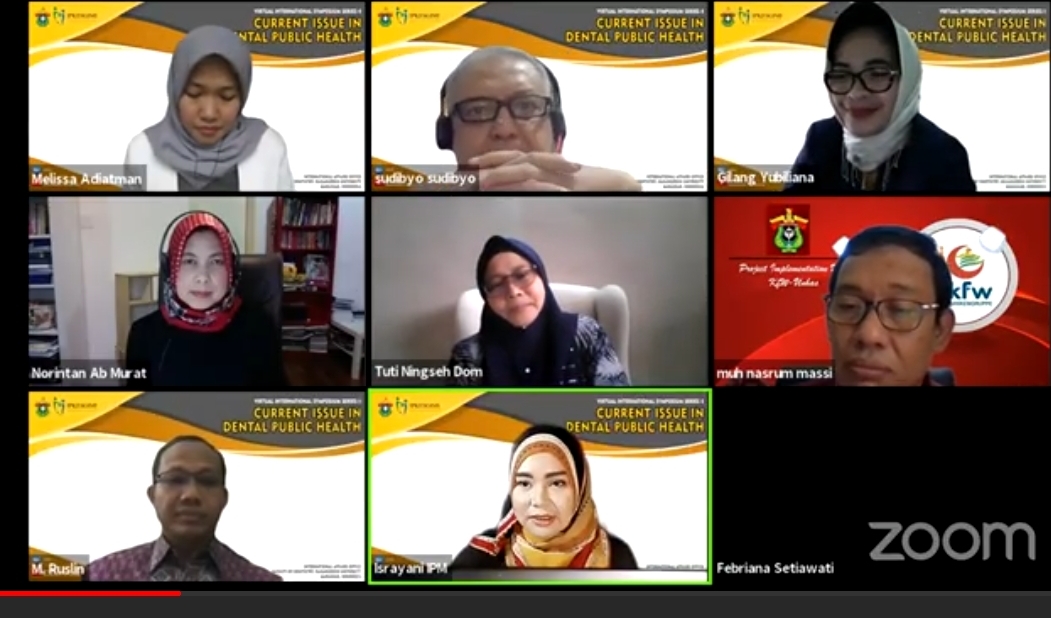 The Faculty of Dentistry (Fakultas Kedokteran Gigi/FKG) Universitas Hasanuddin (Unhas) in collaboration with the Indonesian Association of Dental and Oral Health Concentrations (Ikatan Peminatan Kesehatan Gigi dan Mulut Indonesia/IPKESGIMI) held a virtual international symposium series 4 with the theme "Current Issue in Dental Public Health".
The activity started at 09.00 Wita virtually through the zoom meeting application and live-streaming on the FKG Unhas youtube channel, Saturday (03/10).
Prof. Tuti Ningseh Mohd Dom, BDS., MPH., Ph.D., FICD., (Universiti Kebangsaan Malaysia), Assoc. Prof. Dr. Norintan Ab Murat (University of Malaya, Kuala Lumpur, Malaysia), and Dr. drg. Sudibyo Soerodiwirjo, M.Kes., (Universitas Hang Tuah, Member of IPKESGIMI) were invited as speakers.
The Vice-rector for Research and Innovation of Unhas, Prof. dr. Muh. Nasrum Massi, Ph.D., officially opened The activity. In his remarks, he appreciated FKG Unhas, which is active in conducting international activities.
Prof. Nasrum hopes this activity will encourage research collaboration and form a consortium capable of producing journal articles, patents, and downstream.
"We are delighted that FKG is actively carrying out international activities, especially in the scientific field. The activities are part of the internationalization and branding program of Unhas to become a World Class University. With activities like this, we hope to enrich at least the knowledge, skills, and insights related to public health." explained Prof. Nasrum.
After the official opening, the activity was continued with the presentation of the speakers.
Prof. Tuti Ningseh Mohd Dom, BDS., MPH., Ph.D., FICD., (Universiti Kebangsaan Malaysia) delivered a topic on "Social Media Literacy for Dentists." In general, she conveyed the use of social media in providing health information to the public.
Proper and correct social media use will provide many benefits, such as providing information in the health sector. There are many examples of the application of social media in the health sector. According to Prof. Tuti, users can access health education content to the recruitment process for online studies and clinical trials.
"I believe Social media is no longer a new thing. Almost everyone has it. There are always pros and cons in using social media, so it is necessary to provide assistance regarding the use of social media in a professional manner," explained Prof. Tuti.
After all the speakers delivered their topics, the activity proceeded to a discussion and question and answer session.
The activity was guided by drg. Melissa Adiatman, Ph.D., (Universitas Indonesia) and ran smoothly until the end of the activity at 12.00 WITA. (* / Mir)
Editor: Ishaq Rahman, AMIPR
Head of sub-directorate of Public Relation and Information
Directorate of Communication Hasanuddin University
Translator: Kumara Tungga Dewa and Karmila Mokoginta