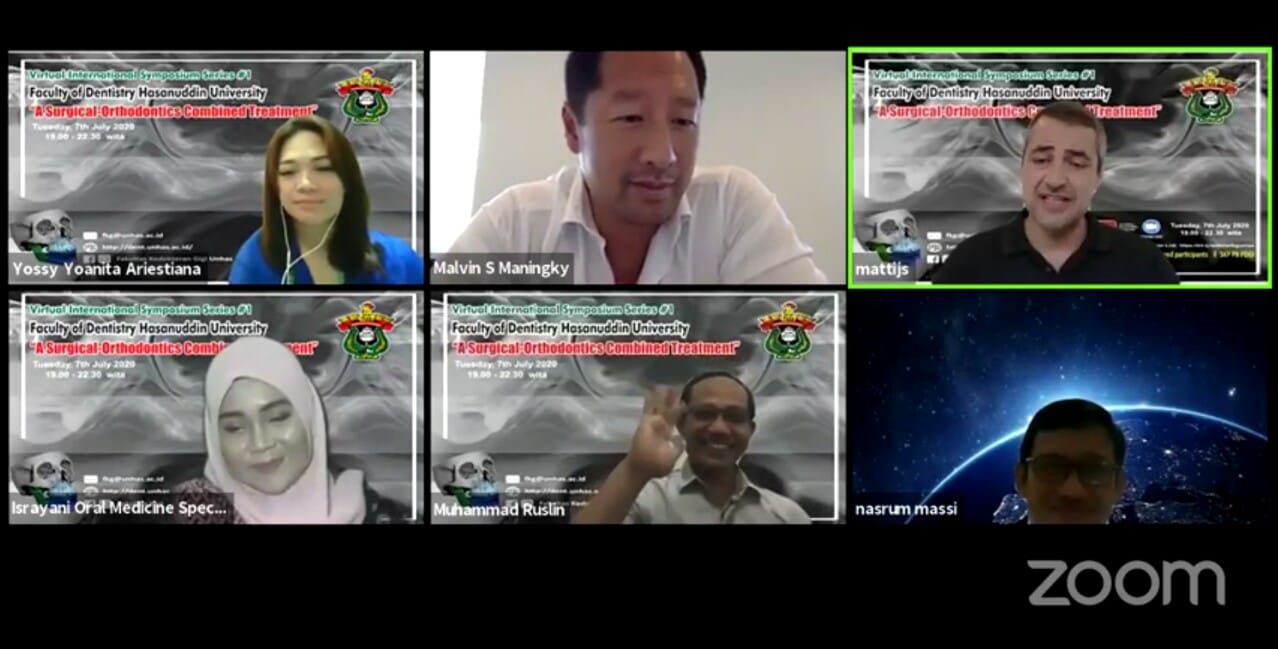 The Faculty of Dentistry, Universitas Hasanuddin (UNHAS) held Virtual International Symposium Series #1, on Tuesday (7/7).
The activity with a theme "A Surgical Orthodontics Combined Tratment" involved two speakers from the Netherlands, Dr. Mattijs Stalpers, DDS., MSc (Private Practice at Ortho Oss, The Netherlands) and Dr. Melvin Sabastian Maningky, MSc, MD, DMD, OMFS (VU University Medical Center, Amsterdam, The Nertherlands).
Representing the Rector of Unhas, Vice-Rector for Research, Innovation, and Partnership, Prof. dr. Muhammad Nasrum Massi, Ph.D., Sp.MK gave his speech and appreciation and support to the Faculty of Dentistry for the implementation of this activity.
Prof. Nasrum Massi explained, in the current pandemic, many similar activities were postponed until next year, but several other activities were still held virtually like tonight's activities.
Furthermore, Prof. Nasrum hopes that with the very interesting topic, participants and students can improve their knowledge and skills and through this international symposium activity. It is also expected to be able to improve academic reputation to support Unhas towards World Class University (WCU).
"With so many participants, we are sure this activity will run successfully and hopefully this activity will continue with other interesting topics," added Prof. Nasrum.
Meanwhile, the Dean of Faculty of Dentistry, drg. Muhammad Ruslin, M. Kes., Ph.D., Sp.BM (K), expressed his appreciation and thanks to Prof. Masrun Massi, the speakers and the participants for their participation in the activities.
Furthermore, drg. Ruslin gave an overview of what orthodontic combination surgery (orthognathic surgery) really is.
The activity which ended at 22:00 WITA was attended by approximately 500 participants through zoom meeting application and the Faculty of Dentistry youtube channel. The event was guided by drg. Yossy Yoanita, Sp.BM, a lecturer in the Department of Oral and Maxillofacial Surgery of the Faculty of Dentistry.
Abdul Majid
Public Relation and Information
Faculty of Dentistry, Universitas Hasanuddin
Translator: Kumara Tungga Dewa and Karmila Mokoginta