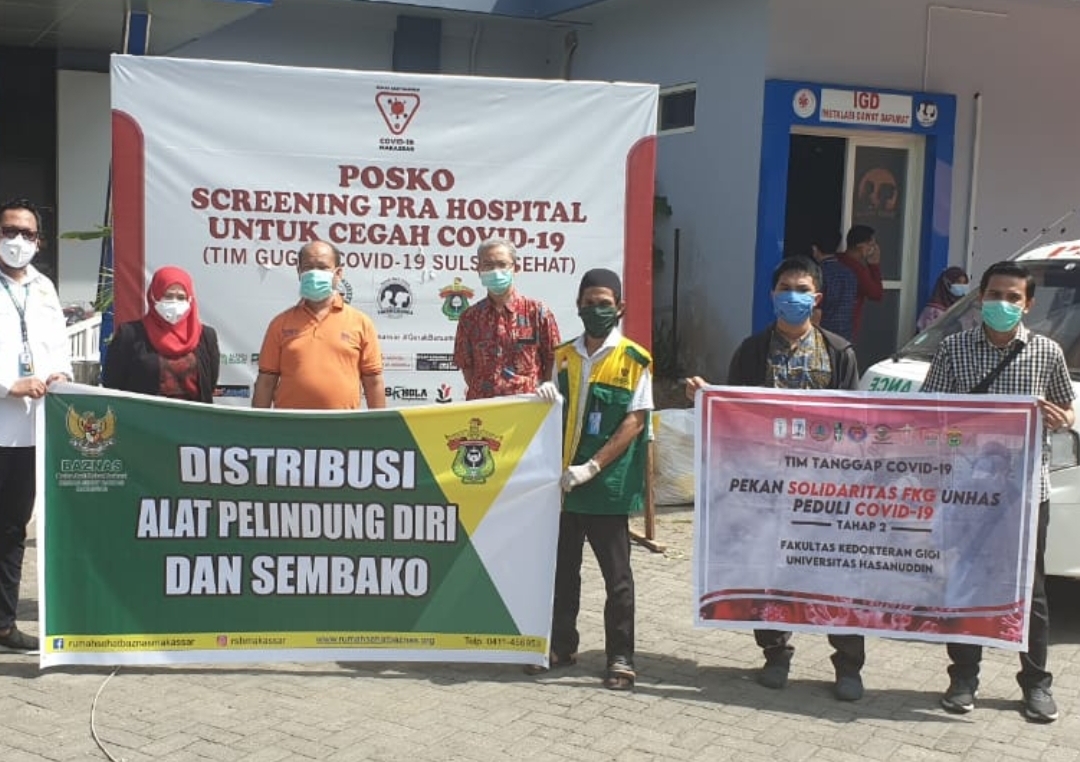 The Covid-19 Response Team of the Faculty of Dentistry (FKG) of Universitas Hasanuddin in collaboration with the Makassar National Amil Zakat Agency (BAZNAZ Makassar) provided assistance in Personal Protective Equipment (PPE) to support the tasks of the medical staff at the Sayang Bunda Hospital. The second day of the FKG Unhas Care Covid-19 Solidarity Week took place on Wednesday (6/4).
The aid for Personal Protective Equipment (PPE) is part of the participation and initiative of the FKG Unhas Covid-19 Response team in efforts to prevent the spread and break the Covid-19 chain.
The Support of PPE was handed over directly by the Vice-Dean for Student Affairs and Alumni FKG Unhas, Dr. drg. Eddy Heriyanto Habar, Sp.Ort (K), to the Director of the Sayang Bunda Hospital, Dr. dr. Hizbullah, Sp.An-KIC-KAKV.
On this occasion, Dr. drg. Eddy Heriyanto Habar, Sp.Ort (K) explained that the activity was successfully carried out by the collaboration of FKG Unhas together with the Makassar City BAZNAS.
The distribution of Personal Protective Equipment (PPE) aims to provide support to medical and paramedical staff at Sayang Bunda Hospital, considering that the Hospital is one of the Referral Hospitals for the Covid-19 patient in Makassar City.
"We strive to be actively involved in supporting and assisting the fulfillment of the needs of medical staff, especially PPE. With a complete PPE, we hope to provide a sense of security for medical personnel while carrying out humanitarian tasks," explained drg. Eddy.
Dean of FKG Unhas, drg. Muhammad Ruslin, M. Kes., Ph.D., Sp.BM (K), expressed his gratitude to the Chairman of the Makassar City BAZNAS Team (drg. Taufan Lauddin) for their support and good cooperation for aid distribution.
"Our hope is that this assistance can reduce the burden of the medical team who are struggling to take care of those who are infected with the Covid-19," explained drg. Ruslin.
In general, the Unhas Faculty of Dentistry always strives to take concrete actions in the effort to prevent the spread of the Covid-19. In addition to distributing PPE, previously FKG Unhas has conducted several positive activities to help the people affected by Covid-19.
Reporter: Majid Asinu
Public Relation and Information of Faculty of Dentistry
Translator: Kumara Tungga Dewa and Karmila Mokoginta