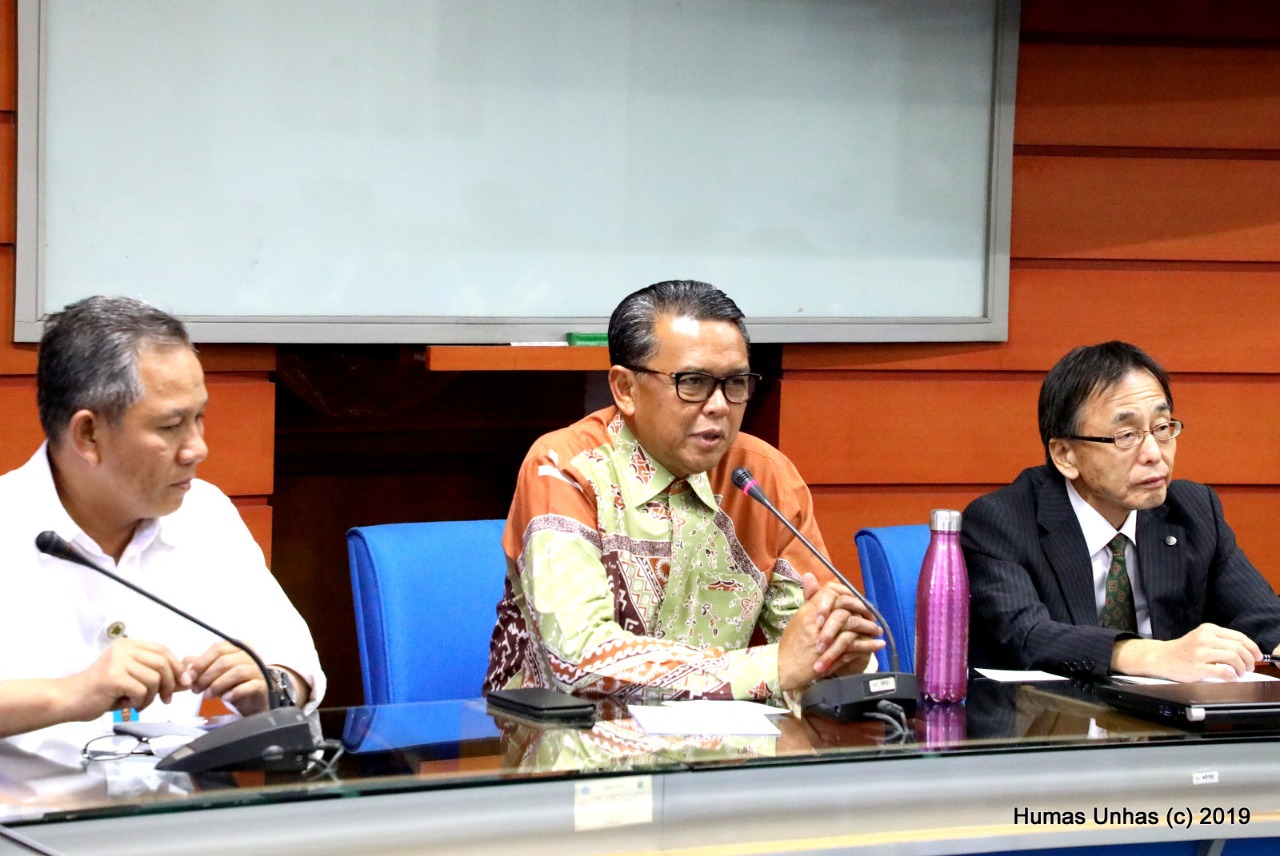 Faculty of Forestry of Unhas held a Focus Group Discussion (FGD) discussed Disaster Mitigation. This activity took place in Meeting Room A, 4th Floor, Rectorate Building, Hasanuddin University, Friday (9/20), starting at 08.30 WITA.
The FGD invited two speakers, Prof. Dr. Tetsuya Kubotac (Kyusu University, Japan) and Dr. Ir. Syamsu Rijal, S.Hut, M.Si, IPU (Universitas Hasanuddin). This FGD was also attended by Prof. Dr. Nurdin Abdullah, M.Agr (the Governor of South Sulawesi), Prof. Dr. Yusran, S.Hut, M.Si (the Dean of Faculty of Forestry of Unhas who is also the Head of the Governor's Team for the Acceleration of Development), and dozens of experts from various institutions.
On the opening remark, the Governor of South Sulawesi expressed his appreciation for the implementation of the FGD, especially for Prof. Tetsuya Kubota.
"He specifically came here to share how we should preserve the environment. We can learn many things from his presence, by learning from what happened in Japan. Japanese experts are very detailed in explaining things, the basis is data. This is important in managing the environment and dealing with disasters," said Nurdin Abdullah.
In his opening presentation, Prof. Tetsuya Kubota explained Japan's experience in dealing with natural disasters.
"in Japan, the common natural disasters include earthquakes, typhoons, landslides, and floods. In South Sulawesi, it seems that the concern is landslides and floods. Based on our experience in Japan, the landslides and floods mitigation are greatly influenced by land-use patterns," said Prof. Tetsuya.
A landslide that occurs in a certain area, it usually has possibility to occur again in the future. Therefore, there should be a serious prevention effort, if a landslide ever occurs. In Japan, landslides and floods are commonly caused by high rainfall, which is a natural condition.
"In terms of mitigation, we should combine hard and soft approaches. We can carry out some field activities such as nature preservation, rehabilitation, revegetation, and others. Another important thing is the Soft approach, to educate the public about natural disasters," said Prof. Tetsuya.
Furthermore, the discussion was started by an expert from Unhas who was the South Sulawesi Flood Study Team, Dr. Ir. Syamsu Rijal. Through a presentation entitled "Flooding Study and Watershed Rehabilitation Planning of South Sulawesi", Syamsul Rijal explained in more detail the steps that can be taken by the people and government of South Sulawesi related to the threat of natural disasters, especially floods.
"We established a policy study focusing on a big flood that happened in South Sulawesi in January 2019. From there, we got many data about the potential of floods, especially its relation to the environment," said Syamsu Rijal
An existing condition is the most influential factor in a flood event. The existing condition includes environmental condition, rainfall, changes in land cover, river condition that is experiencing siltation, and very limited water storage condition.
"in Jeneponto, big flood was added with the rising sea level factor. At that time, the flood height even reached up to 8 meters, because at the same time the seawater rose. It is like a tsunami phenomenon originating from the mountains, because of the large amount of rainfall at the same time," said Syamsu Rijal.
The management of natural disasters, especially floods in South Sulawesi, eventually requires participation from many parties. For instance, the government through the implementation of good governance, the community through literacy and education about natural disaster, the private parties through the program of corporate social responsibility, the industry through the implementation of sustainable governance, and so on.
The FGD was continued by listening to recommendations and suggestions from the stakeholders from the local government, academics, and the private sector. This activity ended at 11:30 WITA. (*)
Ishaq Rahman
Head of sub-directorate of Public Relation and Information
Directorate of Communication Hasanuddin University
Translator: Kumara Tungga Dewa
Translation Editor: Karmila Mokoginta