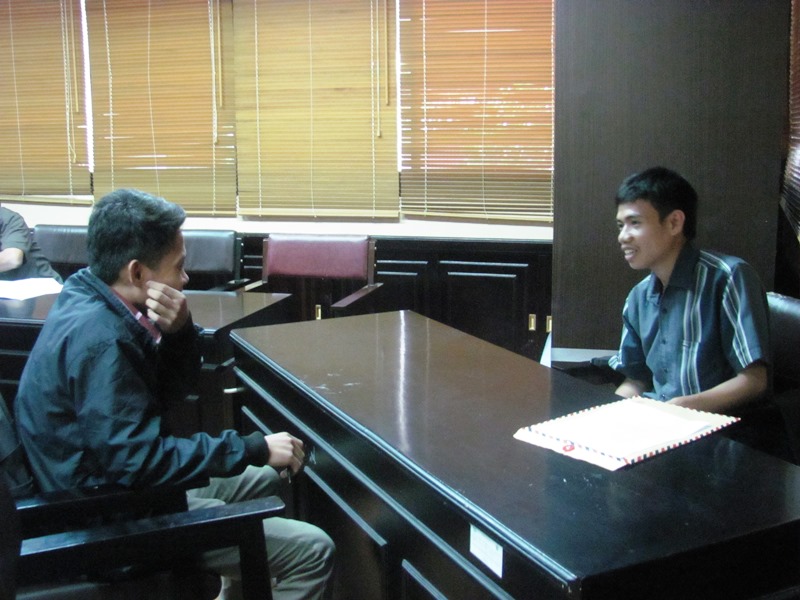 An applicant of the Ethos Scholarship during a selection in the Rectorate Building Unhas, Wednesday (8/6). (Photo:mda)
The networks of Dompet Dhuafa Republika, Wednesday (8/6) selected the applicants of the scholarship "Beastudi Indonesia" in the Unhas Campus. Tens of students took part in the interview conducted on the 2nd floor of the Rectorate Building Unhas.
Dr. Irma Andriani, M.Si. is appointed as the Regional Coordinator of the Ethos Scholarship Makassar. Through a letter of application explained, the Beastudi Indonesia is a network of Dompet Dhuafa Republika that is determined in the advancement of human resources of the Dhuafa, through the payment of quality education.
"We have six main programs, including the Activist Nusantara, Ethos, Partnership, Productive Village, Philanthropy Education Community, and Alumni Association Beastudi Indonesia scholarship, that accumulates to approximately 5.000 accepted individuals," explained Irma Andriani.
Beastudi is a human resource invested scholarship for students of high achievements with economic disadvantages and further focused on the advising and accompanying of the empowerment with future-oriented visions in the establishment of independent and superior individuals.
As of now, Beastudi Ethos has reached 17 higher education institutions, spread among 14 regions. The total receivers of the scholarship now are around 500 individuals, with 1000 alumni, stated Irma Indriani.
"In 2014, Beastudi Indonesia will cooperate with Dikti, supporting the Scholarship of Etis-Bidikmisi, which includes empowering the synergy of Ethose Scholarship development and," stated Irma.
15 participants from diverse faculties engaged the selection aimed at grasping students that accepted the scholarships in 2015 at the Meeting Room D of the Rectorate Building Unhas. Those eligible for the test include those from a disadvantaged economic background and a GPA of minimal 3.00. The second phase of the selection will take place on the 17th of July 2016.
Until now, there are 500 students of Unhas that have received the scholarship from Dompet Dhuafa Republika, since 2003. (*)