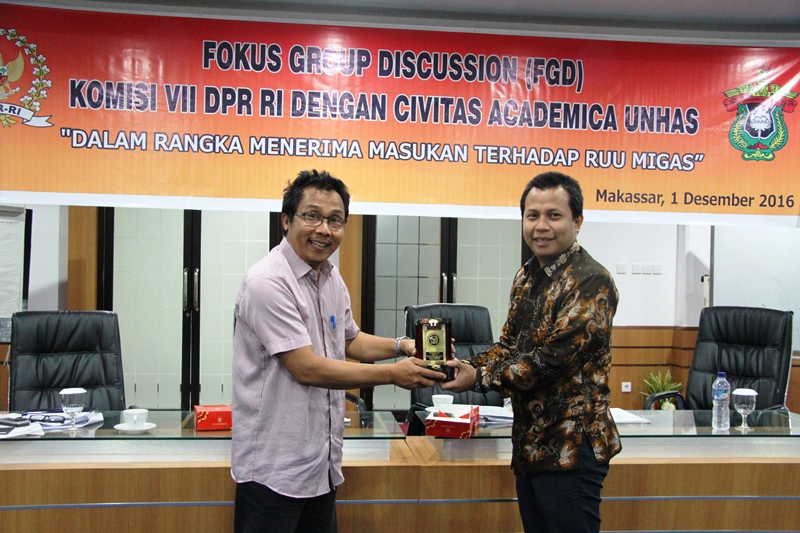 Thirteen members of the VII Commission of DPR RI headed by Syaikhul Islam Ali (PKB fraction) conducted a Focus Group Discussion (FGD) with the experts of Universitas Hasanuddin, Pertamina, PT. Equity Epic (Sengkang) pty, Ltd., in order to obtain inputs for the draft regulation concerning oil and gas, located in Tamalanrea Campus, Thursday (1/12). They were received by the Vice Rector III on Student and Alumni Affairs Unhas, Dr. Ir. Abd. Rasyid J. M.Si., and a number of experts from Unhas.
Syaikhul Islam Ali stated, that the draft is crucial, as the sector itself is strategic to support the foundations of the state development, therefore the regulations must be revised. The discussion on this draft regulation is urgent, considering Indonesia is in a brink of oil and gas crisis.
Unhas experts stated that in South Sulawesi, many contain energy developments, including the Energy construction Sengkang, Wajo, PLTU Jeneponto 250 MW, PLTU Poso 180 MW. Majorities are Center of Water-Based Power Electricity owned by overseas actors. The majority of the employees in the PT Energi Sengkang consist of locals. The significant amount of alternative energies can balance the declining amount of fossil energies available.
A student suggested for the draft regulation to still take into consideration matters of exploitation related to the environment that may show its true impact in the upcoming decades.
The draft regulation consists of 21 Chapters and 99 Clauses. The Oil and Gas Draft Regulation is the revision of the National Regulation No.22 year 2001 on Oil and Gas. After the adoption of the new oil and gas regulation, the regulation along with other regulations that regulates the conducts, still is known as applicable as long as it does not go against the requisites under the regulations newly adopted later on.
Syaikhul Islam Ali in his visit to Unhas was accompanied by Daryatmo Mardiyanto, Tony Wardoyo, Andi Ridwan Pattiwiri (PDI-P), Diti Ganinduto (Golkar), Ramson Siagian, Bambang Haryadi (Gerindra), Sayed Abubakar A. Assegaf (Demokrat), Hadi Zainal Abidin, S. Pd., MM, M.Hp (PKB), Tamsil Linrung (PKS), Dr. Andi Jamaro Dulu, M.Si (PPP), Dr. Ari Yusnita (Nasdem), and Mukhtar Tompo (Hanura), along will three secretariat staff members, which consist of an expert, researcher, and the parliamentary TV.
After the FGD in Unhas Tamalanrea, the VII commission team of DPR RI flew back to Jakarta, and arrived back at the same day.