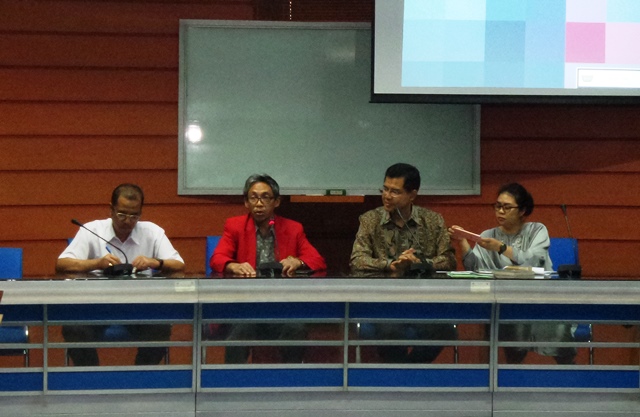 Vice Rector IV Unhas Prof. dr. Budu, Ph.D. inaugurating the DIPI socialization in Unhas
Scientific Budget Indonesia (DIPI) conducted their socialization of research and financing mechanism in the Rectorate Building unhas, Thursday (9/6). "This is the inaugural event of socialization carried out in the Unhas Campus and Insya Allah will be conducted further in the future," stated the Executive Director DIPI, J.W. Saputro, Ph.D. The socialization was opened by the Vice Rector IV Unhas Prof. dr. Budu, Ph.D.
One of the primary aims of the DIPI establishment, stated Saputro, was to repair the research environment of Indonesia. "This is not a complaint, not also a disadvantage, but it reflects the reality of the research environment of Indonesia," stated the alumni of Wisconsin University.
It was explained that DIPI would focus to fund the research of fundamental elements, or basic research that is hoped to contribute possibilities of obtaining a Nobel award or at least be nominated in the future. "Because of that particular target, then our priority of research include those that are of fundamental basic research oriented towards both natural and social sciences," stated Saputro.
Besides that, the Bachelors Degree alumni from IPB also explained that the financial, administrative responsibility constructed by DIPI would be different with those established by Dikti, as DIPI utilizes funding outside of the APBN. "DIPI will use their system of responsibility by the use of fiscal agents," he stated.
Director of DIPI also mentioned the limitations of research funding in Indonesia, compared to neighboring countries. "Indonesia's research budget is only 0,09% of the GDP. Compared to South Korea, that has allocated 4.2% of their budgets for research. As a result, we cannot be surprised how based on science productivity in ASEAN alone, we are at the 5th position, as we have even been surpassed by Vietnam," stated Supatro.
DIPI is a national institution that is part of the Scientific Academy of Indonesia (AIPI). The organization is a non-structural independent organization. "So we are not structurally part of the Ministry of Research, Technology and Higher Education Institutions, but we cooperate firmly," added Supatro.