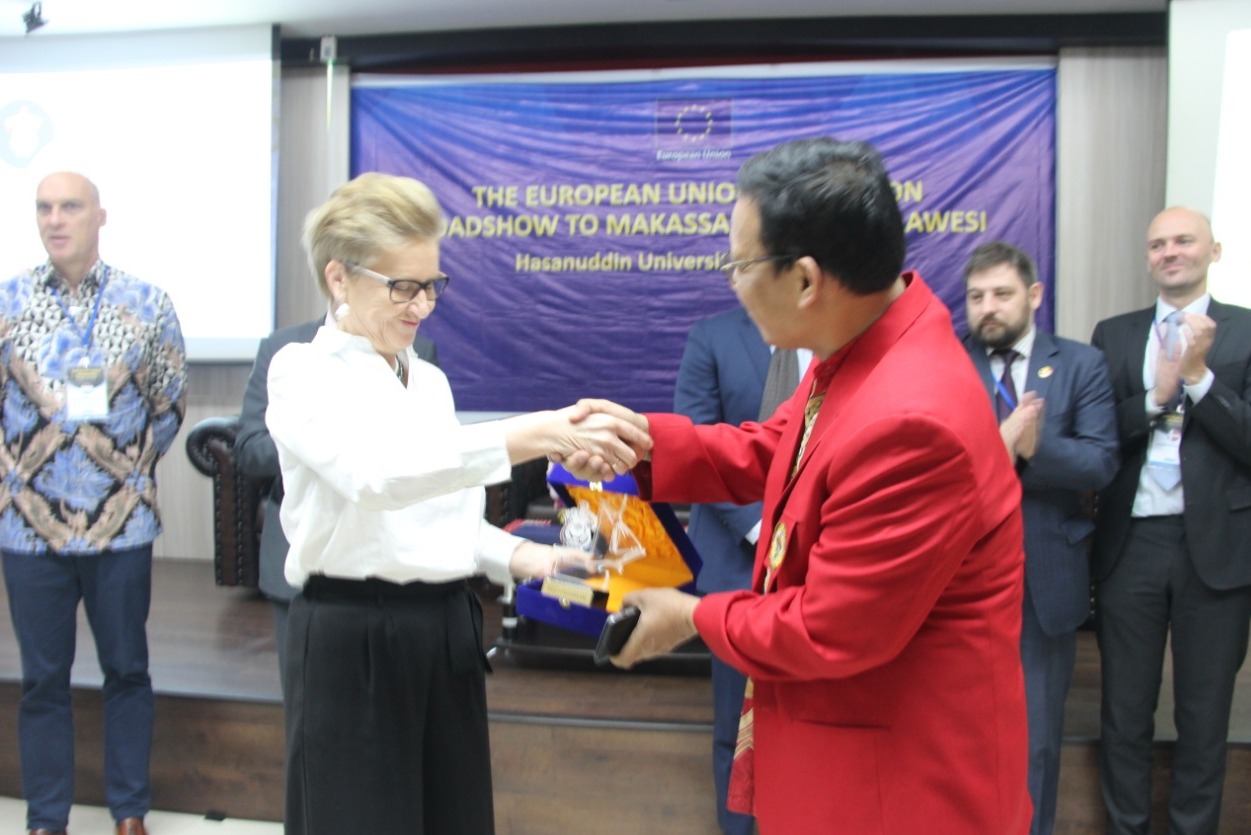 The European Union delegations visited Universitas Hasanuddin in order to socialize the existence, attractiveness, and also opportunity to establish cooperation with the European Union. In addition, this visit was also to find out the perceptions of Unhas students related to the European Union. This activity took place on Friday (5/7) at 09.00 WITA at Prof. Dr. Hardjoene, Graduate School of Unhas.
The program was attended by the Delegation of the European Union and the Embassies of the Member States:
1. Mr. Charles-Michel Geurts (Charge d'Affairs of the European Union to Indonesia and Brunei Darussalam)
2. Mrs. Beata Stoczynska (Ambassador of Poland),
3. Mrs. Olivia Leslie (Ambassador of Ireland),
4. Mr. Jari Sinkari (Ambassador of Finland),
5. Mr. Ferdinand Lahnstein (Charge d'Affairs of the Embassy of Netherland),
6. Mr. David Van Lierde (Charge d'Affairs of the Embassy of Belgium),
7. Mr. Soeren Bindesboell (Deputy Head of Mission, Embassy of Denmark),
8. Mr. Charles Henri Brosseau (First Counsellor of the Embassy of France),
9. Ms. Mariana Oom (Economic and Commercial Counsellor, Embassy of Portugal), dan
10. Mr. Giandomenico Milano (Head of Political Section, Embassy of Italy);
The arrival of the European Union delegations was welcomed by Dean of Graduate School of Unhas, Prof. Jamaluddin Jompa, Ph.D. Vice-Rector for Research, Innovation, and Partnership, Prof. dr. Nasrum Masi, Ph.D. and other Professors of Universitas Hasanuddin.
"We welcome you to Universitas Hasanuddin. The presence of the European Union Delegation has a great meaning for us because we have never had four ambassadors of friendly countries who visited us at the same time," said Prof. Jamaluddin in his opening remark.
Prof. Jamaluddin expected that the EU delegations presence can inform us about bilateral cooperation between countries, especially those which can be utilized by Unhas, to be more specific, the cooperation which can be used by students, lecturers, researchers, and local government.
"Certainly, we hope that with the arrival of this delegation, we can get information about opportunities for bilateral cooperation. This is also part of Unhas marketing strategy so that our campus will increasingly exist in the international community, and its existence can be projected," said Prof. Jamaluddin is known as a maritime expert.
In his speech, the European Union representative expressed his amazement toward Unhas, because Unhas was far different from what they imagined.
"At first, we thought that this campus was just like most campuses in Indonesia. In fact, this campus is so big and has a great potential" said Mr. Charles-Michel Geurts represented the delegations.
The nine delegations conducted a two-ways discussion with 200 participants. The goal of this discussion is to give a big picture to the students related to every country's potential. Consequently, the students got more knowledge related to the countries of EU.(*)
Reporter: Mirayanti (Public Relation of Unhas)
Content Editor: Ishaq Rahman
Translated by Kumara Tungga Dewa,
Translation Edited by Karmila Mokoginta