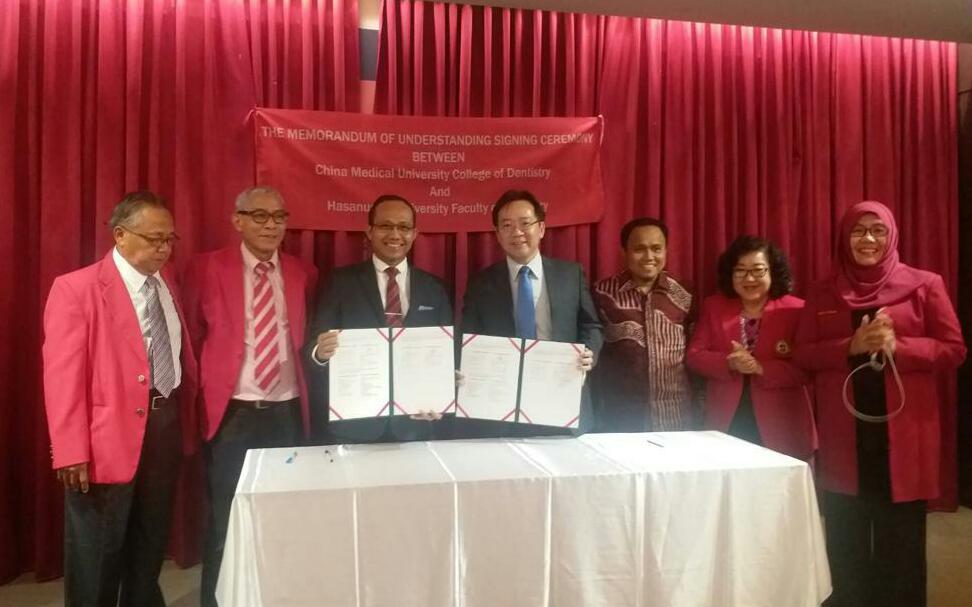 The effort of Faculty of Dentistry of Universitas Hasanuddin to build an international network is now improved with the signing of a collaboration with the College of Dentistry, China Medical University (CMU), Taichung, Taiwan (by Dean, Lih-Jyh Fuh, DDS., Ph.D) and conducting an extension of the MoU with the College of Oral Medicine, Taipei Medical University (TMU), Taipei, Taiwan.
This effort continued to be improved after achieving recognition from the Asian University Network-Quality Assurance (AUN-QA). The Faculty of Dentistry of Unhas continues to improve as a World Class Faculty by continuously enhancing collaboration with the best universities in Asia as an effort to realize the missions and goals of Unhas Rector, Prof. Dr. Aries Tina Pulubuhu, MA. and to make Unhas achieve a title of World Class University.
June 22nd - 23rd, 2019, the Dean of Faculty of Dentistry, drg. Muhammad Ruslin, M.Kes., Ph.D., Sp.BM (K) attended the invitation of the Taiwan Blood Biomaterials Society (TSBB) as an Invited Speaker at the International Symposium of Taiwan Society of Blood Biomaterials under the theme "Translational Medicine; From Innovative Research to Clinical Application in Taipei, Taiwan."
In this event, some figures also participated as academician such as the previous dean of Faculty of Dentistry, Prof. drg. Mansjur Nasir, Ph.D. (Member of the Board of Trustees of the previous period) and Prof. Dr. drg. Bahruddin Thalib, M.Kes., Sp.Pros (K) (Member of the current Unhas Board of Trustees).
The Head of Department of Pediatric Dentistry FKG Unhas Prof. Dr. drg. Sherly Horax, MS, and the Head of Quality Assurance Group of FKG Unhas, Prof. Dr. drg. Asmawati Amin, M.Kes., And Director of Unhas Teeth and Mouth Hospital, drg. Andi Tajrin, M.Kes., Sp.BM (K) also participated in the event.
This event was also attended by students of Faculty of Dentistry, Maya Masyta, SKG (professional students) and their group following the Scientific presentation held by the TSBB after passing the selection on the faculty level.
"The implementation of the collaboration with TMU at this time is that a staff of Faculty of Dentistry FKG Unhas staff is listed as a Ph.D. student and another person has been listed as a Master student at TMU, as well as there has been some research collaborations by far and will continue to be improved with the additional collaboration with CMU," said Ruslin.
"To continue the implementation of the Collaboration with TMU, next year we will send 2 more staff for master degree and 2 staff for Ph.D. degree," said the Dean of FKG Unhas.
"Prof. Keng Liang Ou, Ph.D (h-index 32) (Former Dean of College Oral Medicine, Taipei Medical University) who is currently listed as an Adjunct Professor in Faculty of Dentistry of Unhas stated his readiness to attend the event "The 2nd International Conference on Biophysical Technology in Dentistry (ICoBTD 2019)" as the main speakers on August 24th -25th in Makassar.(*)
Reporter: Abdul Majid (FKG Unhas)
Editor: Ishaq Rahman
Head of sub-directorate of Public Relation and Information
Directorate of Communication Hasanuddin University
Translator: Kumara Tungga Dewa
Translation Editor: Karmila Mokoginta