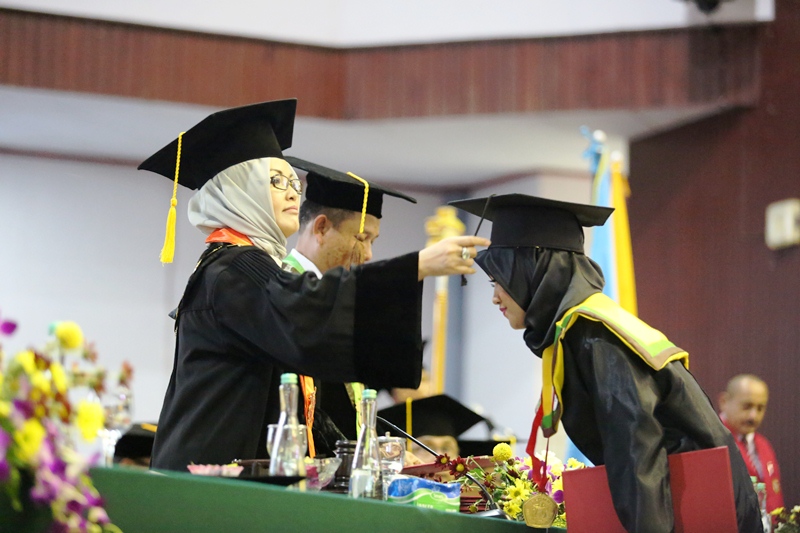 Unhas Rector Prof. Dr. Dwia Aries Tina Pulubuhu, MA stated that high attained GPA during one's course of study is merely enough. Qualities must include honesty, good-manners, working ethic, as well as mentality. Such qualities have become rare, but are crucial elements to establish noble individuals.
Dwia stated in 2016, 118.000 had their interest in enrolling to Universitas Hasanuddin. Out of that overall figure, approximately 5.000 people (4,23%) were accepted in this higher education institution. In the national level, such numbers of applicants positions the University being the second most favored university in Indonesia.
"Therefore all of you are chosen ones to continue education in Unhas. Being a student of Unhas is not a task of ease," stated the Unhas Rector Prof. Dr. Dwia Aries Tina Pulubuhu, M.A., when she graduated 998 graduates during the second graduation period in Baruga Andi Pangerang Petta Rani, Tamalanrea Campus, Wednesday (21/12).
In that opportunity, Dwia besides stating her gratitude to the parents of the students that have trusted Unhas to educate their children, also inserted messages to not have trust upon irresponsible individuals that offers services of graduation or that can assist them in that process.
"Unhas enrollment system can be in full accessed in the website," stated Dwia during the Bachelors program graduation ceremony, attended by the head of the Board of Trustees (MWA) Unhas Prof. Dr. Basri hasanuddin, M.A., Head of the Academic Senate Prof. Dr. H. M. Tahir Kasnawi, S.U., Head of the Professor Board Prof. Dr. Ir. Abrar Saelng, S.H., M.Si., and a number of Academic Senate and Professor Board members of Unhas, parents of the graduates, and a number of other invitees.
The Grade Point Average (IPK) of the Unhas graduates time to time have increased. In this graduation ceremony, approximately 56% of graduates have attained a GPA of 3,50 above, with four years of studying period reaching 14%. Meanwhile those that completed their studies between 4-5 years accumulate to approximately 61%.
"Around 24% of the graduates needed five years before the completion of their studies, maybe they felt too comfortable staying in Unhas," Dwia stated as she was responded with applauses from the graduates.
"I do not want the Unhas graduates to become popular because of their deviating and disappointing attitudes, for example corruption," Dwia seriously voiced.
The Unhas graduates in the ceremony, stated Unhas Rector, have also attained 12 major International achievements, including in the field of scientific presentations and karateka. What is truly stunning is that in the year 2017, there were 1.078 proposals of student research.
Such achievements stated Dwia, cannot be released by the role of lecturers and professor that have themselves, advanced their numbers of International journals, now reaching to 1.041 journals that are of SCOPUS indexed.
In the same place, Thursday (22/12), Unhas also graduated 629 Doctoral, Magister, Specialist, and Profession programs from a number of study programs of Unhas.
Muh. Dzulkifli & Lidya Best Graduates of Unhas
Muhammad Dzulkifli Ashan and Lidya Prawiraharjo Thauwrisan, each from the program of Agro-technology Faculty of Agriculture and Management Faculty of Economics and Business Unhas, each are the best graduates for both exact and non-exact sciences of Universitas Hasanuddin, Second graduation period, Wednesday (21/12). For the achievement, both the graduates are rewarded certificates and BNI savings of IDR 2.500.000.
Muh. Dzulkifly, a graduate with a GPA of 3,92 with a three-year studying period graduated with cum laude. Born on 7 May 1995, he completed his studies on 30 September 2016 with the thesis "Wheat Genotype Characterization (Triticumaestivum) Intermediate Mainland Adaptation Using SSRs (Simple Sequence Repeats)." The Bugis Makassar man entered Unhas in 2013 and became the 10.545th alumni that is produced by the Faculty of Agriculture.
Lidya Prawiroharjo T. that is also born in Ujungpandang 29 May 1995, completed her education on 24 August 2016 with a study period of 3 years and 11 months. With a GPA of 3,83, she completed her studies with a cum laude predicate, after defending her thesis entitled "Factors that Influence Dividend Policies Towards the Stock Price of Real Estate Property Company Sector, and Building Constructions Registered Under the Indonesian Stock Exchange." She became the 11.823rd alumni of the Faculty of Economics and Business.
Best Graduates of Each Faculty
Muhammad Dzulkifli Ashan and Lidya Prawiraharjo Thauwrisan besides becoming the best graduates in the University level, they also held the title of being best graduates in each of their respective Faculties (Agriculture, and Economics and Business).
The best graduates of each faculties include, Law: Ahmad Setya Nugraha. GPA 3,74, study period of 3 years 11 months, pass with satisfactory. Muh Hidayat Arif (Ship Engineering), GPA 3,88, study period of 4 years 2 months, cum laude. Syahrul Kurniawan (Communication), GPA 3,80, study period of 3 years 11 months. Ilmal Satriani (Local Literature), GPA 3,89, study period of 4 years 2 months. Elisabet Djunaidy (Mathematics), GPA 3,79, study period of 3 years 3 months. Jihadulhaq Bin Marra (Animal Husbandry), GPA 3,83, study period 4 years 2 months, Khalida Afra Fadhilah (Dentistry), GPA 3,57, study period 3 years 2 months, Aisya Putri Utami (Nutritional Science), GPA 3,85, study period 4 years 1 month, Khusnul Hatimah (Marine Sciences and Fisheries), GPA 3,77, study period 4 years 1 month. Syarif Hidayatullah (Forestry), GPA 3,95, study period of 3 years 2 months. And Muh. Ihwan Syam (Pharmacy), GPA 3,51, study period 4 years 1 months. Their passing predicates are cum laude.