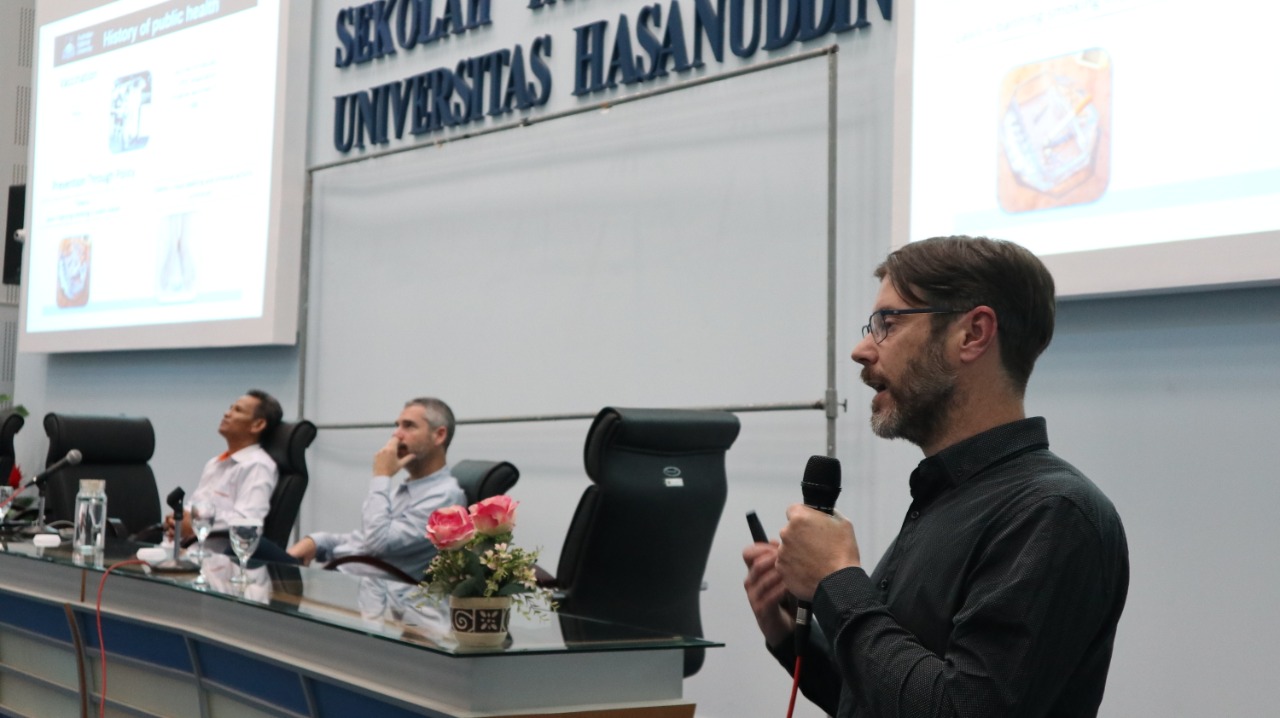 Graduate School of Universitas Hasanuddin established Seminar Series for a couple times. Graduate School Seminar Series this time brought up 2 main topics presented by 2 speakers from The Australian National University. Profesor Saul Cunningham presented the topic of "Plant Reproductive Ecology, Meet Modern Agriculture" and Dr. Matthew Kelly's topics was "Health Transitions and Global Population Health Challenges". This Seminar took place at Prof. Dr. Fachruddin Hall, Graduate School of Unhas, on Friday (15/11).
Seminar was guided by oleh Dr. Eng. Ilham Alimuddin, S.T., M.Gis. It started at 10.30 WITA. After the opening, the moderator directly move to the next session of the event presented by Prof. Saul.
Prof. Saul Cunningham is the Director of Fenner School of Environment and Society, The Australian National University. He started his session by giving out the outline of his presentation which discusses, which discussed bees and pollinating plants.
Furthermore, Prof. Saul explained about Almond which is one of the biggest commodity in Australia, where Australia is the second largest producer of almonds in the world.
He explained that with a proper irrigation and lighting, and planting almond trees in the middle with neat rows can make almond trees produce a lot of flowers. The more flowers grow, the more pollination activity will occur a lot so that it can provide benefits in the process of producing good almonds.
The pollination is crucial in agriculture, so that it is important to build behives around the agriculture land. The more flowers are pollinated by bees, the more pollen will be produced.
"The more flowers grow, the more pollinations occur, then the more nuts will be produced," said Prof. Saul.
The second topic on Public Health were delivered by Dr. Mathew Kelly, who is a member of Research Team in Departement of Global Health, Research School of Population Health, The Australian National University.
He presented two types of theory on population trend transition. Firstly, demographic transition according Notestein Thompson, in which the change from high birth and high death rates, to high birth and low death rates, then to low birth and low death rates (in developed countries). Secondly, epidemiologic transition according to Omran, in which the change from contagious deseases and malnutrion to society aging and chronic deseases and injuries.
Dr. Kelly in his presentation explained many elaborations about health changes that occurred in the society including the nutritional needs which could also have an effect on society dietary, and also death rates, both statistics and their causes.
Furthermore, he also examined the estimated death in Indonesia which is a challenge at the moment, as well as the policy to increase the measurement of death. Dr. Kelly also displayed a table of diseases that cause many deaths in Indonesia based on the Sample Registration System (SRS).
"At School of Population Health Research, there are some aspects that become our focus of our research on Indonesia, such as Water, Sanitation, and Hygiene (WASH) Project, Elderly in Indonesia: Mental Health and Elderly Vilagers Prosperity in Indonesia, Depression in Indonesia, and Free Indonesia from Pasung (stocks)." Said Dr. Kelly.
This Seminar was attended by students and lecturers from Faculty of Agriculture and Faculty of Public Health and ended at 12.00 WITA.(*)
Ishaq Rahman
Head of sub-directorate of Public Relation and Information
Directorate of Communication Hasanuddin University
Translator: Kumara Tungga Dewa
Translation Editor: Karmila Mokoginta